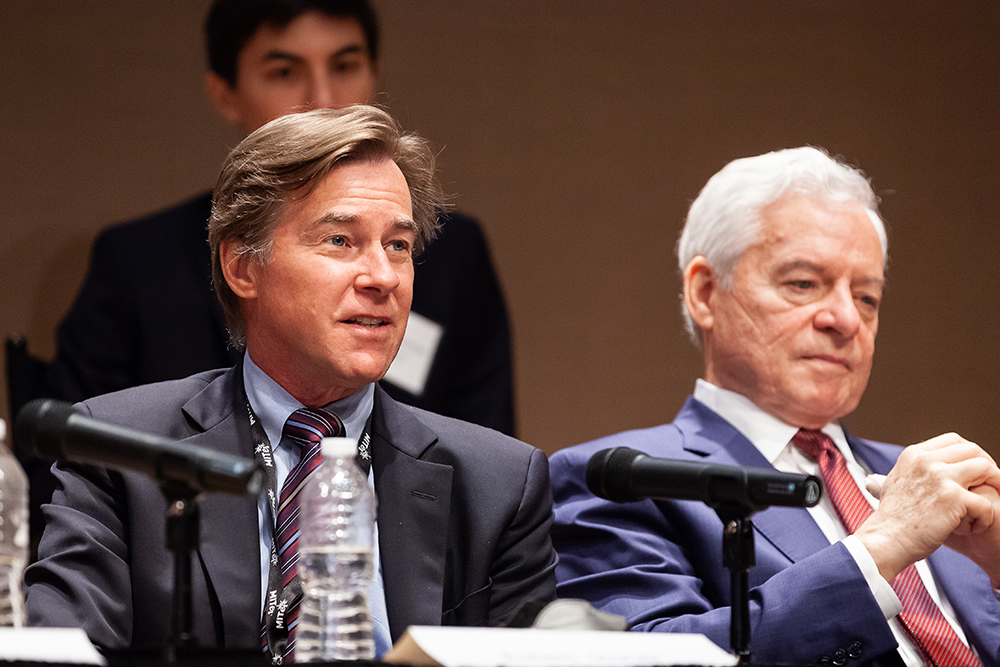 This November, the 2022 United Nations Climate Change Conference (COP27) will take place in Sharm El Sheikh, Egypt, bringing together governments, experts, journalists, industry, and civil society to discuss climate action to enable countries to collectively sharply limit anthropogenic climate change. As MIT Energy Initiative Deputy Director for Science and Technology Robert Stoner prepares to attend the conference, he takes a moment to speak with us about the climate and infrastructure laws enacted in the last year in the United States and about the impact these laws can have in the global energy transition.
Q: As we speak, you're getting ready to go to COP27. Can you set the scene?
A: There's a lot of interest among vulnerable countries about compensation for the impacts climate change has had on them, or "loss and damage," a topic that the United States refused to address last year at COP26, for fear of opening up a floodgate and leaving U.S. taxpayers exposed to unlimited liability for our past (and future) emissions. This is a crucial issue of fairness for developed countries—and, well, of acknowledging our common humanity. But in a sense, it's also a sideshow, and addressing it won't prevent a climate catastrophe—we really need to focus on mitigation. With the passage of the Bipartisan Infrastructure Investment and Jobs Act and the Inflation Reduction Act (IRA), the United States is now in a strong position to twist some arms. These laws are largely about subsidizing the deployment of low-carbon technologies—pretty much all of them. We're going to do a lot in the United States in the next decade that will lead to dramatic cost reductions for these technologies and enable other countries with fewer resources to adopt them as well. It's exactly the leadership role the United States has needed to assume. Now we have the opportunity to rally the rest of the world and get other countries to commit to more ambitious decarbonization goals, and to build practical programs that take advantage of the investable pathways we're going to create for public and private actors. But that alone won't get us there—money is still a huge problem, especially in emerging markets and developing countries. And I don't think the institutions we rely on to help these countries fund infrastructure—energy and everything else—are adequately funded. Nor do these institutions have the right structures, incentives, and staffing to fund low-carbon development in these countries rapidly enough or on the necessary scale. I'm talking about the World Bank, for instance, but the other multilateral organizations have similar issues. I frankly don't think the multilaterals can be reformed or sufficiently redirected on a short enough time frame. We definitely need new leadership for these organizations, and I think we probably need to quickly establish new multilaterals with new people, more money, and a clarity of purpose that is likely beyond what can be achieved incrementally. I don't know if this is going to be an active public discussion at COP27, but I hope it takes place somewhere soon. Given the strong role our government plays in financing and selecting the leadership of these institutions, perhaps this is another opportunity for the United States to demonstrate courage and leadership.
Q: What "investable pathways" are you talking about?
A: Well, the pathways we're implicitly trying to pursue with the Infrastructure Act and IRA are pretty clear, and I'll come back to them. But first let me describe the landscape: There are three main sources of demand for energy in the economy—industry (meaning chemical production, fuel for electricity generation, cement production, materials and manufacturing, and so on), transportation (cars, trucks, ships, planes, and trains), and buildings (for heating and cooling mostly). That's about it, and these three sectors account for 75% of our total greenhouse gas emissions. So the pathways are all about how to decarbonize these three end-use sectors. There are a lot of technologies—some that exist, some that don't—that will have to be brought to bear. And so it can be a little overwhelming to try to imagine how it will all transpire, but it's pretty clear at a high level what our options are:
First, generate a lot of low-carbon electricity and electrify as many industrial processes, vehicles, and building heating systems as we can.
Second, develop and deploy at massive scale technologies that can capture carbon dioxide from smokestacks, or the air, and put it somewhere that it can never escape from—in other words, carbon capture and sequestration, or CCS.
Third, for end uses like aviation that really need to use fuels because of their extraordinary energy density, develop low-carbon alternatives to fossil fuels.
And fourth is energy efficiency across the board—but I don't really count that as a separate pathway per se.
So, by "investable pathways" I mean specific ways to pursue these options that will attract investors. What the Infrastructure Act and the IRA do is deploy carrots (in the form of subsidies) in a variety of ways to close the gap between what it costs to deploy technologies like CCS that aren't yet at a commercial stage because they're immature, and what energy markets will tolerate. A similar situation occurs for low-carbon production of hydrogen, one of the leading low-carbon fuel candidates. We can make it by splitting water with electricity (electrolysis), but that costs too much with present day technology; or we can make it more cheaply by separating it from methane (which is what natural gas mainly is), but that creates CO2 that has to be transported and sequestered somewhere. And then we have to store the hydrogen until we're ready to use it, and transport it by pipeline to the industrial facilities where it will be used. That requires infrastructure that doesn't exist—pipelines, compression stations, big tanks! Come to think of it, the demand for all that hydrogen doesn't exist either—at least not if industry has to pay what it actually costs. So, one very important thing these new acts do is subsidize production of hydrogen in various ways—and subsidize the creation of a CCS industry. The other thing they do is subsidize the deployment at enormous scale of low-carbon energy technologies. Some of them are already pretty cheap, like solar and wind, but they need to be supported by a lot of storage on the grid (which we don't yet have) and by other sorts of grid infrastructure that, again, don't exist. So, they now get subsidized, too, along with other carbon-free and low-carbon generation technologies—basically all of them. The idea is that by stimulating at-scale deployment of all these established and emerging technologies, and funding demonstrations of novel infrastructure—effectively lowering the cost of supply of low-carbon energy in the form of electricity and fuels—we will draw out the private sector to build out much more of the connective infrastructure and invest in new industrial processes, new home heating systems, and low-carbon transportation. This subsidized build-out will take place over a decade and then phase out as costs fall—hopefully, leaving the foundation for a thriving low-carbon energy economy in its wake, along with crucial technologies and knowledge that will benefit the whole world.
Q: Is all of the federal investment in energy infrastructure in the United States relevant to the energy crisis in Europe right now?
A: Not in a direct way—Europe is a near-term catastrophe with a long-term challenge that is in many ways more difficult than ours because Europe doesn't have the level of primary energy resources like oil and gas that we have in abundance. Energy costs more in Europe, especially absent Russian pipelines. In a way, the narrowing of Europe's options creates an impetus to invest in low-carbon technologies sooner than otherwise. The result either way will be expensive energy and quite a lot of economic suffering for years. The near-term challenge is to protect people from high energy prices. The big spikes in electricity prices we see now are driven by the natural gas market disruption, which will eventually dissipate as new sources of electricity come online (Sweden, for example, just announced a plan to develop new nuclear, and we're seeing other countries like Germany soften their stance on nuclear)—and gas markets will sort themselves out. Meanwhile governments are trying to shield their people with electricity price caps and other subsidies, but that's enormously burdensome. The EU recently announced gas price caps for imported gas to try to eliminate price-gouging by importers and reduce the subsidy burden. That may help to lower downstream prices, or it may make matters worse by reducing the flow of gas into the EU and fueling scarcity pricing, and ultimately adding to the subsidy burden. A lot people are quite reasonably suggesting that if electricity prices are subject to crazy behavior in gas markets, then why not disconnect from the grid and self-generate? Wouldn't that also help reduce demand for gas overall and also reduce CO2 emissions? It would. But it's expensive to put solar panels on your roof and batteries in your basement—so for those rich enough to do this, it would lead to higher average electricity costs that would live on far into the future, even when grid prices eventually come down. So, an interesting idea is taking hold, with considerable encouragement from national governments—the idea of "energy communities," basically, towns or cities that encourage local firms and homeowners to install solar and batteries, and make some sort of business arrangement with the local utility to allow the community to disconnect from the national grid at times of high prices and self-supply—in other words, use the utility's wires to sell locally generated power locally. It's interesting to think about—it takes less battery storage to handle the intermittency of solar when you have a lot of generators and consumers, so forming a community helps lower costs, and with a good deal from the utility for using their wires, it might not be that much more expensive. And of course, when the national grid is working well and prices are normal, the community would reconnect and buy power cheaply, while selling back its self-generated power to the grid. There are also potentially important social benefits that might accrue in these energy communities, too. It's not a dumb idea, and we'll see some interesting experimentation in this area in the coming years—as usual, the Germans are enthusiastic!
---
This article appears in the Winter 2023 issue of Energy Futures.