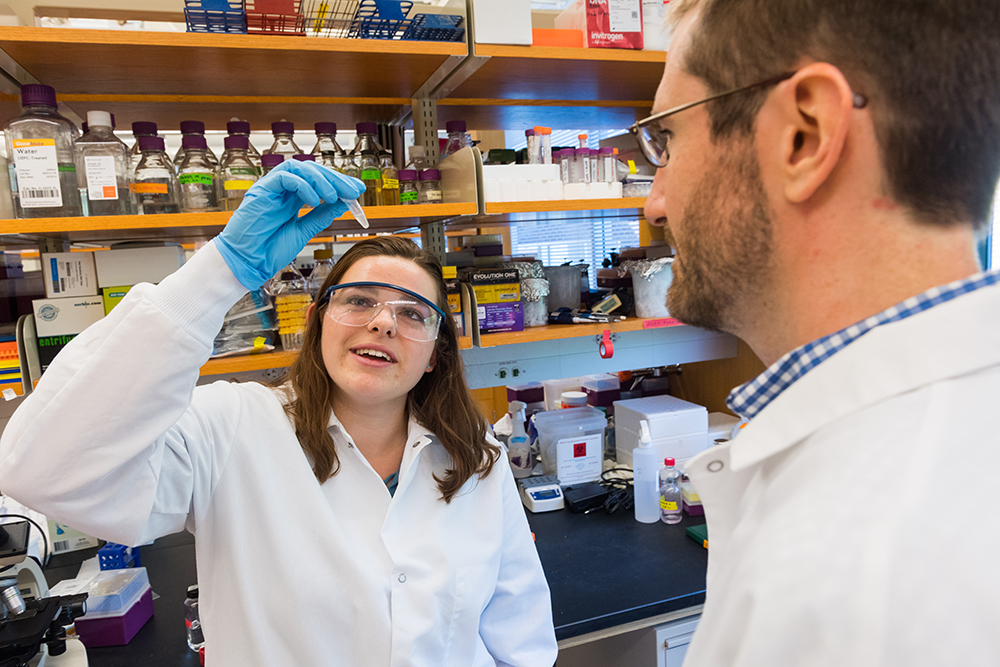 MIT undergraduates engaged in energy research during summer 2016 received a double benefit: They broadened and deepened their own academic experience, and at the same time they supported the Institute's five-year commitment to addressing climate change.
Announced just over a year ago, the MIT Plan for Action on Climate Change enhances the Institute's efforts in key areas of climate action, including accelerat­ing research and development of low-carbon energy technologies and expanding related educational programs.
Many MIT students are eager for MIT to make ambitious strides in tackling climate change, notes Antje Danielson, director of education at the MIT Energy Initiative (MITEI). Participating in MIT's Undergraduate Research Opportunities Program (UROP) through MITEI provides a direct means for them to make a difference. By taking part in MIT research, students can "contribute to a huge change that needs to happen," says Danielson. "Even though students may be working on a small part of the puzzle, they can know that they are part of something much larger."
A green, high-octane alternative to gasoline
Among those students is Allison Shepard '19, a chemical engineering major who spent her summer developing a promising new biofuel. "The work we're doing now is really exciting, because when it becomes optimized, it could be used right away, not 50 years from now," she says.
Shepard's research took place in the lab of Kristala Jones Prather, associate professor of chemical engineering, who leads the project on metabolic engineering for biofuel production.
With support from MITEI Founding Member Shell, Shepard worked on tweaking enzymatic pathways to speed the conversion of glucose to 4-methyl-1-pentanol, a
high-energy-density biofuel. "This fuel, because of its carbon chain branches, has an ideal use in engines now," says Shepard, who describes herself as "passionate" about finding energy solutions and sits on the executive board of the undergraduate MIT Energy Club. "We're trying to get to industrial standards so we can produce it at great enough levels and low enough cost to be competitive with conventional vehicle fuels."
Shepard found herself deeply immersed in synthetic biology, learning bacterial cloning techniques as well as high- performance liquid and gas chromatography. "I've learned so much here in only a few months, and I can already see so many ways to go with this work," she says.
An electric grid to go
A critical element of MIT's climate plan involves integrating low-carbon energy approaches into the curriculum. As part of this thrust, Juan De Jesus '17, majoring in electrical and electronics engineering, spent his summer with a team developing a portable, laboratory-scale model of a power plant for classroom use. The device has an on-board battery bank feeding a DC motor, which is controlled to mimic the dynamics of, for example, the rotor of a wind turbine and drives a generator that produces AC electricity. Several such devices and others representing loads and transmission lines will be connected together to resemble the structure of a mini power system that can demonstrate multiple modes of electricity generation and consumption.
"In some electrical engineering classes, there is a disconnect because they are very theoretical and lacking a hands-on approach," says De Jesus. With support from the S.D. Bechtel, Jr. Foundation, he became part of a team that was led by James Kirtley, professor of electrical engineering, and included UROP students Daniel Abiola Vignon '17 and Taylor V'Dovec '19, both of mechanical engineering. "Our portable system will be the first of its kind, so students will have a physical setup they can experiment on that shows how a grid behaves when use shifts and when power comes from different sources," says De Jesus.
This research provided De Jesus with his first experience manipulating electric hardware, batteries, power conversion, and programming. "I've been craving just this kind of practical hands-on work," he says. De Jesus also learned to write software enabling the system to simulate inputs such as natural gas, wind, and hydroelectric turbines.
Readying this laboratory microgrid system for a multitude of classroom applications was a major challenge. "Juan, Daniel, and Taylor had to learn a lot of new concepts quickly," says Claudio Vergara, a MITEI postdoc supervising the summer research.
Vergara says he believes the new classroom tool will "provide students with hands-on research experiences that will complement their conceptual learning and prepare them to tackle the real-world challenges of integrating renewable energy technologies into future power systems."
Securing nuclear plants at sea
For his very first foray into research, Jared Conway '19, a nuclear science and engineering major, played a key role in an ongoing project in his department. Conway's task: defending an ocean-based nuclear power plant against a range of threats.
"By marrying the well-established floating structure of the oil and gas industry with a nuclear plant, we've created a new paradigm, which means developing new safety configurations," says Neil Todreas, professor emeritus of nuclear science and engineering, who leads security strategy development on the project and serves as Conway's direct supervisor.
"There are threats such as subsurface attacks that a land-based nuclear plant wouldn't have to worry about," says Conway, who used a commercial computer program that permits simulating different security scenarios. It's a "video game approach," he says, but with real-world stakes attached.
Conway found that biggest benefit of his summer UROP—which was supported by MITEI Affiliate Member John Hardwick '86, SM '88, PhD '92—involved building his communication skills. "I was in close touch with the security software company and worked with their chief scientist to figure out some challenging bugs in the program," he says. These are the types of skills Conway feels sure will come in handy as he applies to and prepares for a naval nuclear officer program this year or for a potential career assessing security and training employees in the nuclear power industry.
Expanding opportunities
Like many MIT students, MITEI is playing an active role in the Institute's climate plan. As detailed in the plan, MITEI is now establishing eight Low-Carbon Energy Centers to advance and deploy specific technologies needed to meet growing global energy needs in a carbon-constrained world. With the establishment of the new centers, Danielson anticipates a wealth of research possibilities opening up to undergraduates. "We will be connecting our education programs to these centers, providing an amazing opportunity for students to be part of research that incubates and accelerates innovation," she says. "MIT is a great place for learning how to change the world."
---
This article appears in the Autumn 2016 issue of Energy Futures.