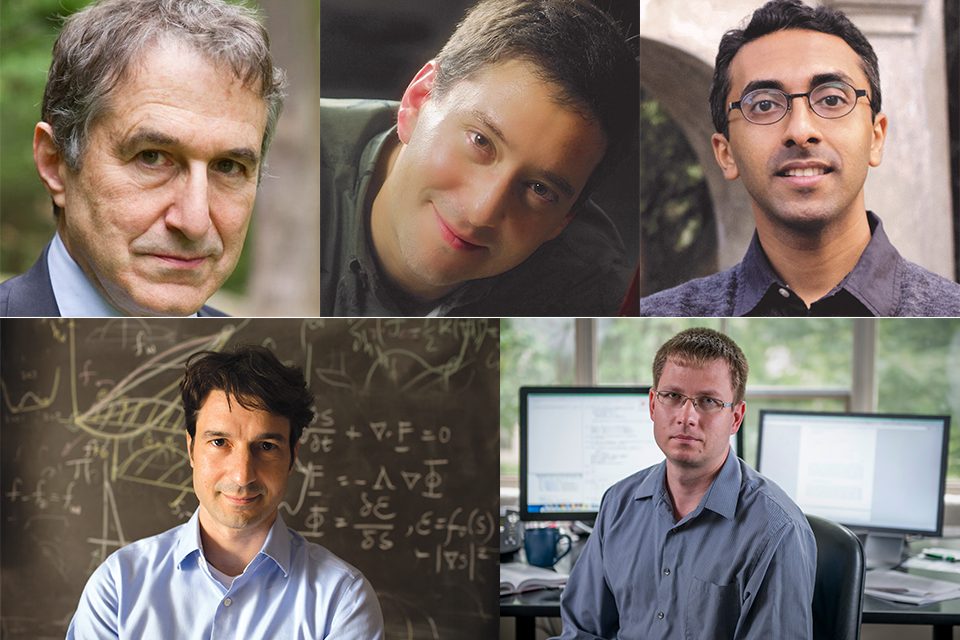 Five new and returning faculty members were appointed to the MIT Energy Initiative's Energy Education Task Force (EETF) this 2016/2017 academic year. MITEI welcomed Robert Jaffe, Jane and Otto Morningstar Professor of Physics; Steven Leeb, professor of electrical engineering and computer science; Yogesh Surendranath, Paul M. Cook Career Development Assistant Professor of Chemistry; Ruben Juanes, ARCO Associate Professor in Energy Studies, of civil and environmental engineering; and Konstantin Turitsyn, associate professor of mechanical engineering.
The EETF is composed of faculty from all five schools at MIT, as well as graduate and undergraduate student representatives. Under the direction of co-chairs Bradford Hager, the Cecil and Ida Green Professor of Earth Sciences and director of the Earth Resources Laboratory, and Rajeev Ram, professor of electrical engineering and computer science, this task force plays a critical role in shaping energy education at MIT.
"The Energy Education Task Force is one of the many magical features of MITEI," says Leeb, a returning EETF member who first served on the committee at its inception in 2006. "It affirms that part of MITEI's charter is not just the creation of ideas but also education. We create not just solutions but also problem solvers."
"Energy studies are intrinsically multidisciplinary, and as such fall outside the normal departmental structure at MIT," adds Jaffe, also returning to the EETF after a hiatus. "Departments have the resources to build, support, and ensure the continuity of programs in academic areas that interest them. An interdisciplinary program needs a similar organization to gather resources, build curricula, and promote the subject."
With the support of the MITEI Education Office, the EETF is tasked with overseeing the curricular evolution of the Energy Studies Minor, creating a connection between energy research and the energy curriculum offered at MIT, and communicating MIT's diverse energy subject offerings and interdisciplinary energy education model. Antje Danielson, MITEI's education director, says that the EETF will be particularly focused in the near term on new graduate-level educational opportunities. The major priorities are the addition of opportunities through the Society of Energy Fellows and the development of graduate-level online MicroMasters programs through edX that will broaden the Institute's mission to make an MIT education accessible to a global population.
Each new EETF member brings a different background, knowledge set, and interest to the group, which will further enhance MITEI's education program. Jaffe is particularly enthusiastic about re-energizing the undergraduate Energy Studies Minor program. He has developed and taught an energy-minor-required course in the foundations of energy science and has just published the accompanying textbook. Leeb teaches hands-on energy-related laboratory classes, and he looks forward to finding ways to connect MITEI member companies with more of MIT's students.
First-time EETF member Surendranath leads a research group that investigates the chemistry of renewable energy, and he will use that background to help design curriculum within the EETF. "Facilitating the transition to a more sustainable energy future is a multigenerational effort, so much of MIT's impact derives from training the next generation of energy scientists," says Surendranath. "I would like to see the EETF better enable aspiring energy scientists at all levels to develop the network, perspective, and competencies needed to be thought leaders in the field."
---
This article appears in the Spring 2017 issue of Energy Futures.