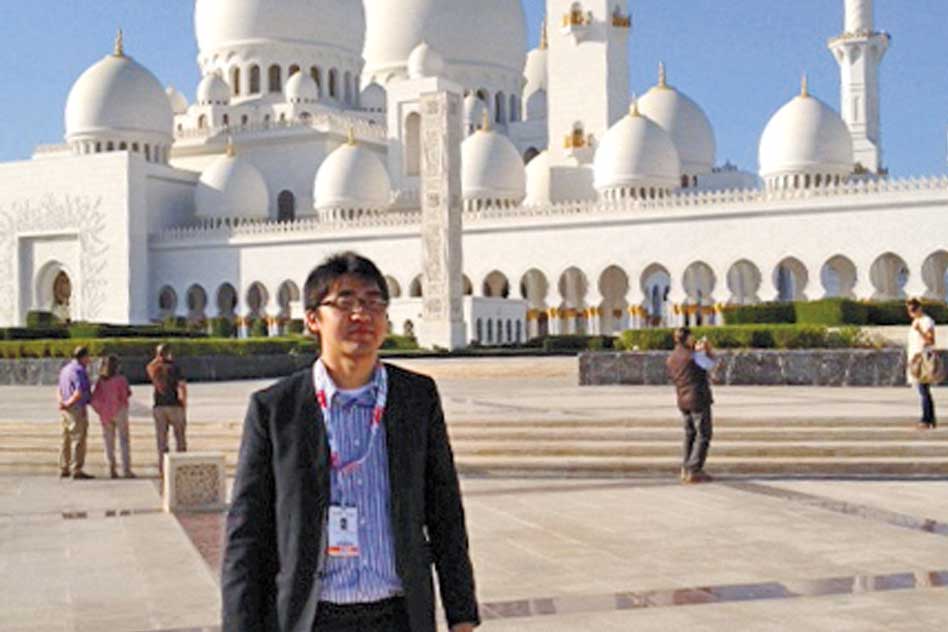 Uuganbayar Otgonbaatar '12 is double majoring in nuclear science and engineering and physics, and minoring in energy studies. The MIT Energy Initiative nominated Otgonbaatar for a trip to Abu Dhabi in the United Arab Emirates (UAE) during the World Future Energy Summit to take part in an international energy leadership program.
In January, I attended the Young Future Energy Leaders (YFEL) program, a five-day event held in Abu Dhabi designed to promote the participation of students from around the world in the clean energy discussion. YFEL is part of the World Future Energy Summit (WFES), an annual gathering of policymakers and industry leaders organized by Masdar Institute in collaboration with the International Renewable Energy Agency (IRENA). Students from more than 20 countries participated in YFEL this year, and I had the privilege of being the first student from MIT's Energy Studies Minor program to attend.
Distinguished speakers are the core of the YFEL program. Among the speakers this year were First Minister of Scotland Alex Salmond; polar explorer and environmental leader Sir Robert Swan, OBE; and IRENA Director Adnan Amin. Other YFEL talks focused on how students can take an active role in raising climate change awareness and contribute to a change of public attitude toward cleaner energy generation.
Ten YFEL participants gave presentations describing their own research projects, which ranged from developing a solar-powered wheelchair to smart grid planning for the UAE. Each day, students also took part in debates on such energy-related topics as "Should countries be required to implement population control to deal with climate change?" and "Should China and the US be required to place legally binding limits on carbon emissions?"
I was also able to attend WFES talks and panels. As a nuclear science and engineering major, I was particularly interested in a panel on the role of nuclear power in a sustainable energy future. I was surprised to learn that government and industry leaders of the UAE have very positive outlooks regarding the development and use of nuclear power, in contrast to leaders of many other nations, some of whom have banned the construction of new nuclear plants. Participating in YFEL 2012 made me realize the importance that the world is attaching to clean energy and, more particularly, that the UAE is placing on developing carbon-free energy sources. Although the UAE is one of the richest countries in fossil fuels, its leaders fully recognize the unsustainable nature of fossil-fuel-based energy and understand that investment in clean energy is an investment in the future. As an MIT student interested in energy, I learned that there is a lot of opportunity for students and young professionals to work on renewable energy projects and R&D, and a lot of it is happening in the UAE.
---
This article appears in the Spring 2012 issue of Energy Futures.