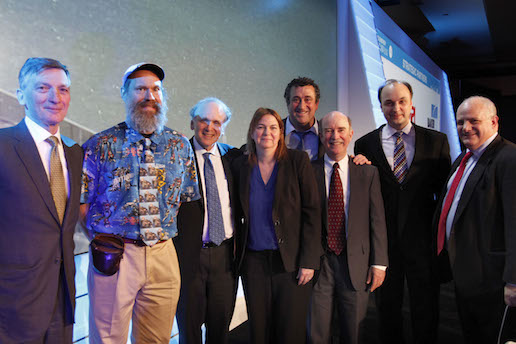 Each year, IHS CERAWeek brings together an international group of industry, policy, technology, and financial leaders for one of the world's preeminent energy conferences. The MIT Energy Initiative (MITEI) was the only academic institution invited to partner in IHS CERAWeek 2014. MIT researchers played leading roles in several sessions throughout the week.
The highlight event was a keynote session on Thursday, March 6, that spotlighted cutting-edge research by four MIT energy researchers. Led by MITEI Director Robert Armstrong and moderated by IHS Chairman Daniel Yergin, the session—"A Glimpse Over the Horizon: Energy Game Changers from the MIT Energy Initiative"—underscored the important role universities play in the innovation pipeline as incubators of talent and technology.
One explanation for MIT's unusual success in playing this role is its tradition of broad collaboration across disciplines, which MITEI helps to facilitate, said Armstrong. MIT's W.M. Keck Professor of Energy Angela Belcher, who presented on transportation fuel made from converted methane, echoed that sentiment.
"In terms of creativity and pushing new ideas forward, for me it's always been about collaborations. That's been something that's so easy to do at MIT," Belcher said. "You can walk across the hall or across campus and you'll find someone to whom you can say, 'I have this crazy idea.' And they'll say, 'Yes, and here's a way to make it better.' I think the exchange of ideas and the collaborative interaction have been very valuable to my career."
Armstrong and all four panelists also agreed that MIT students are another driving force.
"We admit a brand new set of people each year who come in and are very skeptical of what we're doing and ask lots of hard questions," said Armstrong. "That helps us to keep a fresh view of what we do in research."
MIT's Neil and Jane Pappalardo Professor of Mechanical Engineering Alexander Slocum, who presented on various technologies including floating wind turbines that store energy, agreed. "All of us run very flat organizations where the freshman is encouraged to ask the herr doktor professor, 'Why is that so? That doesn't make any sense,'" he said.
The John F. Elliott Professor of Materials Chemistry Donald Sadoway, who presented on liquid metal batteries, said the students encourage professors to think bigger: "A lot of the motivation for tackling important causes has come from the students. Young people today are interested in careers with meaning….They ask us to work on problems that have huge impacts. They want to know, 'What is the ripple effect?' And that triggers me to look for tougher problems."
Once these students graduate, they go out into the world and make a difference, said MIT School of Engineering's Associate Dean for Innovation Vladimir Bulović, who presented on transparent solar cells. "Universities have two products: knowledge and people, and our best product is people. [Alumni] are the best thing we make," he said.
Bulović noted that IHS CERAWeek was a homecoming of sorts, with more than 100 MIT alumni and board members from the MIT South Texas Club attending the Thursday night keynote dinner. Also, former MIT Energy Initiative Director and current Secretary of Energy for the United States Ernest Moniz delivered the Wednesday luncheon address, and MIT alumnus Ben Bernanke PhD 1979 gave the conference's closing address, in which he talked about the influence of his early days studying the economics and regulation of natural gas at MIT.
University-industry collaboration
While "A Glimpse Over the Horizon" focused on the important role of universities in driving innovation, a dinner on Wednesday considered the significant challenges involved in moving innovations out of the lab and into the marketplace. Among those attending the MIT-hosted dinner were MIT Sloan School of Management's Donald Lessard and Thomas Malone, Siemens Energy CEO Randy Zwirn, President of Chevron Technology Ventures Barbara Burger, and Schneider Electric CEO Jean-Pascal Tricoire. The event explored the role of collective intelligence and crowd sourcing; changing models for innovation; the shifting roles of companies, universities, and public and private capital; and strategies to more effectively identify and scale up next-generation breakthrough energy technologies
The need for universities to collaborate with industry was a main topic of both the Wednesday dinner and Thursday keynote panel.
"Our job often ends up being to discover and to train," said Bulović. "The discovery can be done even better when we work with industry…Those are the best connections to the real world because we finally are able to understand what it is that the company needs and what it is that we can solve for them. I'm convinced from what I've seen from my 14 years at MIT that we can solve any problem. We just need to know what the problem is."
Because of industry's important role in helping researchers design technologies that are more competitive in the marketplace, MITEI made industry collaboration a founding principle–one based on a long tradition at MIT of working with industry. With this help from industry, MIT has developed a culture of turning technologies into products. The four researchers from the Thursday panel alone have founded seven start-ups and hold more than 200 patents.
MIT researchers also gave their expert insight and analysis on several panels throughout the week. The researchers and their presentation topics include the following: MIT Institute Professor John Deutch: shale gas and associated environmental concerns; MITEI Director of Research and Analysis Francis O'Sullivan: public attitudes toward unconventional oil and gas activity; MITEI researcher Daniel Cohn: competition between gas and oil for transportation; and Acting Director of Engineering Division Systems Munther Dahleh: mitigating operational risks and building resiliency within the energy supply chain.
---
This article appears in the Spring 2014 issue of Energy Futures.