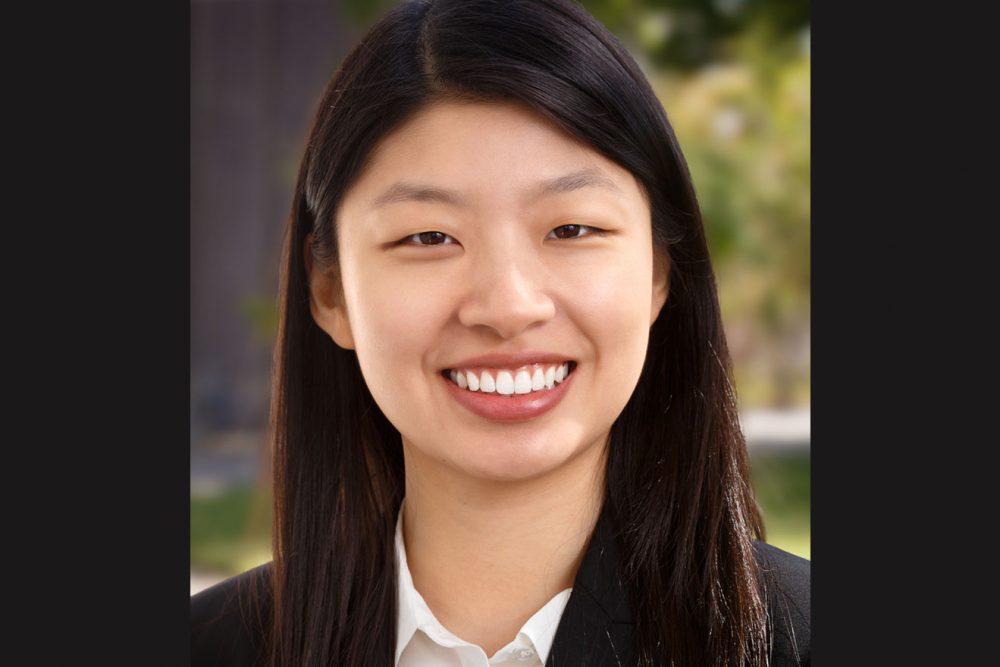 For the past four years, Jing Li '11 has been studying energy technologies that could help the world move to a low-carbon future. Her expertise is technology diffusion and adoption. Li, fresh out of an economics PhD program at Harvard, says she "loves thinking about how technological progress comes about, how technology is adopted." She's returning to MIT to do that and more—first as a postdoc for a year and then as an assistant professor of applied economics.
Her research focuses on the race to introduce better batteries into the marketplace. The availability of low-cost, high-energy-density, scalable, and safe batteries is critical in both transportation and power generation, two of the most polluting sectors in our energy ecosystem, she points out. Better batteries could mean higher efficiency and lower emissions.
"We're not quite there yet in terms of battery technology that checks all the boxes, but why not? There are many patents out there, but when do we expect to see them on the market?" she says. Li's training in economics allows her to examine each step as a technology progresses from the lab to the marketplace. She hopes her studies will help speed up that process. "Energy is critical to everyday life, and low-carbon energy is critical to addressing climate change concerns," Li says. "At some point, I just started thinking about that, and I couldn't let go."
Li organizes her research on technology adoption around three core questions. First, why aren't adoption rates as high as we'd like or expect for a promising technology? Cost and pricing are sometimes the impediment but not always. Sometimes it's a question of infrastructure, as in the example of electric cars, which Li focused on in her dissertation. Electric cars need a reliable network of charging stations before widespread adoption is possible.
Li's second question deals with the mysteries of technological innovation. She asks, "Is technological innovation a black box, and all we need to do is wait? Or is there scope for government policy to accelerate innovation by addressing inefficiencies?" She studies instances in which more funding for basic research could make a difference, or in which the inventions are ready but firms or consumers need a push in the form of measures such as government subsidies for the product to achieve higher levels of adoption.
If we're going to improve the lives of people in developing countries, energy consumption is going to play a big role.
Jing Li
The final question driving her research is: How can we meet growing energy demand in developing countries while protecting human health and the environment? Over the course of her education and the beginning of her research career, Li has explored fields from development economics to environmental economics and industrial organization. "If we're going to improve the lives of people in developing countries, energy consumption is going to play a big role," Li says. "But at the same time, how do we make things better for human health by alleviating pollution, improving air quality?"
With her fast-approaching professorship very much on her mind, Li has plans to take a close look at the economics curriculum at the Institute to see if there are any gaps in what's being offered. "There's a history of high-quality energy economics classes at MIT," she says. "I want to learn more about the classes that are being taught currently and bring back some of the really important parts of classes that are no longer around."
She plans to meet with a wide range of students—from Sloan MBAs to undergraduates in engineering, science, and the humanities—to formulate a sense of which energy and economics issues they feel are most important. She's keeping learning outside the classroom in mind, too. She says she benefited immensely from the Undergraduate Research Opportunities Program (UROP) as an undergrad, "learning a lot about the grunt work of research." If the right research opportunity presents itself, she plans to create a UROP for undergrads working in energy economics.
Li looks forward to the chance to give back to her alma mater in this way. "MIT just feels special to me in a way that I cannot even articulate," she says. "To me, it's nerds—in the best sense of the word—coming together to celebrate learning and knowledge."
---
This article appears in the Autumn 2017 issue of Energy Futures.