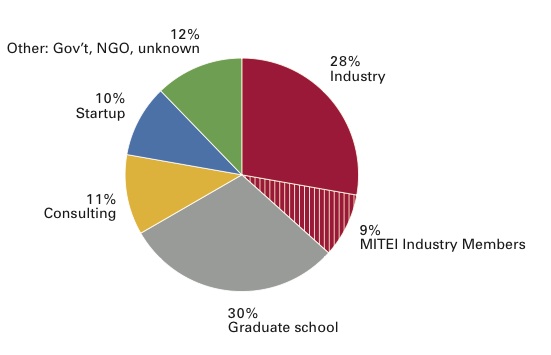 Chris Carper SB '10, Mechanical Engineering
To energy minor alumnus Chris Carper, how our offices, classrooms, and labs use energy is one of many factors that make buildings fascinating to study—and to improve. As an energy engineer at Honeywell, Carper hopes to help people make smart energy choices by thinking with a long-term perspective.
How did you know you wanted to become an energy engineer?
I've always been interested in buildings. I focus on energy efficiency in commercial buildings, and buildings are surprisingly complex. They all use energy in different ways. Each one is unique—like its own little puzzle—and that's what I like about what I do.
What is the best experience you've had working in the energy sector?
The most fulfilling part is being able to help school districts save [money] on their energy bills. It's money that they can put toward paying teachers, buying computers, or investing in other educational media. It's great for them, because they get the extra money and their buildings get updated. It's a win-win for everyone.
How has your time at MIT played into what you're doing now?
I still think about the classes I took [at MIT]. In particular, the classes in building technology and the economics of energy have played into what I do now. I was really glad that MIT offered [the Energy Studies Minor] because it fit what I was looking for really well.
Desiree Amadeo SB '11, Chemical Engineering
From creating a biodiesel processor in high school to developing artificial hydrogen-producing nanoparticles at a startup out of MIT, Desiree Amadeo has had her mind on alternative energy for some time now—and she has big plans for its future. As a research and development engineer at Lockheed Martin Advanced Energy Storage (LMAES), Amadeo looks forward to making those plans a reality.
How did you first become interested in chemical engineering?
In high school I got really involved with a biodiesel project—working that project from the ground up, learning how to make my own biodiesel processor out of a 10 gallon water heater, getting involved with the chemical reactions that happen during that process, and then producing the biodiesel and actually getting it up to [standards] to run in diesel engines. From that project, I knew I wanted to pursue chemical engineering.
What's been the best part of working in the energy sector?
As an engineer, I love working on something tangible but also innovative. For example, my work at LMAES has taught me that the possibilities for designing and synthesizing molecules for improved battery electrolytes are seemingly endless. [It's] exciting seeing how your work can improve the technology to make it more efficient and lower in cost. Energy storage is going to play a huge part in the energy sector, so I feel very privileged to be playing a significant role in a technology that could be at the forefront of that market.
What are you most looking forward to right now?
I'm looking forward to continued improvements and upcoming milestones that will enable our flow battery to get out into the market in just a couple short years. We are moving full steam ahead, and I feel ready for the challenge.
Shaena Berlin SB '13, SM '14, Earth, Atmospheric, and Planetary Sciences
With her master's in atmospheric science from MIT, Shaena Berlin moved cross-country and became an air quality associate at ENVIRON in California. What she found was that energy plays a role in everything, from housing developments to the atmosphere.
How did you first become interested in energy?
[Energy] permeates all of the policy decisions, all of people's everyday lives, so it seemed like a logical thing to try to be involved in. I was interested in air and in atmospheres, but I wanted to do something more applied with that rather than basic research. It made sense to look into how energy could relate to air quality and atmospheric science.
What have you enjoyed about working at ENVIRON?
I've [learned that] California's regulations and goals toward climate change and energy efficiency are really impressive. We're helping with permitting for new developments, and we essentially have to meet these very strict standards—one of which is trying to become zero net energy for all new residences by 2020. I've gotten to spend some time looking into the most cost-effective and efficient ways that you can reduce energy consumption and greenhouse gases.
How has your energy minor played into the work you're doing now?
I think it was pretty vital for me getting this position, actually, because most of our work is engineering-focused. So just having a basic understanding of where the energy [in a new development] is coming from, where it's going, and how much is being used, has been really helpful in… understanding what's going on with these projects.
---
This article appears in the Spring 2015 issue of Energy Futures.