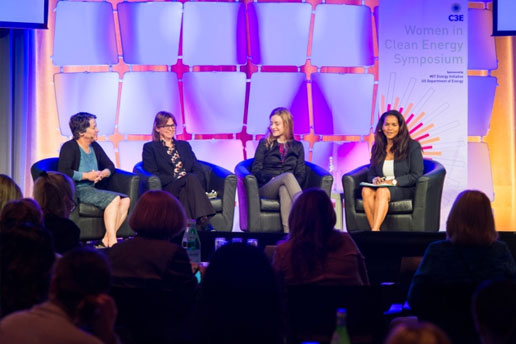 The "spirit and joy of working on complex but compelling problems and looking for solutions," as Department of Chemical Engineering head Paula Hammond aptly put it in her opening remarks, brought together researchers, policymakers, industry leaders, and others in the energy and environment sector for the fourth annual Clean Energy, Education, and Empowerment (C3E) Women in Clean Energy symposium on November 4-5 in the MIT Media Lab.
The MIT Energy Initiative (MITEI) hosted the symposium, and has partnered with the U.S. Department of Energy on this event since its inception in 2012, under the auspices of the multigovernmental Clean Energy Ministerial.
MITEI Executive Director Martha Broad introduced the event's theme, "Leveraging Megatrends for a Clean Energy Future," describing the panels of energy research critical to solving climate challenges: "The Energy Water Nexus," "Clean Energy Technology Frontiers," and "The Transition to a Low-Carbon Future." Each of these included insightful discussions among panelists and questions from the audience. Panelists and audience members brought intensely different experiences to the table in each of these discussions — with backgrounds ranging from policy to science to business — which informed the interdisciplinary spirit of the symposium.
Bringing clean energy to developing countries
One facet of this interdisciplinarity was the focus not only on energy policy and technology in North America and Europe, but in the developing world as well. Melanie Kenderdine, the first executive director of the MIT Energy Initiative and one of the creators of the C3E Symposium, delivered a keynote in which she described in detail the nuances of the current state of U.S. energy policy. Kenderdine, who is now the director of the Office of Energy and Policy Systems Analysis at the U.S. Department of Energy, made developing nations an important part of her focus. "I worry a lot about energy equity," she said. "The world will need to consume four times as much energy by 2100 to raise the standard of living in developed countries to those in developing nations."
Many of the symposium panelists shared this concern, and described how they were dedicating their research to realizing this desired energy equity in a sustainable way. Natasha Wright, a PhD candidate in the Department of Mechanical Engineering at MIT, is working to make water safe to drink for off-grid Indian villages. Wright and her team, who work closely with the Tata Center for Technology and Development at MIT, have created a solar-powered electrodialysis desalination system for rural communities. They are currently working to optimize the model for both efficiency and cost. "India's solar potential is massive," Wright pointed out while describing why it made most sense to make the system solar-powered. Still, Wright knows there are business matters that need to be taken into consideration before this technology can be scaled. "In India, the policy is that water used for agriculture is free. This makes it difficult to build a business around purifying it."
Fostering gender equity in clean energy
Celebrating women who are doing research like Wright's in the face of myriad obstacles is a key focus of the C3E conference. Some of the obstacles particular to female researchers are gender-based, and the C3E initiative was developed to help break down some of these barriers to help succeed in clean energy fields. On the panel, "Cutting-Edge Research on Women, Energy, and Leadership," Courtney Tanenbaum, senior researcher at the American Institutes for Research, pointed out that "women are stalled early on in their careers. Seventy percent of male PhD grads in a STEM discipline have secured a job at the time of graduation, while only 65 percent of women PhD grads can say the same." The situation is worse for women of color in STEM, with just 59 percent having a secured position upon earning their degrees. According to Tanenbaum, data like these likely reflect a variety of deeply embedded cultural factors that work against women in male-dominated fields. Such factors include implicit biases that favor male over female job candidates; stereotypes about women's scientific abilities and ability to persist in fast-track careers, especially if they are mothers; and historical legacies of inclusion and exclusion that perpetuate organizational environments that are unwelcoming of diversity.
Bipasha Baruah, the Canada Research Chair in Global Women's Issues at Western University in Canada, highlighted the importance of public sector programs aimed at increasing women's participation in the clean-energy sector and removing barriers, with examples of how appropriate policies not only increase gender equity, but have wider-reaching benefits for the energy sectors where these policies are applied. Tanenbaum also spoke about how diversity — gender, ethnic, age, and otherwise — can strengthen companies with fresh, varied points of view, saying, "Diversity is a moral choice, but it's also just a good business decision."
Failure and perseverance: The path to innovation
Sometimes, good business decisions involve letting failures happen to spur innovation. During her acceptance speech for this year's C3E Business Leadership award, Grace Overlander SM '08, MBA '08, manager of new product introduction for Tesla Motors and winner of this year's C3E Business Leadership award, discussed how the innovation process energizes her. When creating new prototypes, Overlander said, "We're always asking ourselves 'How quickly can we build, break, and learn from each of these builds?' We want to fail fast, and then learn from the experience." Overlander knows how important this kind of learning on the go can be to successful energy entrepreneurs. Her team was responsible for launching newly designed battery and electrics components for Tesla's Model X sport utility vehicle, and she was the lead on the introduction of Tesla Energy, which targets the home and industrial energy storage markets.
Awards in additional categories were presented over the course of both days, for advocacy, education, entrepreneurship, government, international, law and finance, and research. While the awardees' experiences and backgrounds varied widely, they shared common traits of perseverance and dedication to innovative energy and climate solutions. These award winners were not the only ones in the spotlight at C3E. A graduate poster competition and undergraduate "lightning" presentations were other highlights of the symposium. The undergraduate presentations, delivered by students from across the country, were each two minutes in length or less and ranged in topics from metabolic engineering to the use of ocean currents to produce renewable energy. The winner of the graduate student poster competition was University of Houston's Rose Sobel, whose presentation was titled "GeoThermH2O: Producing Water from Produced Water."
"It is always exciting to see so many accomplished young women that are passionate about making a contribution in the clean energy space," said Karina Edmonds, executive director for corporate partnerships at Caltech, and a C3E Ambassador in attendance at this year's symposium. She added, "Each year the award recipients are incredibly impressive and each has an inspiring story to share that invigorates the group to aspire to do more."
Connections between seasoned energy leaders like Edmonds and attendees just beginning their careers are some of the most lasting results of the conference. "I've had many early- and mid-career women tell me that attending the C3E symposium and hearing from energy leaders has given them the confidence to take the next big step in their careers," said MITEI executive director Broad. DOE's Kenderdine added, "By supporting and highlighting the achievements of women at mid-career, we are inspiring and investing in women at the earliest stages of their clean energy careers at the same time we are developing senior leaders for the future."
Award nominations for next year's C3E Symposium are open now through January 8, 2016 at c3eawards.org.
---