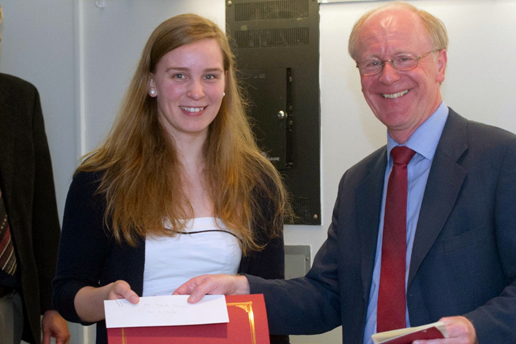 Ten MIT undergraduate women were recognized by BP for their outstanding academic accomplishments in the study of energy or their innovative energy research. The women, from the Departments of Chemical and Mechanical Engineering, received their awards on May 12th and 15th. The awards were presented at the departments' annual awards ceremonies by Andrew Cockerill, Director of BP University Relations and based at the MIT Energy Initiative.
To give an example of the type of outstanding research the women are accomplishing, one recipient, Georgia Van de Zande, is working with Professor Amos Winter and his team in the Global Engineering and Development Lab to develop a water purification and desalination system that relies on electrodialysis desalination technology paired with solar power. Van de Zande and her fellow researchers hope the technology will bring clean water to people in small, rural villages in India who have no or unreliable electricity sources.
BP has a long-standing research relationship with both departments, and provides postgraduate fellowships, undergraduate research opportunities, and internships through its partnership as a Founding Member of the MIT Energy Initiative.
Chemical Engineering Award Recipients
Outstanding academic achievement by Sophomore women
Pamela Cai
Kiara Cui
Kelsey Jamieson
Outstanding academic achievement by a Junior woman
Sarah Maynor
Outstanding performance in the Project Laboratory course by a Junior woman
Xingyi Shi
Outstanding performance in research by a Junior woman
Catherine Liou
Mechanical Engineering Award Recipients
BP Women of Academic Excellence Awards
Junior women with excellent academic record and have demonstrated outstanding potential in the field of energy.
Hannah Barret
Emma Nelson
BP Women in Research Innovation Awards
Junior women with excellent research, leadership, or communications skills demonstrated outstanding potential for research in the field of energy.
Kirsten Lim
Georgia Van de Zande
---