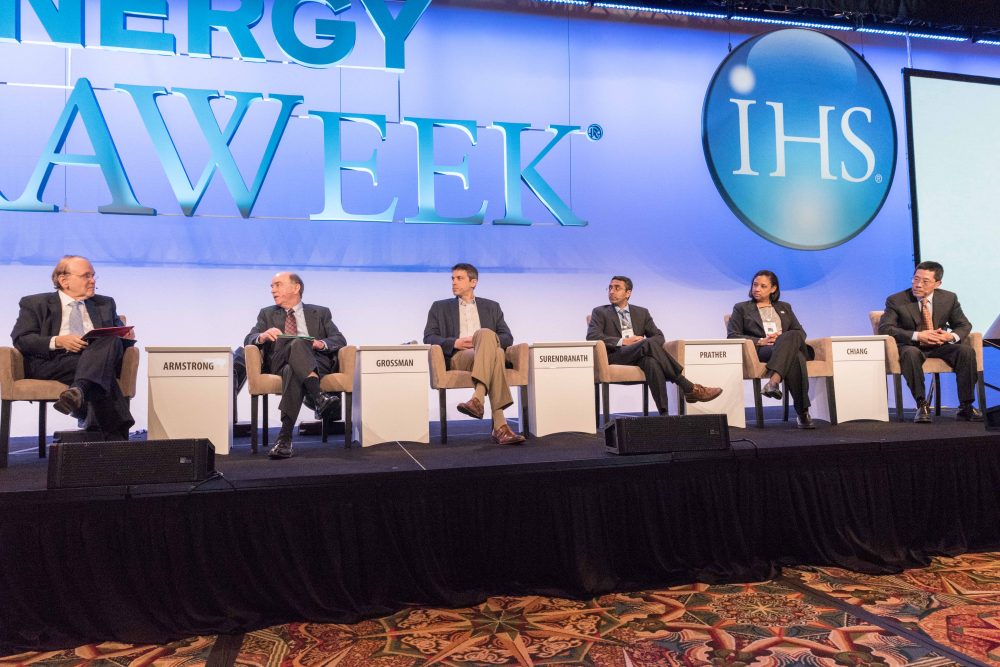 The week of February 22nd, MIT had a substantial presence at IHS Energy's CERAWeek, one of the world's largest energy conferences, to share perspectives on the future of energy in a time of great change for the industry. The Institute's involvement in CERAWeek has become an annual tradition, lasting almost a decade. This year, MIT participants took the opportunity to discuss the MIT Energy Initiative Low-Carbon Energy Centers currently under development, through which MIT researchers engage with industry and government in advancing key enabling technologies for addressing climate change.
In addition to oil and gas topics, CERAWeek also highlights electric power and clean technology subjects, as well as geopolitics. In keeping with these themes, MIT participants put an emphasis on describing advancements in a broad suite of low-carbon energy technologies, and providing context for areas of innovation that the industry should consider when planning for the future.
MIT panel appearances included Vice President for Research Maria Zuber, Co-Director of the Initiative on the Digital Economy Andrew McAfee, MITEI Deputy Director for Science and Technology Robert Stoner, and MITEI Director of Research and Analysis Francis O'Sullivan SM '04, EE '06, PhD '07. A full panel of MIT faculty served as one of the final events on Friday, rounding out MIT's weeklong clean energy agenda at CERAWeek.
"Because a large part of MITEI's mission is to work closely with industry to help catalyze the transition to a low-carbon energy economy through research collaborations, it's important for us to be here," said Louis Carranza, Associate Director of MITEI, who co-chaired CERAWeek before coming to MIT.  "We're in the midst of an energy revolution in this regard, and MITEI is getting ahead of the curve by developing eight Low-Carbon Energy Centers."
O'Sullivan's outlook for solar technologies—one of the focal areas of the Low-Carbon Energy Centers—was very positive: "Solar is the most abundant resource we have available to us, and significantly improved technology and cost have brought solar energy to a place where it's finally at the big table." He added, "Solar's going to play a meaningful role in any decarbonized future. As its role in the overall system expands, we're going to see a balance emerging between it and other low-carbon energies that maximizes the strengths of each." O'Sullivan sat on a panel discussing emerging frontiers for solar growth, and the long-term implications for energy and geopolitics.
An important part of MITEI's focus on technology development is how these advances will in turn aid society. MITEI Deputy Director for Science and Technology Robert Stoner, who is also the director of the Tata Center for Technology and Design at MIT, focused on this during a panel about innovation for future infrastructure. Focusing specifically on communities in India and Rwanda, Stoner discussed the energy challenges facing people living in developing nations. "Small-scale electrification using off-grid technologies such as micro-grids and solar lamps has become widely possible, but by definition lacks the economies of scale a large grid offers," he said. "The problem is that large grids are economically feasible when electricity demand is above a certain threshold – and well above the level of demand typical of new consumers in developing countries. So in the long run large grids seem likely to spread as electricity demand grows. In the nearer term, off-grid technologies may play an important interim role." Stoner suggested that sophisticated technology may be key to making off-grid technologies widely deployable, saying, "There are many opportunities for automating these systems using modern communications and controls."
MIT's strong showing at CERAWeek was even more pronounced at an alumni event hosted by MITEI that was thronged by alumni currently working in the energy industry. Catherine Qin Shi, Associate Director of Regional Programs for the MIT Alumni Association, said, "There was so much energy among the alumni at the MITEI Reception on Thursday night. It was so exciting to see so many local MIT alumni and faculty, many of whom are also MIT alumni, together discussing the future of energy, and connecting with one another."
Others at the conference, including Jeffrey Immelt, CEO of GE, Stanley Fischer, Vice Chairman of the Federal Reserve Board, and U.S. Secretary of Energy Ernest Moniz, also commented on the role MIT has played in training energy leaders and making research breakthroughs.
At the Friday MIT plenary session, MITEI Director Robert Armstrong SM '97 and IHS Vice Chairman Dan Yergin moderated a panel with Yet-Ming Chiang '80 SCD '85, a professor of materials science and engineering and a battery expert, discussed the future of energy storage. Jeffrey Grossman, of the same department, showed the audience how new openings in materials design are allowing researchers to change chemical structures to achieve more efficient filtering in desalination and better energy storage.
Kristala Jones Prather '94, associate professor in the department of chemical engineering, discussed advancements in synthetic biology, including the creation of new biofuels and the way bioengineers look to nature for inspiration in their energy research. She said, "We consider all of biology to be our playground. Anything nature uses, we try to engineer to use in the same way." Rounding out the group was Yogesh Surendranath PhD '11, assistant professor of chemistry at MIT. Surendranath talked about how chemists are able to reverse classic energy reactions to use CO2 as a fuel, and what this means for the future of energy cycling.
Discussing the role of MITEI as an organization, Grossman said, "What MITEI really does so well is help bring people from science and industry together so we, as scientists, can understand how what we're doing can have the most impact. We want to do research that's going to be relevant, and there's no way we can do that unless we have really strong partnerships with industry."
Prather added, "If you don't have that industrial perspective, you could believe that there are issues out there that there actually aren't, or you might think the only challenges in the way of a solution are technological, whereas there's a broader suite of challenges apparent from the industry side."
MITEI's Low-Carbon Energy Centers will place a similar importance on these academia-industry partnerships, a type of "vertical integration," as Armstrong calls it, that will allow groups with both perspectives to come together to find the most effective ways to shape the clean energy future.
One of those collaborations began during the conference itself, as national energy provider Exelon signed on as a member company with MITEI, with plans to focus research support through the Centers on advancing technologies to combat climate change.
"Participating in conferences like this one gives us at MIT the opportunity to lay out our ideas for a low-carbon future and encourage more partners to get involved with bringing those ideas to fruition," said Zuber. "Rapidly transforming the global energy system to address the dangerous risks of climate change is a formidable challenge, and we need to bring as much talent and expertise to the table as we possibly can."
---
This article appears in the Spring 2016 issue of Energy Futures.