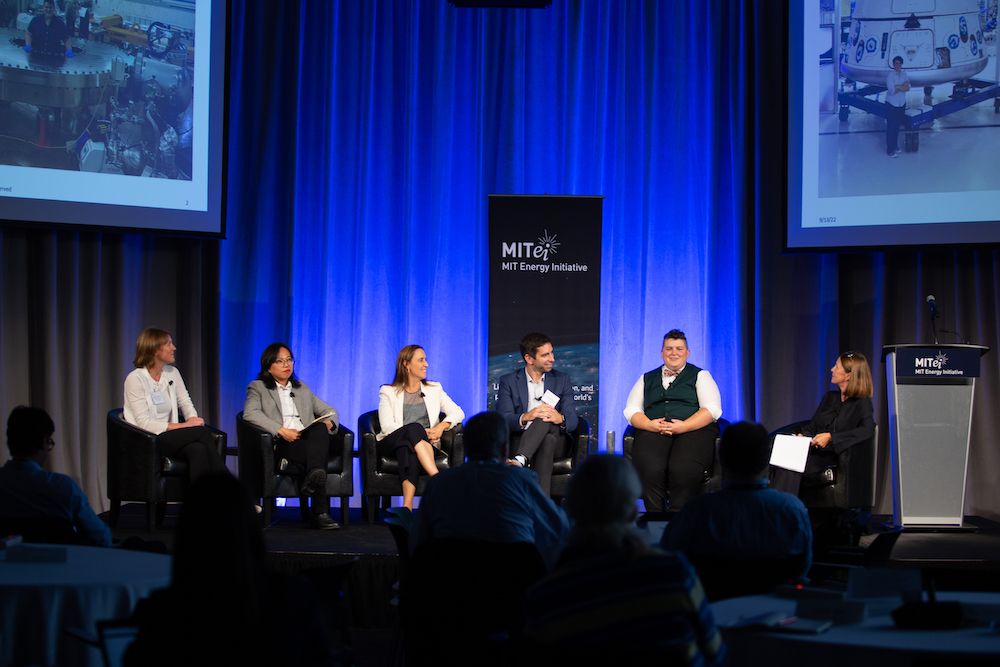 "The past six years have been the warmest on the planet, and our track record on climate change mitigation is drastically short of what it needs to be," said Robert C. Armstrong, MIT Energy Initiative (MITEI) director and the Chevron Professor of Chemical Engineering, introducing MITEI's 15th Annual Research Conference.
At the symposium, participants from academia, industry, and finance acknowledged the deepening difficulties of decarbonizing a world rocked by geopolitical conflicts and suffering from supply chain disruptions, energy insecurity, inflation, and a persistent pandemic. In spite of this grim backdrop, the conference offered evidence of significant progress in the energy transition. Researchers provided glimpses of a low-carbon future, presenting advances in such areas as long-duration energy storage, carbon capture, and renewable technologies.
In his keynote remarks, Ernest J. Moniz, the Cecil and Ida Green Professor of Physics and Engineering Systems Emeritus, founding director of MITEI, and former U.S. secretary of energy, highlighted "four areas that have materially changed in the last year" that could shake up, and possibly accelerate, efforts to address climate change.
Extreme weather seems to be propelling the public and policy makers of both U.S. parties toward "convergence… at least in recognition of the challenge," Moniz said. He perceives a growing consensus that climate goals will require—in diminishing order of certainty—firm (always on) power to complement renewable energy sources, a fuel (such as hydrogen) flowing alongside electricity, and removal of atmospheric carbon dioxide (CO2).
Russia's invasion of Ukraine, with its "weaponization of natural gas" and global energy impacts, underscores the idea that climate, energy security, and geopolitics "are now more or less recognized widely as one conversation." Moniz pointed as well to new U.S. laws on climate change and infrastructure that will amplify the role of science and technology and "address the drive to technological dominance by China."
The rapid transformation of energy systems will require a comprehensive industrial policy, Moniz said. Government and industry must select and rapidly develop low-carbon fuels, firm power sources (possibly including nuclear power), CO2 removal systems, and long-duration energy storage technologies. "We will need to make progress on all fronts literally in this decade to come close to our goals for climate change mitigation," he concluded.
Global cooperation?
Over the two days, conference participants delved into many of the issues Moniz raised. In one of the first panels, scholars pondered whether the international community could forge a coordinated climate change response. The United States' rift with China, especially over technology trade policies, loomed large.
"Hatred of China is a bipartisan hobby and passion, but a blanket approach isn't right, even for the sake of national security," said Yasheng Huang, the Epoch Foundation Professor of Global Economics and Management at the MIT Sloan School of Management. "Although the United States and China working together would have huge effects for both countries, it is politically unpalatable in the short term," said F. Taylor Fravel, the Arthur and Ruth Sloan Professor of Political Science and director of the MIT Security Studies Program. John E. Parsons, deputy director for research at the MIT Center for Energy and Environmental Policy Research, suggested that the United States should use this moment "to get our own act together…and start doing things," such as building nuclear power plants in a cost-effective way.
Debating carbon removal
Several panels took up the matter of carbon emissions and the most promising technologies for contending with them. Charles Harvey, MIT professor of civil and environmental engineering, and Howard Herzog, a senior research engineer at MITEI, set the stage early, debating whether capturing carbon was essential to reaching net-zero targets.
"I have no trouble getting to net zero without carbon capture and storage," said David Keith, the Gordon McKay Professor of Applied Physics at Harvard University, in a subsequent roundtable. Carbon capture seems more risky to Keith than solar geoengineering, which involves injecting sulfur into the stratosphere to offset CO2 and its heat-trapping impacts.
There are new ways of moving carbon from where it's a problem to where it's safer. Kripa K. Varanasi SM '02, PhD '04, MIT professor of mechanical engineering, described a process for modulating the pH of ocean water to remove CO2. Timothy Krysiek, managing director for Equinor Ventures, talked about construction of a 900-kilometer pipeline transporting CO2 from northern Germany to a large-scale storage site located in Norwegian waters 3,000 meters below the seabed. "We can use these offshore Norwegian assets as a giant carbon sink for Europe," he said.
A startup showcase featured additional approaches to the carbon challenge. Mantel, which received MITEI Seed Fund money, is developing molten salt material to capture carbon for long-term storage or for use in generating electricity. Verdox has come up with an electrochemical process for capturing dilute CO2 from the atmosphere.
But while much of the global warming discussion focuses on CO2, other greenhouse gases are menacing. Another panel discussed measuring and mitigating these pollutants. "Methane has 82 times more warming power than CO2 from the point of emission," said Desirée L. Plata, MIT associate professor of civil and environmental engineering. "Cutting methane is the strongest lever we have to slow climate change in the next 25 years—really the only lever."
Steven Hamburg, chief scientist and senior vice president of the Environmental Defense Fund, cautioned that emission of hydrogen molecules into the atmosphere can cause increases in other greenhouse gases such as methane, ozone, and water vapor. As researchers and industry turn to hydrogen as a fuel or as a feedstock for commercial processes, "we will need to minimize leakage…or risk increasing warming," he said.
Supply chains, markets, and new energy ventures
In panels on energy storage and the clean energy supply chain, there were interesting discussions of challenges ahead. High-density energy materials such as lithium, cobalt, nickel, copper, and vanadium for grid-scale energy storage, electric vehicles (EVs), and other clean energy technologies, can be difficult to source. "These often come from water-stressed regions, and we need to be super thoughtful about environmental stresses," said Elsa Olivetti PhD '07, the Esther and Harold E. Edgerton Associate Professor in Materials Science and Engineering. She also noted that in light of the explosive growth in demand for metals such as lithium, recycling EVs won't be of much help. "The amount of material coming back from end-of-life batteries is minor," she said, until EVs are much further along in their adoption cycle.
Arvind Sanger, founder and managing partner of Geosphere Capital, said that the United States should be developing its own rare earths and minerals, although gaining the know-how will take time, and overcoming "nimbyism" (Not In My Back Yard-ism) is a challenge. Sanger emphasized that we must continue to use "denser sources of energy" to catalyze the energy transition over the next decade. In particular, Sanger noted that "for every transition technology, steel is needed," and steel is made in furnaces that use coal and natural gas. "It's completely woolly headed to think we can just go to a zero-fossil fuel future in a hurry," he said.
The topic of power markets occupied another panel, which focused on ways to ensure the distribution of reliable and affordable zero-carbon energy. Integrating intermittent resources such as wind and solar into the grid requires a suite of retail markets and new digital tools, said Anuradha Annaswamy, director of MIT's Active-Adaptive Control Laboratory. Tim Schittekatte, a postdoctoral associate at the MIT Sloan School of Management, proposed auctions as a way of insuring consumers against periods of high market costs.
Another panel described the very different investment needs of new energy startups, such as longer research and development phases. Hooisweng Ow, technology principal at Eni Next LLC Ventures, which is developing drilling technology for geothermal energy, recommends joint development and partnerships to reduce risk. Michael Kearney SM '11, PhD '19, SM '19 is a partner at The Engine, a venture firm built by MIT investing in pathbreaking technology to solve the toughest challenges in climate and other problems. Kearney believes the emergence of new technologies and markets will bring on "a labor transition on an order of magnitude never seen before in this country," he said. "Workforce development is not a natural zone for startups…and this will have to change."
Supporting the global South
The opportunities and challenges of the energy transition look quite different in the developing world. In conversation with Robert Armstrong, Luhut Binsar Pandjaitan, the coordinating minister for maritime affairs and investment of the Republic of Indonesia, reported that his "nation is rich with solar, wind, and energy transition minerals like nickel and copper," but cannot on its own tackle developing renewable energy or reducing carbon emissions and improving grid infrastructure. "Education is a top priority, and we are very far behind in high technologies," he said. "We need help and support from MIT to achieve our target," he said.
Technologies that could springboard Indonesia and other nations of the global South toward their climate goals are emerging in MITEI-supported projects and at young companies MITEI helped spawn. Among the promising innovations unveiled at the conference are new materials and designs for cooling buildings in hot climates and reducing the environmental costs of construction, and a sponge-like substance that passively sucks moisture out of the air to lower the energy required for running air conditioners in humid climates.
Other ideas on the move from lab to market have great potential for industrialized nations as well, such as a computational framework for maximizing the energy output of ocean-based windfarms; a process for using ammonia as a renewable fuel with no CO2 emissions; long-duration energy storage derived from the oxidation of iron; and a laser-based method for unlocking geothermal steam to drive power plants.
---
This article appears in the Winter 2023 issue of Energy Futures.