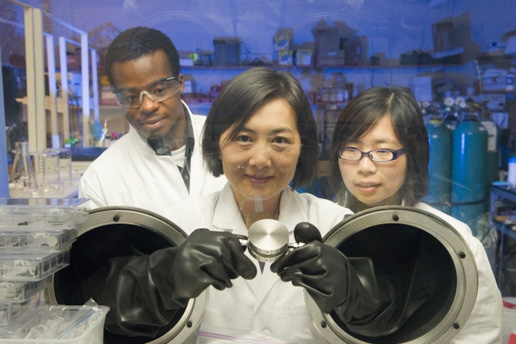 An arresting image fills the screen before hundreds of rapt members of the MIT community as Vladimir Bulović, professor in the Department of Electrical Engineering and Computer Science, begins his presentation. Bulović, the School of Engineering's associate dean for innovation, describes the graphic as a cross-section of two thin-film solar photovoltaic technologies. One, a commercialized technology, is approximately 7 microns (µm) in width. The other, an emerging technology, is even thinner. A cross-section of a human hair — a hefty 100 µm — is shown beside both, for reference; it resembles a felled redwood next to two slips of paper, shown edgewise.
Moments like this — with audience members from scientists to new students sharing a sense of wonder in the possibilities for the future — were plentiful at MIT Solar Day, which took place in the MIT Media Lab on Sept. 10. Marc Baldo, professor of electrical engineering and computer science, could be seen describing ways to improve the efficiency of solar cells by generating and manipulating excitons in novel organic-inorganic layer structures. Professor Tonio Buonassisi, from the Department of Mechanical Engineering (MechE), gave a presentation on the powerful potential of tandem solar cells, in which layers of two materials that usually appear in separate solar technologies are stacked in order to utilize more of the energy in the solar spectrum. Yang Shao-Horn, a professor in MechE and the Department of Materials Science and Engineering, revealed the latest developments in using oxygen redox reactions to store energy from renewable sources in chemical form so it can be consumed at a later time.
More than the thrill of science
As always at MIT, there is palpable excitement in the air when researchers get together. Many of the researchers present at MIT Solar Day inhabit specific niches in the energy field, and this conference was part of an effort to view the larger picture of solar research happening across schools, departments, and disciplines.
From the outset of the conference, it was also clear that solar energy research is about much more than the thrill of scientific exploration.
"By mid-century, the world will likely see a near doubling of energy demand relative to today," said MIT Vice President for Research Maria Zuber in her opening remarks. "At the same time, it is clear that in order to avert the worst impacts of global climate change, we need to rapidly reduce greenhouse gas emissions from the energy sector, notably CO2 emissions. Solar energy provides a tremendous opportunity to realize this low-carbon energy future."
Bulović, in turn, added a global theme to his discussion of new solar technologies.  While describing a photo of solar cells printed on paper, he took a moment to explain the significance of this particular breakthrough. "There are 1.5 billion people without grid electricity," Bulović said. "In remote areas, the last nine miles of delivery of solar panels are on average the longest and most expensive. If we could print solar cells on lighter material, like paper, that could help."
This observation reverberated through the rest of the day's panels. In a panel on solar energy in the developing world, Robert Stoner, MIT Energy Initiative (MITEI) deputy director and Tata Center for Technology and Design director, elaborated by adding, "Twice as many people in developing countries probably feel like they lack electricity because their service is so unreliable."
Time is of the essence
Professor of electrical engineering and computer science Rajeev Ram added that researchers have a "moral imperative" to direct their work toward advances that will better others' lives. During an end-of-day panel synthesizing the main ideas of the conference, MIT Institute Professor John Deutch translated Ram's convictions into sociological terms: "It can't be denied that access to electricity brings along with it better health, safety, and socioeconomic status."
Throughout the conference, there was a sense that time is of the essence, and an appreciation for the importance of sharing great ideas with fellow MIT community members — inspiring minds and hands to continue innovating to meet current and future global challenges.
Even with many people working efficiently towards a goal, the research process can be long and arduous. Bulović aptly brought up the example of the zipper, a now-ubiquitous tool that took 12 years after its first demonstrations to reach mass usage. The conception-to-adoption pipeline for solar technologies is similarly lengthy.
That's why MIT researchers aren't indiscriminately focusing on new technologies — they're looking for the right technologies. Ellen Williams, director of the U.S. Department of Energy's Advanced Research Projects Agency – Energy (ARPA-E) put it well: "With new technology, we're always thinking: If it works, will it matter?" Indeed, this is what ARPA-E as an organization was made for — its highly selective funding process is built around the goal of buoying the cutting-edge projects that, if brought to fruition in a timely way, will be most impactful.
Deutch agreed that this philosophy translates well for the Institute: "This is what MIT is supposed to be doing, what MIT is good at," he said. "We're all about advancing technical ideas that will really make a difference in the target space. None of this is certain, but there is so much potential there, if we could only lose some unnecessary weight."
Student showcase
This sense of innovation and promise carried over into the student poster sessions that capped off the day. More than 20 research groups gathered in the lobby of Bartos Theater to showcase their latest work. Posters covering research on everything from classic crystalline silicon solar cells to carbon nanotube photovoltaics were on display. Anna Osherov, a postdoc in the lab of Angela Belcher, the W.M. Keck Professor of Energy at MIT, and Vladimir Bulović, discussed a novel way of producing organic-inorganic perovskite solar cells, a new technology with the potential for high efficiency and low cost. Rather than using conventional manufacturing pathways, the researchers are using inkjet printing, allowing for scalable and cost-sensitive deployment.
Chitti Desai, an MIT undergraduate working with the MIT D-Lab (Development through Dialogue, Design, and Dissemination) presented her work as part of a team creating a dynamic online database for individuals planning to purchase small-scale solar lighting for their homes and businesses. The country-specific database will provide information on the best local suppliers of solar lighting, evaluated based on cost, quality, and a variety of other factors.
By bringing the MIT community together to learn about each other's research and explore the potential of future technologies, MIT Solar Day has sparked a discussion about how the Institute can continue to be a leader in solar technology innovation for the climate, the economy, and the well-being of the global community. As ARPA-E director Williams said, "Current energy and emissions projections are not what will happen and not what should happen. We can change them."
Solar Day was hosted by the MIT Energy Initiative as an on-campus component of their release of the "Future of Solar Energy" study in spring 2015.
---
This article appears in the Autumn 2015 issue of Energy Futures.