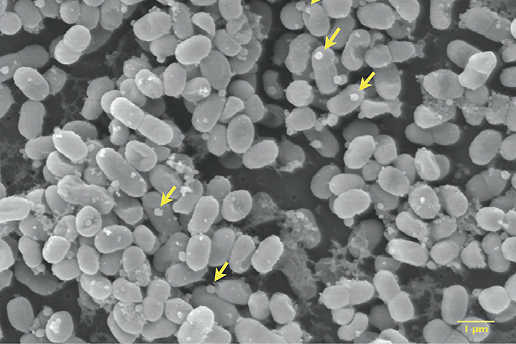 The MIT Energy Initiative's latest round of seed grants for energy research is supporting early-stage or novel work in areas including energy and water, hydraulic fracturing, solar energy, biofuels, energy storage, electricity generation and distribution, and building systems.
A total of $1.9 million was awarded to 13 research projects lasting up to two years. The funded projects span eight departments and three schools.
As in the past, the call for proposals welcomed submissions on any energy-related topic, but this year it expressed particular interest in proposals addressing the energy-water nexus. In response, proposals were submitted on water desalination, oil-water interfaces, and water use and recovery during natural gas and oil development. Six of the water-related projects were funded. All the funded projects are listed below, some of which are highlighted in the following paragraphs.
Funding for the new grants comes chiefly from MITEI's Founding and Sustaining Members, supplemented by funds from the Grantham Foundation, David desJardins '83, and John Bradley, and gifts from other generous alumni. Alumni contributions particularly serve to enhance the reach of the MITEI Seed Fund Program across campus.
To date, the Seed Fund Program has supported 103 early-stage research proposals, with total funding of more than $12 million.
Spring 2012 Seed Fund Projects
Predicting Interfacial Tension Reduction at Oil-Water Interfaces to Facilitate Surfactant Design for Enhanced-Oil Recovery Applications
Daniel Blankschtein, Chemical Engineering
Hydrogen-Bromine Laminar Flow Battery for Large Scale Energy Storage
Cullen R. Buie, Mechanical Engineering; Martin Z. Bazant, Chemical Engineering
A novel mechanism for production of energy-rich compounds from a minimal photosynthetic cell
Sallie W. Chisholm, Civil and Environmental Engineering
Designer Microporous Materials for Water Desalination and Adsorption Heat Pumps
Mircea Dinca, Department of Chemistry
High Efficiency, Low Cost Voltage‐Matched Solar Cell Circuits for Solar Concentration Application
Eugene Fitzgerald, Mayank Bulsara, Materials Science and Engineering
Nanoporous Membranes for Energy-Efficient Water Desalination
Jeffrey Grossman, Materials Science and Engineering
A New Green Method to Transfer CVD Graphene in Large Scale onto PET as Alternative ITO Substrate for Energy Related Device Uses
Jing Kong, Tingying Zeng, Electrical Engineering and Computer Science
An analysis of the water sourcing and treatment requirements for unconventional natural gas and oil development
Francis O'Sullivan, MIT Energy Initiative
Ultra-high Efficiency Power Converter Architecture for DC Distribution Systems
David Perreault, Khurram Afridi, Electrical Engineering and Computer Science
Urban Modeling Initiative (UMI) – Operational Building Energy Use, Water Runoff and Walkability in New and Existing Cities and Neighborhoods
Christoph Reinhart, Leslie Norford, Architecture
Direct Solar to Hydrogen Conversion: Low Cost Photoelectrodes
Harry L. Tuller, Materials Science and Engineering
Enhanced Clean Water Recovery in Unconventional Natural Gas Production
Kripa Varanasi, Mechanical Engineering
Assessment of Novel Hydraulic Fracturing Fluids and Proppants in Unconventional Gas Production
John R. Williams, Christopher R. Leonardi, Civil and Environmental Engineering
---
This article appears in the Spring 2012 issue of Energy Futures, the magazine of the MIT Energy Initiative. Subscribe ›
---
---
Subscribe to energy news & events: (See past editions)