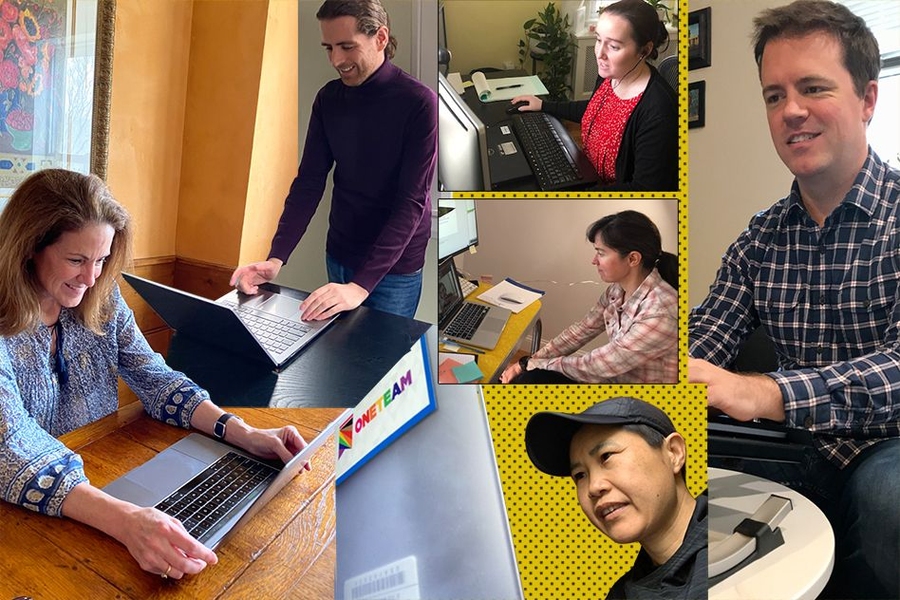 When the MIT campus is alive, it nearly sings with innovation and excitement. Students sustain one another with activities ranging from building in makerspaces to psetting (doing problem sets) in residence halls to playing pick-up soccer games on the fields. But how can they remain connected during a pandemic, where physical distancing is the new normal? What can replace the informal chats with faculty members after class? Throw in remote learning, and the Infinite Corridor seems infinitely far away.
Enter the MIT Student Success Coaching program, a new initiative that kept students "connected to the Infinite" during remote learning in spring 2020. The program, launched by the Division of Student Life (DSL) and the Office of the Vice Chancellor (OVC), matched students with volunteer "coaches," or staff or faculty members from several areas of the Institute. In many cases, the coaches were already known to students through their "day jobs" as athletic coaches, support professionals, or faculty members.
Coaches were assigned anywhere from one to 20 undergraduate students with whom they connected once a week through the end of the spring semester—checking to see how they were transitioning to online learning and, more generally, how they were doing during the Covid-19 crisis. Participating students received weekly check-ins conducted over Zoom, FaceTime, or even via phone or email.
The program emerged in response to a request from Suzy Nelson, vice president and dean for student life; Ian Waitz, vice chancellor for undergraduate and graduate education; and Krishna Rajagopal, dean for digital learning. The program's co-chairs were Lauren Pouchak, director of special projects in the OVC; Gustavo Burkett, senior associate dean for diversity and community involvement in DSL; and Elizabeth Cogliano Young, associate dean and director of first-year advising programs in OVC.
In the spring, there were more than 500 volunteer coaches matched with approximately 4,400 undergraduate students, according to Cogliano Young. The program was also open to MIT's graduate students but it served a smaller number "since many graduate students may already have regular meetings with advisors," Pouchak says. The team worked to identify coaching programs for graduate students.
Listening is number one
One of the co-chairs' first tasks was developing a training for the volunteers. They turned to colleagues across the Institute, including Rajagopal, who spoke at the first, hour-long, virtual training session. At that session, he emphasized that the coaches are not meant to replace academic advisors or the professionals who work for Student Support Services and GradSupport.
"The number one thing to do is to listen, listen, and listen," Rajagopal said.
Susanna Barry, senior program manager at MIT Medical, also spoke at the training, and she encouraged coaches to empower students to solve their own problems. A Slack group was formed where coaches could interact with one another and the program co-chairs could share what they were hearing from students, brainstorm approaches to addressing challenges, and develop new ideas for strengthening student connections to the Institute in the early days of the pandemic.
Pouchak said the Slack channel feedback meant that issues that "bubbled up" could be addressed in real time. For instance, many students reported having trouble sleeping and managing their time while off campus. Working with Barry, the co-chairs and a group of "super coaches" (staff who have particular expertise and experience and work to support students on a daily basis) produced Zoom workshops on topics such as sleep and time management, which included tips such as "don't hit the snooze button" and "try to get some sunlight before noon every day."
Rachel Shulman, undergraduate academic coordinator for the MIT Energy Initiative, who was matched with 18 undergraduate students, was eager to share insights with her fellow coaches. She says after initial conversations with several students, she noticed that many were finding it hard to stay focused.
"Everyone is distracted, and everyone is having trouble focusing on their lectures, and some are putting pressure on themselves to do as well as they were doing before," Shulman said this spring, when students were still adjusting to online learning. She noted that while some of her students reported doing well with the transition to virtual learning, they still appreciated hearing from someone at MIT.
Shulman says she reminded students that the weekly coaching sessions could be whatever students wanted them to be.
"I've told them that if they have specific goals, I can try to help them figure out how to achieve them, or I can connect them with resources. I had one student ask me about the career fair, and it was so great because there's a Slack channel for the MIT coaches…and I was able to Slack one of them while I was on a Zoom call with the student [so I could answer the student's question]," Shulman says.
Luke Hartnett '20, a senior in mechanical engineering and an energy studies minor, was skeptical of the coaching initiative at first. But, after his first conversation with his coach, he realized that he appreciated the extra support—especially after his 90-year-old grandmother was diagnosed with Covid-19.
"[My coach] was very helpful in talking me through how to deal with school…and planning out the rest of the semester. Everyone is dealing with something, so I think it's nice that MIT thought of this unique way to support students," Hartnett says.
Junior Alex Encinas, another mechanical engineering major and energy studies minor, says he has found time management a struggle at his home in Houston, Texas. He committed to following the same schedule that he would have had if he were on campus, even though he had the option of watching his lecture recordings at any time. He says he adjusted well to the new routine, but while speaking with his coach, "things started flowing out that I didn't even know were bothering me…and we just talked through them. It was calming for me." …
One MIT
One unexpected benefit from the weekly check-ins: Coaches reported that the communication inspired them to forge new connections with colleagues. Shulman formed a virtual knitting group on the Student Success Team Slack channel, and about a dozen people attended the first two sessions.
"In addition to the advantages to the students, the coaches have found community with one another, which has become a tremendous resource," says program co-chair Burkett. "In my opinion, the program has become a real-life example of the idea of 'One MIT.'"
---
Reprinted, revised, and abridged with permission of MIT News.
Read the full text
.
---
This article appears in the Autumn 2020 issue of Energy Futures.