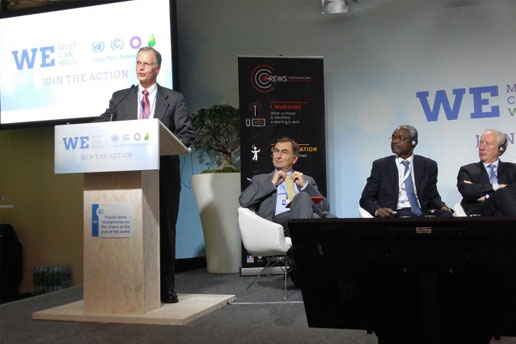 Today the MIT Climate CoLab, in collaboration with United Nations Secretary-General Ban Ki-moon, announced that it will launch a series of global online contests to help strengthen the resilience of vulnerable countries to respond to climate-related hazards.
The suite of contests are part of the secretary-general's Climate Resilience Initiative: Anticipate, Absorb, Reshape (A2R), a new global, multi-stakeholder initiative that will accelerate action on the ground to enhance climate resilience of the most vulnerable countries and people by 2020. A2R was announced at the United Nations Climate Change Conference (COP21) on Nov. 30 and is supported by 13 UN entities.
The A2R global contests will be hosted by the Climate CoLab, a project of the MIT Center for Collective Intelligence. The Climate CoLab is an online platform where a growing community of 50,000 people from around the world work with experts and each other to submit, develop, and select solutions to different aspects of the climate change problem.
"No matter the outcome of the international climate negotiations, it is clear that now more than ever before, we need the ideas and contributions of as many people as possible to address climate change," said MIT Professor Thomas Malone, founder and principal investigator for the Climate CoLab. "We hope these contests inspire experts and non-experts alike to work together in this critical time."
The first A2R contest will seek early actions that can be taken to ensure that vulnerable communities are prepared for climate-related hazards.
Climate change is projected to increase the frequency and severity of climate-related hazards, such as storms and extreme precipitation, flooding, sea-level rise, and heat waves. While advances in science and technology — global computer models, satellite imagery, and cheaper equipment for local meteorological offices, among others — have dramatically increased the ability to predict extreme weather events and provide early warnings to the most vulnerable communities, Cyclone Nargis, Hurricane Katrina, and the food crisis in Niger are examples of situations when information about threats was insufficient to avert a disaster.
To combat this, the UN-led A2R effort will seek innovations to strengthen the ability of vulnerable communities to prepare for and respond to disaster warnings quickly and effectively.
Advising the contests will be directors from United Nations entities and other leading international organizations.
The contests will create a pathway for innovators to receive recognition and for communities worldwide to gain access to the solutions they need to more adequately prepare for the impacts of climate change.
Until the A2R contests are launched, all are welcome to enter and work on proposals in the Anticipate, Absorb, Reshape Workspace. Once the contests open, authors can move their proposals from the workspace to the open contests.
---