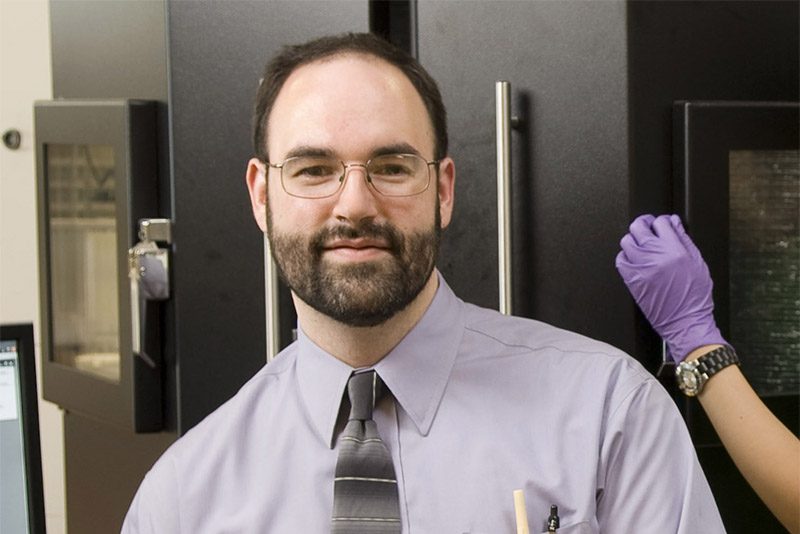 A new MIT research center is among the recipients of the most recent round of $100 million in funding for 42 Energy Frontier Research Centers (EFRCs) announced by the U.S. Department of Energy (DOE). The centers are a core component of DOE's funding for basic energy science research.
Michael Strano, the Carbon P. Dubbs Professor of Chemical Engineering, will lead the new EFRC to be established at MIT. The Center for Enhanced Nanofluidic Transport (CENT) will focus on the nanoscale study of energy to achieve energy efficiency in separation and chemical purification processes, as well as in the synthesis of new materials.
Strano says, "The Center for Enhanced Nanofluidic Transport presents an important opportunity to significantly expand our available tools to study, image, and understand fluidic transport through the smallest of conduits. The potential benefits to water purification, high-efficiency separation and energy saving processes are exciting."
Nanopores—small, nanometer scale pathways or openings in materials—exist in many forms across a wide range of materials. But those less than approximately 10 nanometers in diameter have only recently been available for careful study in single pore platforms. "What we have learned, as a community, so far from such single-digit pores has been surprising," says Strano.
An example of a research study area includes the unusual behavior sometimes exhibited by ions that migrate or flow across single digit nanopores, such as correlated motion, or complete rejection based on subtle differences in size, charge density or hydration. Understanding these phenomena promise new desalination and chemical separation technologies that can be very energy-efficient.
Research in the Strano lab focuses on understanding nanometer-scale phenomena through mathematics and chemistry in order to develop new technologies for health, energy, food production, and materials science.
DOE created the EFRCs in 2009 to support basic science research at universities, national laboratories, nonprofit organizations, and private firms across the nation. The goal of the program is to accelerate foundational research toward meeting critical energy challenges. This latest cohort of 42 EFRCs includes nine renewed centers and 22 new ones. Another 11 existing centers were awarded two-year extensions to support the completion of research still in progress.
"America's continued energy security and global competitiveness will depend vitally on a sustained effort in science and discovery," said U.S. Secretary of Energy Rick Perry in a DOE press release. "By mobilizing the talents of our nation's top scientists and forging them into powerful, pro-active teams, the EFRC program will help ensure America's leadership in the development of critical energy technologies and innovations."
The new center joins two previously named MIT EFRCs: the Center for Excitonics, directed by Marc A. Baldo, professor of electrical engineering and a principal investigator in the Research Laboratory for Electronics, and the Solid-State Solar-Thermal Energy Conversion Center, directed by Gang Chen, the Carl Richard Soderberg Professor of Power Engineering and director of the Pappalardo Micro and Nano Engineering Laboratories.
---
This article appears in the Autumn 2018 issue of Energy Futures.