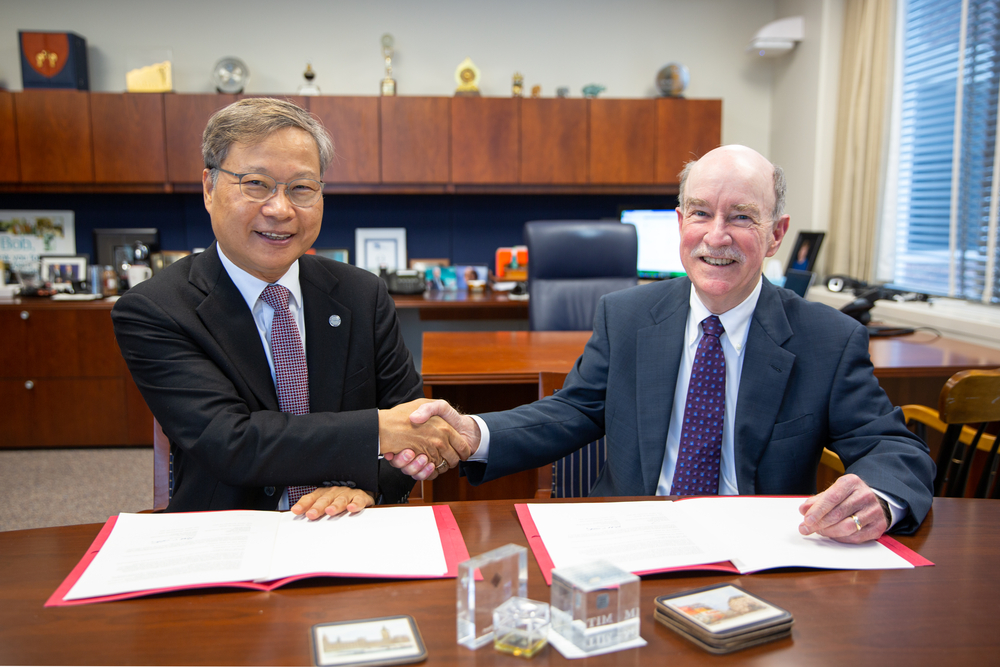 The MIT Energy Initiative (MITEI) has forged an agreement with the Korea Institute of Energy Technology (KENTECH) to establish a joint framework to educate students of MIT and KENTECH in pursuit of the energy transition. The agreement was signed on the MIT campus on November 29, 2022 by MITEI Director and Chevron Professor of Chemical Engineering Robert C. Armstrong and KENTECH Founding President Euijoon Yoon.
The three-year agreement initiates a collaboration between MIT and KENTECH in research and education, beginning with student exchange programs, student internships, and expanding to joint research and cooperative seminars and workshops. Under the agreement, the first students from KENTECH will arrive on the MIT campus in the summer of 2023. Students from MIT will be able to participate in internships at KENTECH, Korean energy research institutions, and regional energy companies.
KENTECH was founded in 2021 by the Korean National Assembly. It is the first global university focused solely on energy research and technology and climate change. Its campus, which relies on zero-carbon energy and eco-friendly technology, is currently under construction in Naju, outside Gwangju, South Korea.
"Given MITEI's position as MIT's hub for energy education, research, and outreach, this collaboration with KENTECH is a welcome and natural development," said Armstrong. "We welcome KENTECH as an important collaborator in the energy transition and in achieving net-zero greenhouse gas emissions. We look forward engaging with KENTECH in this rich intellectual and educational exchange."
"KENTECH expects that all activities under this agreement will enable students from both institutions to enhance their knowledge to mitigate climate change and achieve carbon neutrality," said President Yoon, who earned his PhD in Electronic Materials at MIT in 1990. "Together with MITEI we will create innovative academic programs to design the future together."
The agreement with KENTECH is part of MITEI's growing Energy and Climate Education Alliance with universities around the world. "In education we seek to give our students knowledge, skills, as well as the courage to jump into action," said Antje Danielson, MITEI Director of Education. "The MITEI-KENTECH effort will give students practical, hands-on experience in the energy transition—experience they will then share with the world." Faculty affiliated with the Energy and Climate Education Alliance are developing in-person and online education strategies to bridge work in the classroom with practical experience in the field. Both the Alliance and the MITEI-KENTECH agreement will engage with undergraduate, graduate, and postdoctoral students.
---
This article appears in the Winter 2023 issue of Energy Futures.