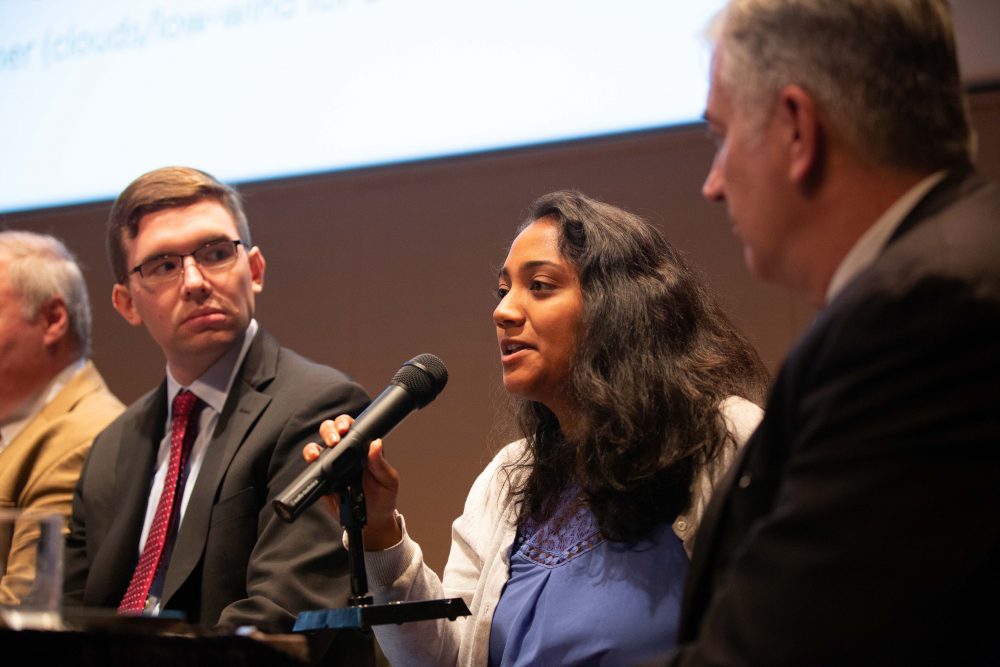 In late September 2018, researchers shared findings and recommendations from the new interdisciplinary MIT study, The Future of Nuclear Energy in a Carbon-Constrained World, at a series of events and meetings in Washington, DC. On September 25 and 26, study participants from MIT and other institutions involved in the report spoke with a variety of energy stakeholders and discussed nuclear energy's potential to help address climate change—and how industry and government could solve issues of cost and policy currently limiting that potential. For four of the graduate students from the research team who participated in the events, the DC visits held additional significance, as they saw their years of work on the study come to fruition.
Karen Dawson, a doctoral candidate in nuclear science and engineering, said, "I found it valuable to participate in the panel and meetings on the Hill because it felt like I was moving from the minor leagues to the major leagues." She added, "It was also really fulfilling to see industry experts discussing my work. It demonstrated the impact of my contributions to the study."
The lead researchers on the study repeatedly underscored the value of the students' work as well. Addressing an audience of approximately 150 people at the American Association for the Advancement of Science, study co-chair Jacopo Buongiorno began by acknowledging the efforts of the study team, composed of MIT and non-MIT researchers and advisors. Buongiorno, the TEPCO Professor and associate head of the Department of Nuclear Science and Engineering, cited the contributions of the graduate students at the event and other students who worked on the report as being a vital part of the team effort.
Another study co-chair, Michael Corradini, echoed Buongiorno's remarks, crediting the students as being "extremely important in doing these analyses." Corradini, an emeritus professor of engineering physics at the University of Wisconsin-Madison, told the audience, "When you get to the tough questions, we'll pass it on to them."
In addition to taking audience questions on their areas of expertise within the study, the students answered one from event moderator Professor Robert Armstrong, director of the MIT Energy Initiative (MITEI). He asked what had surprised them as they were working on the study.
Amy Umaretiya, a master's student in the Technology and Policy Program at the MIT Institute for Data, Systems, and Society, worked with study co-chair John Parsons, a senior lecturer at the Sloan School of Management, to examine policy issues. She said that learning that some public policies didn't incorporate nuclear energy as a low-carbon solution came as a surprise. "The fact that clean energy standards are actually focused only on renewable energy as opposed to [a wider portfolio of] clean energy was a big shock for me," she said.
Audience members also wanted to know why students had chosen to study nuclear science and engineering, and not "something 'sexier' like battery storage, smart grids, or next-generation solar."
"My interest in nuclear science and engineering really comes down to the amount of energy that's released when you split an atom apart," said doctoral candidate Patrick White. "We're talking 40 to 50 million times more energy per reaction if you look at the fission of a uranium atom versus the combustion of a carbon atom."
He said he began to wonder, "What kind of opportunities do you have when you take that kind of energy and apply it in places where solar and wind might not be appropriate—or even to help complement other technologies?"
Dawson added, "I was amazed that there was this technology that was viable on the grid already and had zero carbon emissions, and nobody really seemed to be talking about it as a solution, at least when I was an undergrad."
She said, "After a couple of years at MIT, I believed in nuclear being a strong part of the future energy system, and then I got interested in what the obstacles were to its development. That's what brought me to this study."
Dawson, Umaretiya, White, and nuclear science and engineering master's student Patrick Champlin also participated in meetings at the US Department of Energy, at the Center for Strategic and International Studies, on Capitol Hill with legislators and staff members (arranged by the MIT Washington Office), and at a dinner hosted by the Alumni Club of DC.
About these meetings in DC, White said, "It's so important that we're able communicate our report findings to policy makers. It was a really different experience to explain my research to a member of Congress instead of my advisor, but if we want to make our work matter, it's a conversation we need to learn to have. "
MITEI, which published the study, sponsored Dawson's, Umaretiya's, and White's travel for the DC events. MIT's International Policy Laboratory also provided support for outreach on the study. Other students who worked on the study included undergraduate students Rasheed Auguste, Ze (Jenny) Dong, and Ka-Yen Yau; doctoral candidate Lucas Rush; and PhD candidate Nestor Sepulveda, all of nuclear science and engineering.
---
This article appears in the Autumn 2018 issue of Energy Futures.