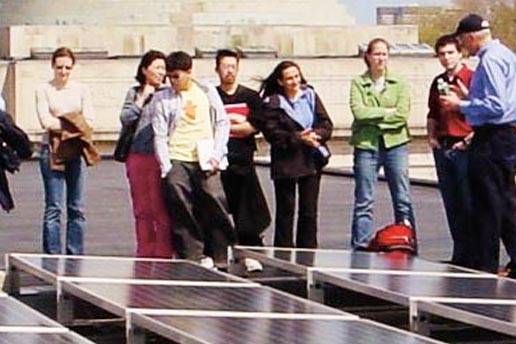 The Photovoltaic Research Laboratory in Building 35 is not the only venue on campus for hands-on investigation of solar technology. Last fall, students from Tonio Buonassisi's class, "Fundamentals of Photovoltaics" (2.626/7), discovered unexpectedly rich learning opportunities high atop the Alumni Pool building, Hayden Library, and the Student Center, the sites of three photovoltaic (PV) installations. With the assistance of the MIT Department of Facilities, students explored the performance of these solar modules, resulting in what Buonassisi calls "a stellar class project with real-world implications for on-campus solar installations."
Robert Clarke '81, who took 2.626/7 while enrolled in MIT's Advanced Study Program, says his group hoped to determine the efficiencies of PV modules under actual operating conditions: "We wanted to look at real modules in the field, not theoretical ones." Peter Cooper, manager of sustainability engineering and utility planning at MIT Facilities, helped the team extract years of performance data from the solar installations' computer monitoring system, which in Cooper's words, was "not user-friendly."
After long hours of analysis and late-night meetings, says Clarke, the students were able to characterize the energy output of these installations for a six-year period, which they then compared to the systems' peak energy ratings. The team detected greater losses of efficiency than expected, and tracked down the causes, which included orientation of the panels on the roofs, dirt, snow, and shading. To the surprise of utility managers, the students also discovered that the systems intermittently failed altogether. These shutdowns at times went unnoticed because the PV installations lacked real-time operational alerts to managers.
The team's final report is "the first comprehensive look at our installations," says Cooper, and one that is "terrifically informative." While Cooper notes that PV-generated electricity makes up less than 1% of MIT's overall energy capacity—the largest system, on the Alumni Pool, was installed in part to offset electricity used to relight the Great Dome—the PV arrays "advance learning and education around renewable energy on campus." The students' project, he says, fits right in with MIT's goal of "trying and learning new things about energy," as well as "developing expertise about what our systems can and can't do."
In practical terms, the study also helps MIT prioritize ways of improving PV performance, whether by cleaning and reorienting panels or launching a real-time alert system to flag PV failures. And when the time comes for the next installation of solar panels, Cooper says, "we will be looking at this report to optimize all of the components they studied."
---
This article appears in the Spring 2011 issue of Energy Futures.