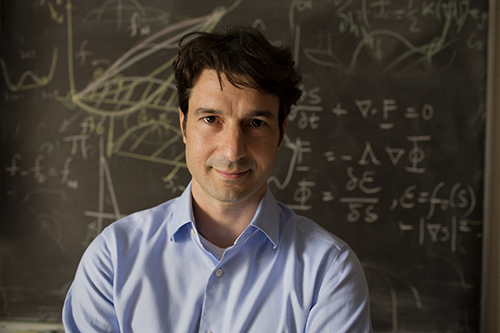 Ruben Juanes, the ARCO Associate Professor in Energy Studies in the Department of Civil and Environmental Engineering, became director of the Pierce Laboratory on September 1, 2015. Located in Building 1, the Pierce Laboratory serves as a home for MIT's research and education activities relating to the design, manufacture, and operation of infrastructure. The focus is on using innovative science and engineering approaches to advance the design of infrastructure materials, transportation systems, cities, and energy resources.
Juanes joined the MIT faculty in 2006. The Juanes research group focuses on energy-driven geophysical problems including carbon sequestration, methane hydrates, and energy recovery. He has been active in the MIT Carbon Sequestration Initiative, performing research on the geologic storage of carbon dioxide, and in 2013 he received a MITEI seed grant to investigate methods of quantifying leakage risks in geological carbon dioxide sequestration and shale-gas production.
Juanes teaches undergraduate and graduate classes focusing on structural and soil mechanics, groundwater hydrology, and other topics relevant to energy and the environment. With support from the S.D. Bechtel, Jr. Foundation, he is now developing a new Energy Studies Minor elective in which undergraduates will learn to visualize and model subsurface reservoir flows.
---
This article appears in the Autumn 2015 issue of Energy Futures.