News
Paula Hammond named head of chemical engineering
In July 2015, Paula Hammond became head of the MIT Department of Chemical Engineering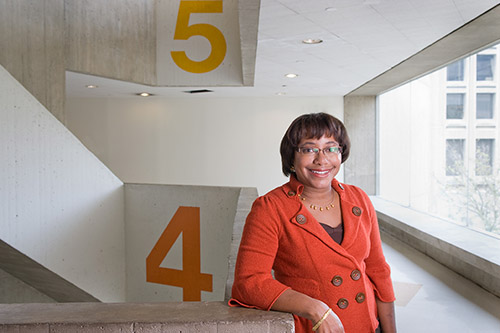 In July 2015, Paula Hammond '84, PhD '93, the David H. Koch (1962) Professor in Engineering, became head of the MIT Department of Chemical Engineering. She is the first woman and first person of color appointed to the post. She is a core faculty member of the Koch Institute for Integrative Cancer Research, a faculty member of the MIT Energy Initiative, and a founding member of the MIT Institute for Soldier Nanotechnologies.
Hammond's research focuses on biomaterials and drug delivery. Key to the work is the self-assembly of polymeric nanomaterials, with an emphasis on the use of electrostatics and other complementary interactions to generate functional materials with highly controlled architectures, including the development of new biomaterials and electrochemical energy devices. Selected projects involve incorporating electroactive nanomaterials—including nanotubes, nanoparticles, polyelectrolytes, and genetically engineered viruses—within the electrode of electrochemical systems to create high power and energy storage batteries.
Hammond is a member of the American Academy of Arts and Sciences, a director of the board of the American Institute of Chemical Engineers, and a fellow of the American Physical Society and the American Institute of Biomedical and Biological Engineering, among other honors.
---
This article appears in the Autumn 2015 issue of Energy Futures.