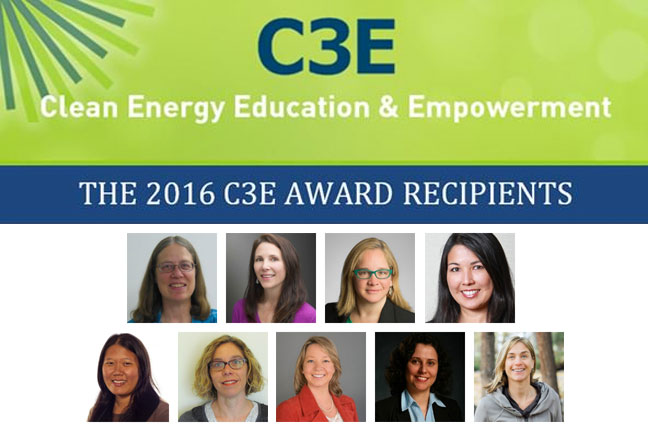 STANFORD, Calif. At the fifth annual Clean Energy Education & Empowerment (C3E) Women in Clean Energy Symposium today, nine distinguished women across multiple disciplines will be honored for outstanding leadership and accomplishments in clean energy. The Symposium is being held at Stanford University and is hosted by the U.S. Department of Energy (DOE), MIT Energy Initiative (MITEI), and Stanford University Precourt Institute for Energy.
Dr. Sarah Kurtz, a Research Fellow with the National Center for Photovoltaics and a Principal Scientist at the U.S. Department of Energy's National Renewable Energy Laboratory (NREL), will receive the C3E Lifetime Achievement award. Eight other women will receive awards in the categories of advocacy, business, education, entrepreneurship, government, international, law and finance, and research. The winners were nominated and selected by the U.S. C3E Ambassadors.
C3E is an initiative under the auspices of the Clean Energy Ministerial, a forum of 24 major-economy governments, which has a goal to close the gender gap and increase women's participation and leadership in clean energy fields. To deliver on the U.S. commitment to this initiative, the U.S. created and launched a U.S. C3E program five years ago, working together with its university partners. Since its inception, the U.S. C3E program has recognized the outstanding leadership and extraordinary achievements of over thirty women.
Today we recognize the extraordinary leadership and achievements of nine women in the clean energy arena, said Secretary of Energy Ernest Moniz. Most importantly, the C3E awardees spanning five years are clean energy innovators, advocates, and entrepreneurs in both developed and developing contexts the leaders we need to transfer the energy system. They are also role models committed to developing the diverse workforce across the many disciplines needed for accelerating clean energy deployment.
The nine women honored today represent nearly every facet of clean energy, from policy and finance to technology and entrepreneurship, said Sally Benson, co-director of the Precourt Institute for Energy at Stanford University. Their remarkable accomplishments are a clear sign that the gender gap is finally beginning to narrow for women in clean energy and other professions related to sustainability.
The recipients of the C3E Awards for mid-career leadership, by category, are:
Advocacy – Rebecca Pearl-Martinez
Affiliation: The Fletcher School, Tufts University
Residence: Boston, MA
Focus Area: Gender diversity as an accelerator of the clean energy economy
Education: Brandeis, Evergreen College
Business – Shelee Kimura
Affiliation: Hawaiian Electric Company
Residence: Honolulu, HI
Focus Area: Renewable generation procurement
Education: University of Pennsylvania
Education – Nicolette Phear
Affiliation: University of Montana
Residence: Missoula, MT
Focus Area: Climate change studies
Education: Prescott College, University of Montana, University of Pennsylvania
Entrepreneurship – Maria Kingery
Affiliation: Southern Energy Management
Residence: Morrisville, NC
Focus Area: Energy efficiency for buildings, solar power integration
Education: North Carolina State University
Government – Suzanne Tegen
Affiliation: DOEs National Renewable Energy Lab
Residence: Golden, CO
Focus Area: Wind and water market acceleration and deployment
Education: University of Colorado, University of Wisconsin
International – Jodi Wu
Affiliation: Global Cycle Solutions
Residence: Arusha, Tanzania
Focus Area: Solar for electricity and efficient cook stoves for cooking
Education: MIT
Law and Finance – Kathryn Zyla
Affiliation: Georgetown Climate Center
Residence: Washington, DC
Focus Area: Climate change resources and research
Education: Georgetown, Yale, Swarthmore
Research – Debora Rodrigues
Affiliation: University of Houston
Residence: Houston, TX
Focus Area: Water-energy nexus
Education: Michigan State University, University of Sao Paulo, Brazil
More extensive profiles of each awardee are available at c3eawards.org.
About C3E Lifetime Achievement honoree Dr. Sarah Kurtz:
Dr. Kurtz is a world-renowned solar energy expert who leads a team of 20 people to quantify and predict the performance of photovoltaics. Kurtz championed the early use of multi-junction solar cells by showing that a top cell of gallium indium phosphide (GaInP) and a bottom cell of gallium arsenide (GaAs) can capture and convert photons more efficiently into electricity than previous attempts at using other materials. This breakthrough was embraced by NASA which used Dr. Kurtzs multi-junction solar cells to power space satellites and Mars rovers Spirit and Opportunity. Dr. Kurtz holds six patents and holds a B.A. in Chemistry and Physics from Manchester College and a Ph.D. in Chemical Physics from Harvard University. She was inducted into the Space Technology Hall of Fame in 2004.
About the C3E Women in Clean Energy Symposium:
The C3E Women in Clean Energy Symposium is an annual professional conference that brings together women working in the sector from across the country. MITEI and Stanford Precourt Institute for Energy collaborate on the annual symposium with DOE and will alternate hosting the event as part of their shared commitment to C3E. Together, they are building a strong and interconnected network of women in clean energy. A graduate student poster competition is also held, and selected undergraduate students are invited to present lightning presentations.
About the Clean Energy Ministerial
The Clean Energy Ministerial (CEM) is a forum of the worlds major economies and leading clean energy investors working together to accelerate the global transition to clean energy. Launched in 2010, the CEM pairs the high-level engagement of energy ministers with sustained initiatives and high-visibility campaigns to drive faster deployment of clean energy policies and technologies worldwide.
---