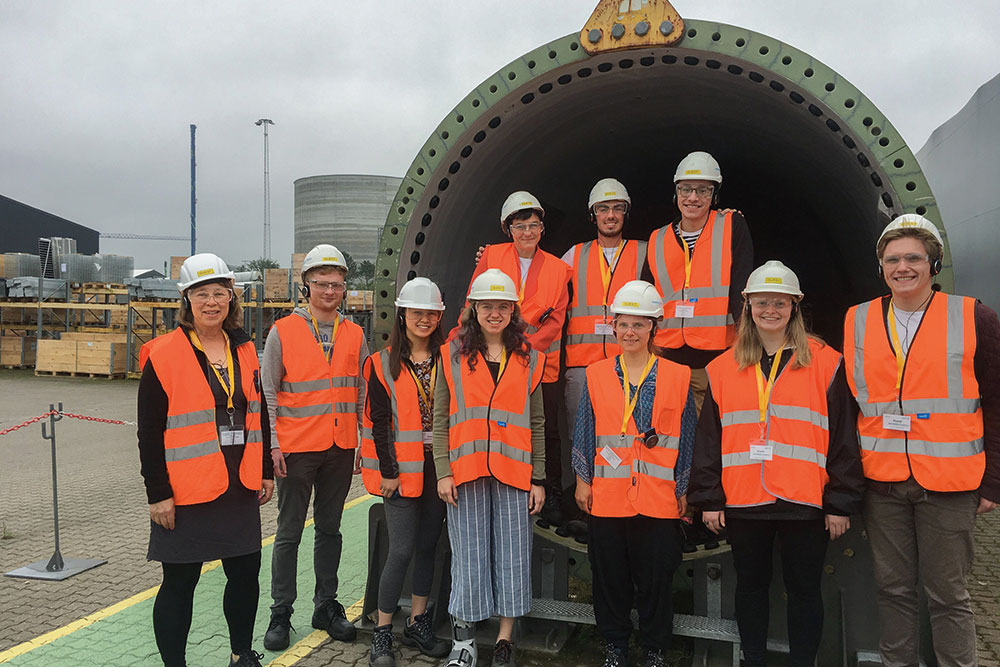 Six MIT students were the first to take part in a field trip led by MIT Energy Initiative (MITEI) Director of Education Antje Danielson this summer. For nine days, the group toured energy-related facilities in Denmark and Germany along with a delegation of students from Germany's University of Kiel before hosting the Kiel students for a week of reciprocal activities in New England.
Learning in the field
The journey began in Denmark and finished in Germany, spanning several cities and historical sites and, most importantly, a number of renewable energy facilities. These included the Maersk Drilling Innovation Lab in Copenhagen, Denmark; the self-sufficient Danish island of Samsø; the Siemens Gamesa wind turbine factory in Brande, Denmark; the University of Kiel in Kiel, Germany; and an underground radioactive waste storage facility in Morsleben, Germany.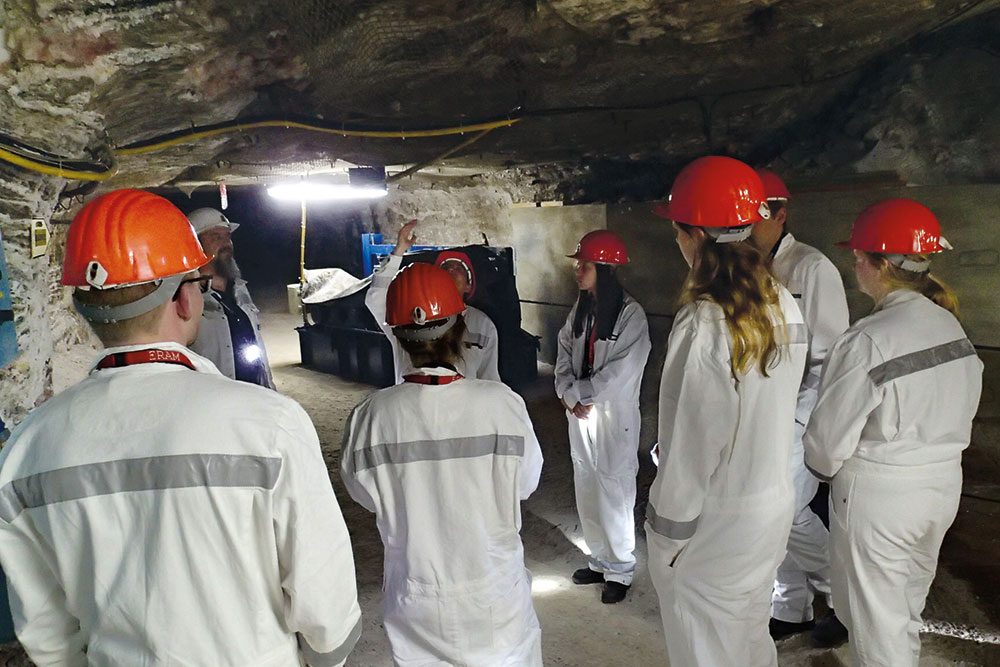 All of these activities had educational benefits, but the participants agree that the most fascinating was the trip to Samsø, an island with about 3,700 residents situated in the Kattegat Sea.
The group spent two nights in cabins on the island, the first Danish island to become self-sufficient in sustainable energy, 10 years after beginning its efforts in 1997. All of the island's electricity comes from an offshore wind farm, and 70% of its heat comes from solar and biofuel-powered central heating plants.
"I was really inspired by their hospitable, humble, community-oriented culture and lifestyle, as well as their political system, which allowed Denmark to adopt green legislation and to implement these changes so smoothly," says Jessica Nicole Horowitz, a sophomore mechanical engineering major who enrolled in MIT's Energy Studies Minor in spring 2019.
Thinking of home
Another sophomore MIT student who went on the trip, biology major Eduardo Canto, was interested in renewables because of their potential to help his home of Puerto Rico, which depends on a power grid largely reliant on traditional, nonrenewable energy sources that was damaged badly by Hurricane Maria in 2017 and other recent storms.
"There's a lot of sun and wind down there, but most of the energy is from imported diesel and oils," Canto says. "Electricity is very expensive back home, but there's plenty of sunlight, so it should be a viable option. I wanted to learn about it more and see if there's a chance that Puerto Rico can eventually become renewable in terms of electricity production."
His interest was piqued by the visit to a Siemens factory that makes offshore wind turbines.
"In the next year, they're going to be producing wind turbines with rated capacities of 10 megawatts each, and with about 300 of those we could power a lot of the electricity needs on the island," he says. "With some of the hurricane funds, maybe we could pay for a more resilient energy grid structure."
A perfect match
The German delegation to MIT consisted of five geoscience graduate students led by Professor Astrid Holzheid, all from the University of Kiel. Holzheid was a postdoc at MIT when she met Danielson 22 years ago, and their long professional relationship was a big reason the program came together between the two universities.
Holzheid says she was aware of the German government's interest in funding programs that would help students meet students from other countries as well as programs that promote renewable energy.
One of the University of Kiel students, Malte Juerchott, says, "I think the coolest part is to meet other people and get new connections. It's nice to see how the world runs in other areas and to see new kinds of laboratories and find out how people think. What's very interesting to me is the technical aspect. This morning we went to some labs, for example, and we don't have these kinds of labs in Kiel. You can see how the lab works and gain new experience."
The Kiel students had a number of sessions on a wide range of energy topics while they were in the United States, mostly on MIT's campus. They toured MIT labs focused on nuclear materials, solar electric vehicles, fusion, electrochemical energy storage, and wind technology. And they visited the lab of Professor Timothy Grove of the Department of Earth, Atmospheric and Planetary Sciences, with whom Holzheid worked when she was a postdoc at MIT.
The students also made a trip north to Maine, where they toured the Bates-Mores Mountain Conservation Area with Bates College geologist Marita Bryant, and spoke with marine scientist Andrew Pershing at the Gulf of Maine Research Center to learn about the impacts of climate change on the region.
The experiences provided useful technical knowledge to the visiting students, but Holzheid's main goals for her students consisted of broader, more practical skills. Holzheid believes that the students gained important interdisciplinary research skills as a result of the trips.
"Looking at materials science, if you are a geoscientist, you could think 'this is kind of over my head, and I don't understand it at all,'" Holzheid says. But she added that joint programs for students of material sciences and geosciences will help students to overcome the initial barrier and to venture into something new. "Some materials scientists know a lot about their specific materials but don't know where the raw material originated and if it could get replaced by highly abundant geomaterials in a processed form. Geoscientists should have knowledge about the sources," she says.
"Proof of concept"
Danielson, who worked with the Energy Education Task Force to launch this program, says the trip is meant to give students experience in the field while attracting more students to the Energy Studies Minor earlier in their college careers.
"Currently, most of the students enroll in the Energy Studies Minor either in their junior or senior year," Danielson says. "But by then it's a struggle to get all the credits, and they're losing a lot of the resources that MITEI has to offer."
The program had an excellent conversion rate in its first year. Of the six students, three decided to enroll in the minor after going on the trip; two had decided to enroll just before the trip during the spring 2019 semester; and one who graduated shortly before going on the trip is continuing in energy research as a graduate student. Danielson calls this "proof of concept" for the field trip—evidence that the program enriches students' energy education and entices them to further it through the minor.
Sarah Lohmar, a sophomore urban studies and planning and computer science student at MIT, says the visit to Samsø played a role in persuading her to enroll in the Energy Studies Minor directly after the trip.
"I was convinced after visiting the Energy Academy on Samsø and learning about the complexities of convincing residents to support going carbon neutral," Lohmar says. "I realized the Energy Studies Minor would provide a well-rounded view of energy considerations to support my more technical materials science classes."
Breaking the campus mold
On top of learning about renewable energy sources outside the United States and meeting German peers, the MIT students saw the benefits of taking their education outside the classroom and laboratory settings.
"I would say that it's important because you see the actual result of engineers' work, the implementation in the real world," Canto says. "You see that you're actually making progress. If you spend all of your years at MIT inside of a lab, and you don't see what you're doing outside of the lab, you get a feeling like 'why did I do that?'"
Michal Gala, a senior chemical engineering student, adds that the trip gave him an appreciation for the "scale of the companies, the resources, and the technologies" that are involved in the renewable energy field.
Sarah Coleman, who graduated in May with a bachelor's degree in chemical engineering and wants to focus on biofuels in her PhD program at the University of Texas, says the trip shows students that they can make change in the energy field: "It's great to introduce students to the state of renewable energy in Europe, which you're able to aggressively compare with the state of energy in America, and additionally to help you understand what you can do and how you can help make a difference."
---
This article appears in the Autumn 2019 issue of Energy Futures.