News
MITEI members renew agreements
During October 2015, the MIT Energy Initiative (MITEI) signed multiyear renewal agreements with two of its members: Shell and Ferrovial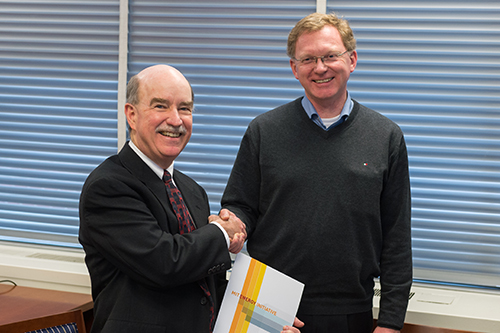 During October 2015, the MIT Energy Initiative (MITEI) signed multiyear renewal agreements with two of its members: Shell and Ferrovial.
"Shell is pleased to renew its Founding Membership in MITEI," said Dirk Smit, vice president exploration technology and chief scientist geophysics, Royal Dutch Shell. "MIT is a key academic partner, helping us drive critical R&D and innovation projects in the energy domain. Through our membership in MITEI, Shell gains access to new and emerging technologies and to nontraditional external collaboration partners."
"This renewal agreement signed with MITEI will build on a partnership that supports the development of innovative energy projects benefiting both our company and society," said Federico Flórez, chief information officer and innovation officer at Ferrovial.
---
This article appears in the Autumn 2015 issue of Energy Futures.