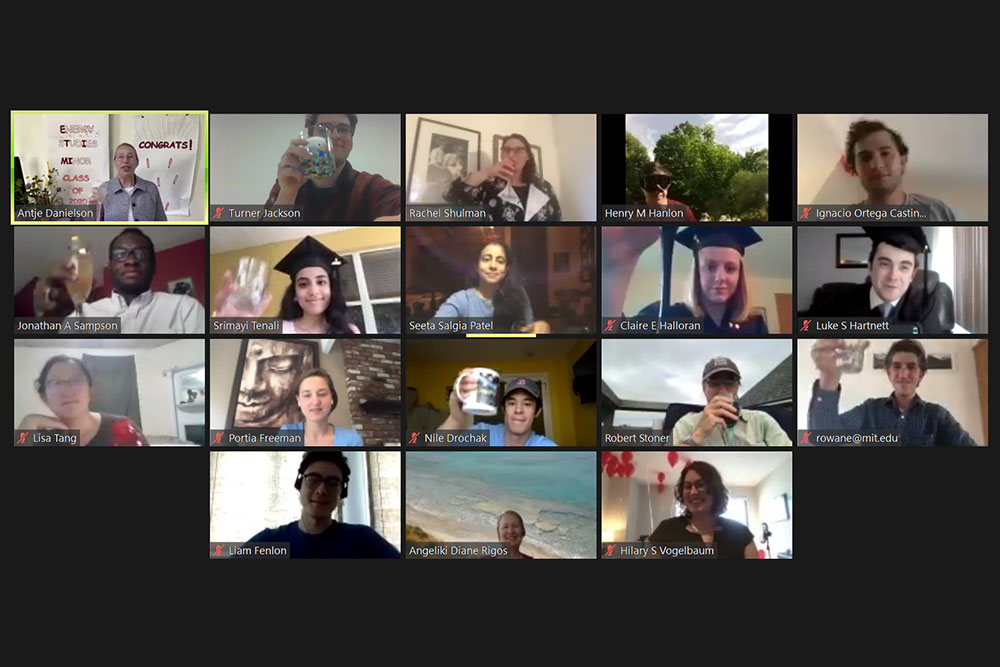 Covid-19-era physical distancing meant that MITEI's celebration of this year's Energy Studies Minor (ESM) graduates looked a little different. Following MIT's virtual Commencement ceremony, the 13 newly minted alumni gathered on Zoom for a toast to their achievements.
The attendees logged on from around the globe—from Florida to India—to reminisce about late-night study sessions in MIT's Undergraduate Energy Commons, discuss their plans for the future, and thank faculty and MITEI's education team for their support.
"We did it, we're done!" exclaimed Claire Halloran, a materials science and engineering graduate. "A lot of us ESMs are focused on the climate crisis—one of the most difficult challenges. But we also just finished something that's really hard—graduating from MIT. Just like that was a collaborative effort, none of us has to face the climate crisis alone. We need to be bold, imaginative, and daring, which I know we all are."
This sentiment was echoed by Halloran's classmates. While the future is as uncertain as ever, these rising energy leaders are bringing their skills, motivation, and collaborative spirit to the fight against climate change.
"I've seen a lot of you in a lot of different classes, in the energy lounge, and at various energy-related activities—long nights sitting in lounges and talking about all our energy feelings—and I've loved every minute of it," said graduate Hilary Vogelbaum, who also majored in materials science and engineering and focused her coursework in energy and business. "I couldn't imagine MIT without my energy family."
MIT's tight-knit energy community certainly seems like a family to all those involved. From the many energy-related clubs, classes, groups, and events, energy students gain much more from their time at the Institute than just technical skills.
"I wanted to thank Rachel [Shulman] for all the hard work that she's done over the past three years to make sure that all of us have really good experiences, where we can learn a lot and benefit from the MIT energy community," said Halloran. "I also wanted to thank all of my classmates, because it's just been such an honor and so much fun to go through MIT with classmates and friends who are as brilliant as all of you."
The close energy community also continues to inspire and inform the work done on behalf of students by MITEI's education team. "I'm really going to miss all of you so much," said Shulman, who is MITEI's undergraduate academic coordinator. "You have all worked immensely hard, and [we at] MITEI are so proud of you all."
Although ending their time at MIT, energy students from the class of 2020 are moving on to pursue careers and further studies in the fields of energy, environment, and beyond. Srimayi Tenali, who majored in mechanical engineering, has been awarded a Fulbright Fellowship to pursue a master's in sustainability in Australia. Halloran will pursue an MSc in energy systems and a master's in public policy at Oxford University as a Rhodes Scholar. And Anthony Cheng, who majored in materials science and engineering, conducted research into decarbonization of the industrial sector during the summer through the Eloranta Fellowship, with plans to pursue a PhD on the topic in the near future.
The MIT energy community at large—undergrads and grad students, clubs, professors, and beyond—is already missing this graduating class, but their impact and contributions to the clean energy sector will be felt for years to come.
---
This article appears in the Autumn 2020 issue of Energy Futures.