News
MIT students tackle research head-on, together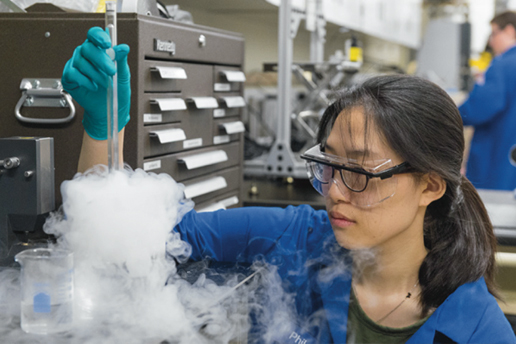 Every year, large numbers of MIT students participate in the Undergraduate Research Opportunities Program (UROP), seizing the chance to lend their skills to cutting-edge research. During summer 2014, five MIT students—Gloria Hyun, Rebecca Steinmeyer, Jean Bauer, Stephanie Guo, and Amelia Helmick— were supported in their research endeavors by Schlumberger, a Sustaining Member of MITEI.
While Helmick worked with Schlumberger on a separate materials-related project, the other four students had the chance to collaborate with each other—an exceptional research opportunity. Each tackled a different facet of a single task: how to monitor and maintain the down-hole structural integrity of oil wells. At an August 14 session at the Schlumberger offices, Hyun, Steinmeyer, Bauer, and Guo presented their findings.
Not pictured: Stephanie Guo '17 of mechanical engineering studied the use of carbon nanotubes as piezoresistive sensors in cement.
---
This article appears in the Autumn 2014 issue of Energy Futures.