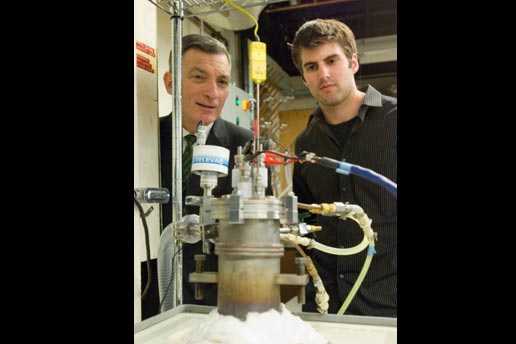 CAMBRIDGE, MA— The MIT Energy Initiative (MITEI) today announced it is awarding $1.65 million in grants under its annual MITEI Seed Fund Program to support innovative, early-stage energy projects across campus. For 2015, a total of eleven projects are receiving $150,000 each for research lasting up to two years. Funding is provided by MITEI's founding and sustaining members, as well as philanthropic contributors.
Including the latest round of grants, the MITEI Seed Fund Program has supported 140 energy focused research projects for a total of nearly $17.4 million in funding over the past eight years. The program encourages researchers from throughout MIT's five schools to collaborate in exploring new energy-related ideas, and attracts a mix of established energy faculty as well as many who are new to the field.
"The MIT Energy Initiative's Seed Fund awards build on our successful track record of support for innovative thinking around key energy challenges," said Robert Armstrong, Director of MITEI. "There is tremendous potential in these innovative early-stage projects. This round of grants includes important collaborative research efforts that seek to address key global energy and climate challenges."
This year, MITEI received 60 proposals from across the Institute. Applications came from 82 researchers from 29 different departments, labs and centers (DLCs) across campus, and all five of MIT's schools. Twenty-five applications represented collaborations between two or more researchers, including twenty-one that spanned multiple DLCs.
Projects are selected by the MITEI governing board and by the energy council faculty. Each of the selected projects has been chosen for its potential to advance energy research. Together, the projects respond to a variety of challenges in the energy field, on topics such as nano-engineered composite ceramic surfaces for harsh environments, water desalination, in-situ and above-ground chemical oxidation strategies for treating hazardous flowback water generated from hydraulic fracturing, characterization and monitoring of geologic hazards, and scalable three-dimensional battery electrodes, among others.
Past MITEI Seed Fund awards have helped launch a number of successful projects and startups. Professor Donald Sadoway's work as part of a Seed Fund grant led to Ambri, a company developing utility-scale energy storage for renewable energy. FastCAP Systems, under founder and CEO Riccardo Signorelli, is commercializing breakthrough ultracapacitor technology that received early support from a Seed Fund grant awarded to Professors Joel Schindall and John Kassakian with then-graduate student Signorelli. Professor Kripa Varanasi's past Seed Fund projects have led to more than one start-up. As one example, LiquiGlide has created a molecule-thin slippery coating for the insides of containers, which can be adapted to keep ice from building up on airplane wings and power lines.
"MITEI seed funding was among the early funding I received which laid the foundation for basic research that ultimately led to the start-up LiquiGlide that I co-founded," said Varanasi, MIT Associate Professor of Mechanical Engineering. "These awards can be incredibly instrumental in helping to move projects from the research stage into the real world."
MIT spans five schools — architecture and planning; engineering; humanities, arts, and social sciences; management; and science — and more than 30 departments and programs.  The MIT Energy Initiative, or MITEI, serves as MIT's energy hub and a key platform for focused energy-related activity. Formed in 2006, MITEI engages in research, education, and outreach programs that cover all areas of energy supply and demand, security, and environmental impact.
MITEI's founding and sustaining members contribute to the annual seed fund award: BP, Eni, ExxonMobil, Saudi Aramco, Shell, Bosch, Chevron USA, Inc., Ferrovial, Lockheed Martin Corporation, Schlumberger, Statoil, Total, and Weatherford International Ltd.
The MIT Energy Initiative Annual Seed Fund Awards began in 2008 and are awarded each spring. MIT faculty or research staff with principal investigator privileges are eligible to apply.
---