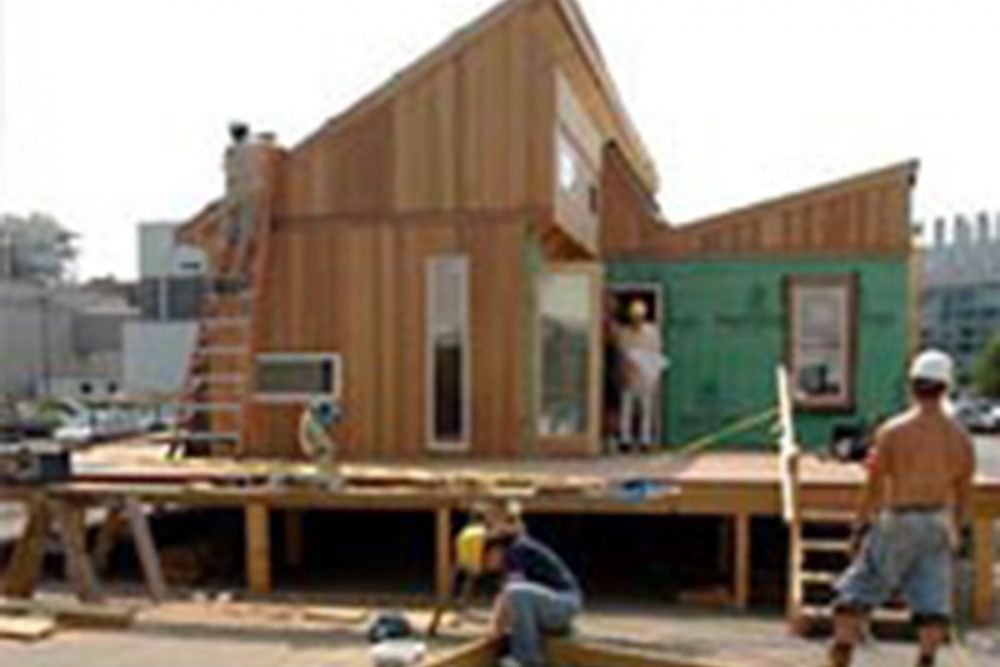 A team of MIT students, faculty and volunteers has taken on the challenge of designing and building a house that relies entirely on solar energy to meet the electricity needs of a typical American family, from drying towels to cooking dinner.
Being from MIT, they also took on the challenge of being the best: For the first time, MIT has an entry in the Department of Energy's annual Solar Decathlon—a village of 20 off-grid solar homes built by college students to be assembled and open to the public on the National Mall in Washington from October 12 to October 20.
MIT's off-grid home, known as Solar7, was designed and built at MIT on an asphalt lot at the corner of Albany and Portland Streets in Cambridge. Solar7 was subsequently broken into modules and sent off by flatbed truck to Washington, where it was reassembled by about 20 MIT students and volunteers.
Kurt Keville, advisor to the Solar7 team and a research specialist at the Institute for Soldier Nanotechnologies, already has his eye on MIT's worthiest opponent. "The University of Colorado won the past two years; they're the team to beat," he said.
Each 800-square-foot solar home, once assembled in the Solar Decathlon Village, vies for points in 10 categories related to energy efficiency, design and marketability, which the DOE calls "communications."
As Corey Fucetola, student project leader and a graduate student in electrical engineering and computer science, said, "The best way to change human behavior is give people the information they need to change."
The MIT solar house team will communicate through student tour guides (the DOE expects 30,000 visitors to the contest) and an information panel in the kitchen that will give feedback on about 40 sensors monitoring light, temperature and energy use.
All Solar Decathlon entries must meet specific livability standards. Each home must retain warmth but not bake its residents. Each must have sufficient light to endure rainy days; it must provide warm water for showers; it must be handicapped-accessible; it must store enough energy to run a dishwasher and an electric car. It must use commercial building materials and available technologies—no weird science, no fresh-from-the-lab contraptions.
"You can't yank something out of the lab and throw it up on the roof. You have to use production-grade products," Keville said.
The consolations of technology
Since construction began last spring, Keville, Fucetola and construction manager Tom Pittsley had plenty of technology and new materials to keep their interest and to engage the weekend warriors managed by volunteer coordinator Arlis Reynolds.
For any passive solar home, the challenge is keeping the heat. The Solar7 team built a south-facing light wall made of 1-foot-thick square tiles. Each looks like a sandwich: Two opaque plastic squares are the "bread" for a filling of water and a layer of a thermal insulating gel spread on the inside of one of the tile's "slices."
The insulating gel transfers the sun's heat from the outside, through the water, to the inside wall.
Energy-efficient windows made of three panels of glass with krypton gas as an insulator are used elsewhere in the house.
Photovoltaic cells cover the south-facing roof of Solar7 and do the heavy lifting, energy-wise. They generate about nine kilowatts of energy per hour; electricity will be stored in 24 batteries. These can hold about 70 kilowatt-hours and can power the house for about 48 hours.
The batteries must also power the team's electric car—a potential deal-breaker, since the car that goes the furthest wins.
Solar7's south face also holds 60 evacuated tubes that will carry solar-heated water into the house for showers and washing and for circulation in the warmboards, a radiant heating system based on a molded subfloor that's embedded with plastic tubing.
The house contains a kitchen, full bathroom, living and dining area, and a flexible bedroom/office space, defined by opaque pocket doors. It has a wide, gracious deck and ramps for accessibility.
It takes a village
The 2007 Solar Decathlon is more than a competition: It's a community of 20 universities, 20 houses, and hundreds of students. Some DOE contests challenge both energy and labor efficiency.
For example, there's the hot shower contest: Each team must be able to heat a bucket of water to 110 degrees in 10 minutes or less.
Then there's the dinner party. The Decathlon Solar Village is divided into neighborhoods of four or five houses, and each solar house team must prepare a three-course vegetarian meal for their neighbors, using their stored energy, powering kitchen appliances, to cook and to clean up.
But dinner's a one-time thing; as in life, solar laundry is forever. The DOE requires each team to wash and fluff-dry a load of towels, just like home.
For more information about Solar7, the MIT team, and the team's ongoing fund-raising raffle, go to http://web.mit.edu/solardecathlon/.
---
This article appears in the Winter 2008 issue of Energy Futures.