News
Martin Fellows, 2013–2014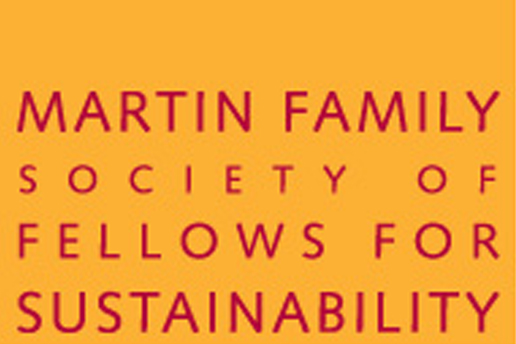 The Martin Family Society of Fellows for Sustainability, established at MIT in 1996 through the generous support of the Martin Foundation, fosters graduate-level research, education, and collaboration in sustainability. The society supports and connects MIT's top graduate students in environmental studies and fosters opportunities for multidisciplinary cooperation in both the short and long term.
Brian Albert
Materials Science and Engineering
Develop high-efficiency, low-cost multi-junction photovoltaic devices
Sasan Ghaemsaidi
Mechanical Engineering
Develop and test a new theoretical model to predict the response of the ocean to surface storm forcing
Aruna Ranganathan
Management
Understand environmental regulation and sustainability initiatives at the level of the university laboratory
Eric Chu
Urban Studies and Planning
Address political dynamics between ongoing climate resilience efforts and sustainable development planning
Christopher Gilmore
Aeronautics and Astronautics
Optimize the air transportation system to minimize the overall environmental impact of aviation operations
Rebecca Saari
Engineering Systems
Estimate economic and environmental impacts of climate and air quality policies using integrated assessment modeling
Maxime Cohen
Management
Develop a policymaking model for designing subsidies for green technology adoption
Kaitlin Goldstein
Architecture
Improve the process and reduce the cost of delivering residential energy efficiency at scale
Alisha Schor
Mechanical Engineering
Develop a tool to rapidly determine lipid content of algae cells to advance economically viable algae biodiesel production
David Cohen-Tanugi
Materials Science and Engineering
Develop novel nanoporous membranes for desalination
J. Alstan Jakubiec
Architecture
Create a comprehensive theory of the relationship between visual comfort and behavior that influences energy use and daylight availability in a space
Leah Stokes
Urban Studies and Planning
Examine the politics of renewable energy deployment
Mitchell Cook
Urban Studies and Planning
Assess the relationship between climate change adaptation and municipal finance
Peter Kang
Civil and Environmental Engineering
Develop and test advanced models of flow and transport through fracture networks in geologic systems
Alison Takemura
Biology
Identify guiding principles for stable, sustainable bioenergy production
John Donnal
Electrical Engineering and Computer Science
Design sensors and signal processing infrastructure to monitor energy consumption
Jonathan Krones
Engineering Systems
Develop an industrial metabolism model to help advance effective sustainable materials management policies
Stephen Zoepf
Engineering Systems
Simulate energy consumption of car-sharing services
Ulric Ferner
Electrical Engineering and Computer Science
Develop software techniques to reduce energy consumption of enterprise data centers
Adam Paxson
Mechanical Engineering
Develop nanoengineered surfaces for dropwise condensation
---
This article appears in the Spring 2013 issue of Energy Futures.