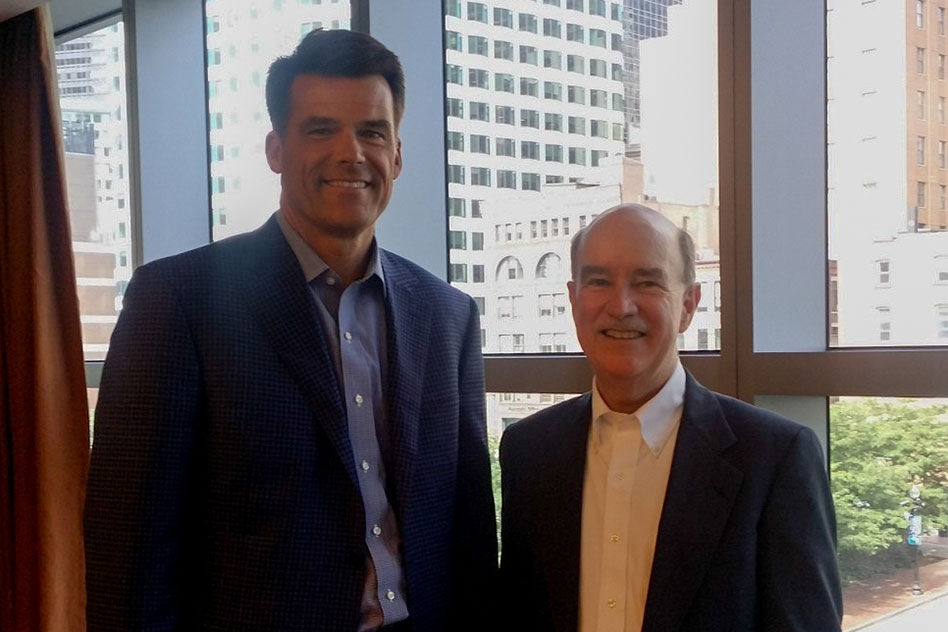 CAMBRIDGE, MA – August 30, 2016 – The MIT Energy Initiative announced that GE will be joining MITEI as a Sustaining Member to fund advanced technology solutions to help transform global energy systems. GE will commit a total of $7.5 million over a five-year period ($1.5 million annually) and play an active role in MITEI's research and project priorities. Specifically, GE will participate in four of MITEI's Low-Carbon Energy Centers to advance research and development in key technology areas for meeting future energy needs: solar energy; energy storage; electric power systems; and carbon capture, utilization and storage.
"The world will need 50 percent more power in the next 20 years," said Steve Bolze, president & CEO of GE Power "GE and MITEI are proud to be working together to find new solutions to develop cleaner, more affordable and accessible energy solutions that will address this need. Together we'll be able to leverage our collective capabilities, research and technology solutions to help improve efficiency while reducing the impact of electricity generation on the environment."
GE will participate in supporting MIT faculty and student research through MITEI. MITEI will also bring GE and other members together to connect innovation, business and policy to transform the energy industry. GE strives to be the world's premier digital industry company and is committed to working with the best and brightest minds to further unleash the power of digital solutions.
MITEI's relationship with GE will engage and involve all of GE's energy-related businesses: GE Power, GE Renewable Energy, GE Oil & Gas, GE Energy Connections, GE's Global Research Center, GE Global Growth & Operations, GE Ventures, and Current, powered by GE. Among the many benefits of the membership, GE will sponsor research programs at MITEI, contribute to MITEI's Seed Fund to support novel and early-stage energy research proposals and participate in several conferences and learning opportunities each year.
"GE's support as a Sustaining Member and engagement in MITEI's Low-Carbon Energy Centers will be extremely valuable in spurring further technology advancements to address complex energy and climate challenges—areas where GE's wealth of expertise and history of developing solutions dovetail with MIT's research," said Robert Armstrong, director of MITEI. "We are excited to welcome GE and launch this relationship."
MITEI's Low-Carbon Energy Centers—announced last Fall as a key component of MIT's Plan for Action on Climate Change—represent a major part of MIT's commitment to address climate change through engagement with industry, government, and the philanthropic community.
GE moved its global headquarters to Boston last week, moving into an interim space as it works to develop and build a new global headquarters campus to open in Boston's Fort Point neighborhood in 2018. Today's announcement continues GE's investment and engagement in the Boston area. GE selected Boston because of its innovation, talent and infrastructure, as well as the strong ecosystem of companies, universities, start-ups and R&D the city hosts.
About the MIT Energy Initiative
The MIT Energy Initiative is MIT's hub for energy research, education, and outreach. MITEI links world-class academic research teams with industry and government to respond to specific energy challenges. Through these engagements, MITEI develops low- and no-carbon emissions solutions that will efficiently and affordably meet global energy needs while minimizing environmental impacts, dramatically reducing greenhouse gas emissions, and mitigating climate change. MITEI is establishing eight Low-Carbon Energy Centers to advance R&D in key technology areas for addressing climate change: carbon capture, utilization, and storage; electric power systems; energy bioscience; energy storage; materials for energy and extreme environments; advanced nuclear energy systems; nuclear fusion; and solar energy. energy.mit.edu
About GE
GE (NYSE: GE) is the world's Digital Industrial Company, transforming industry with software-defined machines and solutions that are connected, responsive and predictive. GE is organized around a global exchange of knowledge, the "GE Store," through which each business shares and accesses the same technology, markets, structure and intellect. Each invention further fuels innovation and application across our industrial sectors. With people, services, technology and scale, GE delivers better outcomes for customers by speaking the language of industry. www.ge.com
Press inquiries:
Emily Dahl
MIT Energy Initiative
edahl@mit.edu
+1 617 253 3411
Sue Bishop
GE
susan.bishop@ge.com
+1 617 443 2991
Tom Millas
GE Power
thomas.millas@ge.com
+1 513 813 9664
---
This article appears in the
Autumn 2016
issue of
Energy Futures
.
---
---