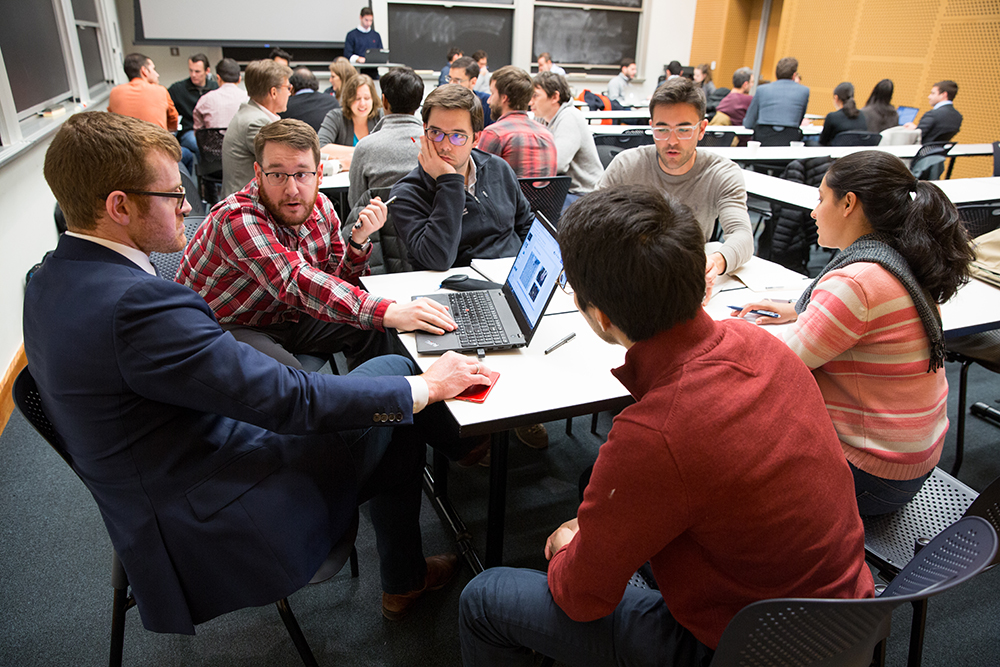 They say the odds of starting a successful first business are about one in five, but the track record of 15.366 Energy Ventures suggests that taking this MIT Sloan School of Management class can significantly improve those odds.
Nearly a dozen companies have spun directly out of Energy Ventures, and alumni of the class have founded at least 25 more since the class began in 2007. Since about six teams of students work on ventures in the class each year, that's about a 40% rate of successful launch.
Why does it work? According to both instructors and students, it's because students learn by doing—with step-by-step guidance and a lot of advice and support from a broad range of experts, including top venture capitalists.
"They give you a structure for something that can seem very mysterious: how to start a company," says Teasha Feldman-Fitzthum '14, who used the class as a launchpad for EverVest, a business she co-founded to provide financial risk analyses for renewable energy projects. (Thanks to this work, Feldman-Fitzthum was named to Forbes' list of "30 under 30" for energy in 2016.)
"It was a safe place to develop ideas, test them, fail, and iterate. Energy Ventures was the ideal atmosphere to build a sustainable business model and find the right team," says Mike Reynolds MBA '14, Feldman-Fitzthum's co-founder. Today both Reynolds and Feldman-Fitzthum are directors at Ultra Capital, which acquired EverVest in 2016 and utilizes the EverVest technology to make investments in sustainable infrastructure projects.
Framework for success
Francis O'Sullivan, former director of research at the MIT Energy Initiative, a senior lecturer at the MIT Sloan School of Management, and one of the instructors for the class, says 15.366 walks students through the startup process using the framework from Disciplined Entrepreneurship: 24 Steps to a Successful Startup, a book by Bill Aulet, the managing director of the Martin Trust Center for MIT Entrepreneurship.
"The things you really need to do to start a company are covered in the assignments," says Feldman-Fitzthum. Tasks range from producing an elevator pitch to developing a go-to-market strategy, drafting a business plan, and putting together a slide deck for potential investors.
"Through the semester, we step through the high-level elements [of starting a business] and contextualize them from an energy point of view," O'Sullivan says. The goal is to prepare students to take on all the multifaceted challenges of energy entrepreneurship. "It's partly about technology, but it's also about the business models and the regulation."
"This class is really special because it gives students a blank canvas to explore new technologies and learn how to make those technologies a reality in today's energy system," says Michael Kearney SM '11, a PhD student at Sloan who served as the teaching assistant for the one-term class this fall. "The secret sauce is to unite students across campus—and even outside, from places like Harvard—all of whom bring different perspectives to bear on the challenges facing energy systems today. That mix of people and ideas is conducive to creating really interesting business plans and scaling them to make a difference."
Novel technologies
Energy Ventures intentionally teams up students with expertise in such diverse areas as engineering, policy, and business to determine the best path for commercialization of technologies drawn from labs at MIT and the surrounding area. "You have incredible students, you put them on teams and let them run," Kearney says.
This year, teams formed ventures based on a flow battery for energy storage, a system for low-cost electrolysis, a device that uses temperature swings to produce energy in a micro-generator, and more.
Elise Strobach, for example, took the class to commercialize a transparent silica aerogel she developed in the lab of Professor Evelyn Wang of mechanical engineering. Strobach hopes to turn the aerogel into an insulating material for affordable, energy-efficient windows.
"A lot of [the benefit of the class] is taking a very fledgling idea and turning it into something with real possibilities," says Strobach, who is pursuing a PhD in mechanical engineering. And, while it's not clear how her venture will fare, Strobach believes the class has put it on the right path. "In the end, we had confidence in what we needed to achieve and what kind of value we could bring."
Aaron Baskerville-Bridges, a graduate student in MIT Leaders in Global Operations, also sees a lot of promise for the project he worked on this year: a nanoporous silicon membrane that can be used for filtration. "When I heard the pitch, I could imagine a lot of markets for the technology. [The researchers] have been working on clean water initiatives, so in Energy Ventures we set out to see what other industries could benefit from this technology," he says.
Baskerville-Bridges' team identified a promising potential market in the oil industry, which currently adds a diluent to bitumen to enable the fuel to flow through pipes. The silicon membrane could be used like a nanoscale coffee filter to separate the diluent out passively at its final destination— supplanting today's more energy-intensive process. "If it works, that's a home run," Baskerville-Bridges says.
---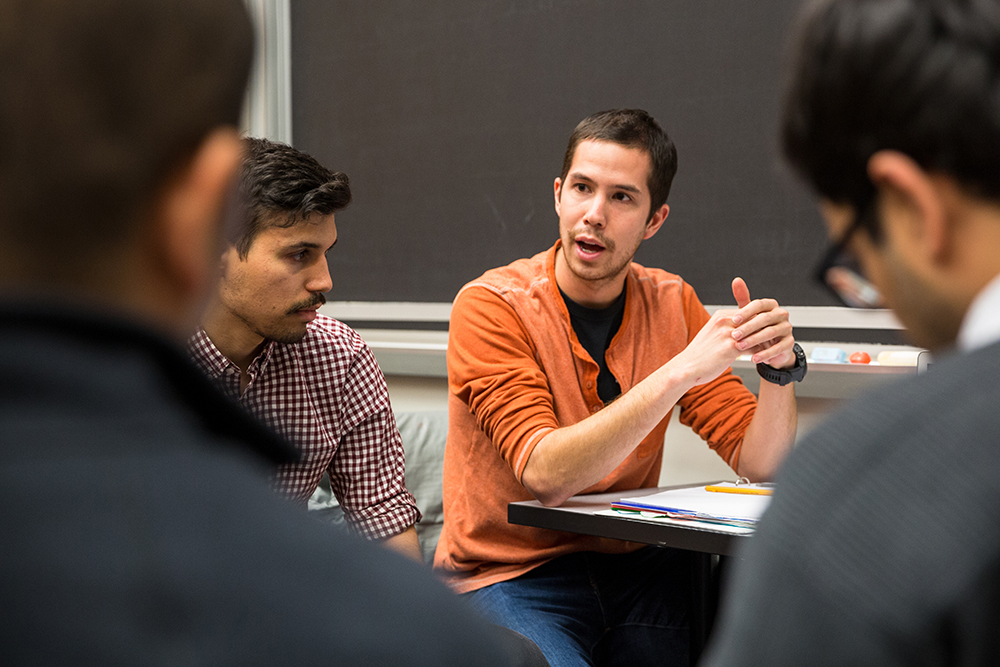 Access to experts
Students in 15.366 spend much of their class time moving the ventures forward, but they also get to hear from guest speakers and consult outside experts. "On three separate occasions, we were pitching to people from private equity or venture capital, and we got their honest feedback. I think that's a pretty cool opportunity in a low-risk environment to test your ideas with people who really know what it takes to be successful," Baskerville-Bridges says.
This year, speakers included Badar Khan, the president of National Grid Ventures; Carmichael Roberts, managing director of Breakthrough Energy Ventures; and Daniel Hullah, managing director of GE Ventures. "The network, the knowledge base, the expertise that you get and have access to is amazing," Strobach says.
Not surprisingly, given its high success rate, Energy Ventures is a very popular class. Students must apply with a resume, a statement of interest, and more—and not everyone is admitted. In fact, Feldman-Fitzthum almost didn't make it in. Most of the roughly 35 students accepted each year (out of about 100 applicants) are graduate students, and she applied as an undergraduate in 2013.
Fortunately, the professor thought her work on a machine learning algorithm to predict wind patterns would make an interesting venture, so Feldman-Fitzthum was accepted.
During class, Feldman-Fitzthum teamed up with Reynolds, who had a finance background and found Feldman-Fitzthum's project inspiring. "I thought that if you can use her algorithm to predict the financial performance of a renewable energy project, you can make smarter investments," he says. "If you can make better investments, you can raise more capital, and in turn invest in more renewables. Teasha's technology was the spark that led us down that path."
Interestingly, while Feldman-Fitzthum and Reynolds initially thought they could build a business predicting wind patterns, they discovered—thanks in part to research done in class—that that would not be enough. "We learned quickly that we needed to build a more holistic financial modeling software product that would work across all infrastructure projects," she says.
Such missteps are easy to make, yet can prove fatal to a nascent enterprise. Energy Ventures provides the support necessary to help students navigate such common pitfalls. It's like entrepreneurship with training wheels. Still, the hard work and dedication are real—and so are the impressive results.
"My advice to people is to come in thinking you're not taking a class, you're working for a startup part-time," Baskerville-Bridges says. "That's the way to get the most out of it."
---
This article appears in the Spring 2019 issue of Energy Futures.