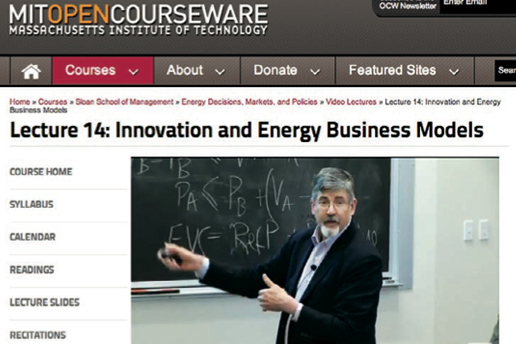 In 2009, the MIT Energy Initiative and MIT OpenCourseWare (OCW)—thanks to funding from the S.D. Bechtel, Jr. Foundation—set out to adapt 15 Energy Studies Minor classes for publication on MIT's signature online platform. Three years later, that goal will soon be exceeded.
Fifteen Energy Minor classes have already been published on OCW, and two more are on track for publication by the end of the year. OCW's current catalog of energy classes (25 in total) has logged more than a million visits since 2009. That includes just over 380,000 visits during 2012.
Free of charge, visitors on or off campus are able to access course materials such as syllabi, problem sets, tests, slides, and—in the case of five energy classes—even video.
The classes are organized in the newly minted "Energy Courses" section of the OCW website, which reflects the basic organization of the Energy Studies Minor to help users navigate the curriculum. Like the minor itself, the online classes give a landscape view of energy learning and are meant to pique the interest of a wide range of students, regardless of their discipline or focus.
"Whether students want to dip their toe in or jump all the way into the pool, there's something for everyone," says MIT Energy Initiative Director of Education Amanda Graham. "That means we need to make energy learning available everywhere, in a variety of formats, to maximize the impact on and off campus."
The classes give a taste of the minor, from "Introduction to Building Technology" to "Energy Economics." The most popular courses of 2012 were "Thermodynamics & Kinetics," "Introduction to Electric Power Systems," and "Introduction to Sustainable Energy."
The hope is that eventually all Energy Studies Minor classes—which currently number 45—will be available online for all learners to use.
Browse energy classes at ocw.mit.edu/courses/energy-courses.
---
This article appears in the Spring 2013 issue of Energy Futures.