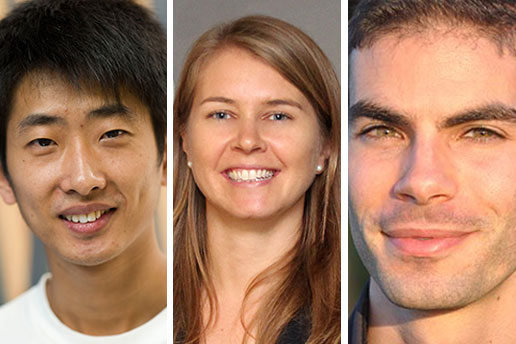 Di Yang PhD '14
Working for a major oil and gas company was never part of the plan for Di Yang. While pursuing his master's at Nanjing University, Yang was an electronic engineering and biomedical student. But that all changed when he was admitted to MIT. With funding in his first year as an Eni-MIT Fellow, Yang was able to study whatever he desired. To fulfill his appetite for a challenge, he decided to tackle exploration geophysics and joined a research project being supported by MIT Energy Initiative (MITEI) seed funds. He also sat as the oil and gas subcommittee chair in MIT's Energy Club, where he planned trips to oil companies to give members exposure to the industry. It was while presenting research he did for the Los Alamos National Laboratory that ExxonMobil saw potential in Yang's work and decided to hire him. He's now in his second year with ExxonMobil.
What made you switch from biomedicine to geophysics?
The two sound unrelated to each other, but actually a lot is shared between medical imaging and geophysics. While doing my master's for sonic imaging, I realized that the medical world bases its imaging on a simple human body model—that everybody looks the same. In the geophysics world, because the subsurface of the earth is so complicated, you never assume any one place is similar to another. It's a higher level of developmental technology. I soon realized the technology relevant to medical imaging that is applied in the energy sector is more advanced and complicated, and I gradually got interested in the broader picture of energy, too.
How did MIT prepare you for your work at ExxonMobil?
We work here as we worked at MIT. Other people might feel the pressure of cracking problems nobody has cracked before by the deadline. But any MIT graduate would feel comfortable working here because we've been working to solve problems by deadlines every day for over five years. It's just normal to us.
I was also a member of the Energy Club starting in my first year. This experience definitely gave me a better understanding of how the energy business works and how engineers and geoscientists connect in the field. Even now the two are not fluidly connected in all their actions because their disciplines are so different, but they have to communicate to make the business run smoothly.
What would you tell MIT students about working in the energy industry?
For me and a lot of people, the first impression of the energy sector is that it's an old-fashioned industry. It's crude and brutal and makes lots of money with a few guys drilling some holes in the ground. But through understanding the industry—especially all the tech­nology that has been developed and deployed—you realize you are solving business problems that make billions of dollars and are relevant to researchers in the industry. If you think you want to be a research scientist, especially coming out of MIT, this is a place you can burn your brain cells on some interesting problems and get well paid. And the personal growth space is huge.
Katherine Steel PhD '08
After earning her undergraduate degree in mechanical engineering from Stanford University, Katherine Steel arrived at MIT to pursue a PhD in engineering systems. Following graduation, the first step in her international career was to work for the World Bank. There, Steel focused on energy projects in South Asia and Africa. After four years with the World Bank, she moved on to work with a team at Google that focused on providing Internet and energy access worldwide. In 2014 she made the switch back to the public sector, joining the United States Agency for International Development (USAID) as a senior advisor at Power Africa, where she now works to increase private sector investment in power projects in sub-Saharan Africa.
What skills did MIT help you develop that you find most useful in your work?
I think the biggest thing I learned from MIT, and from engineering systems in particular, was taking the systems-level approach—not really focusing in on specifically one project or one country but really thinking more from a macro level. Especially in my work with the World Bank and Power Africa, I've needed to be able to look across the power sector and think about how the system operates as a whole.
What made you want to work in developing nations?
I've always been interested in working in other countries but got specifically interested in energy and Africa after college. I was finishing up my undergraduate degree in mechanical engineering when I decided that I wanted to spend a year traveling and working overseas. So I moved to Kenya and worked as a teacher in Nairobi. I happened to be there at the time of an extended power crisis due to drought conditions limiting the electricity from hydropower dams. The power rationing we experienced got me very interested in issues of energy access and energy systems in the developing world.
What have you learned about country-specific solutions from your work abroad?
Everywhere is different. While some of the problems may be very similar, I think the resources the countries can tap into and the stage of development of the power sector mean that there is not one simple solution. "Well, this worked here; therefore it is going to work there" is rarely a true statement.
I've been working almost exclusively on energy in the developing world, and there are lots of problems: bureaucracy, corruption, trying to get investment in the market, in some cases low affordability if you are looking at trying to reach people who are in remote areas. I have really tried to figure out how you can take lessons learned from other places and apply them in new markets. I think any time you are trying to solve a really hard problem you're going to run into some challenges. But I think all of that can be overcome—it's just not easy.
Joseph Shapiro PhD '13
Joseph Shapiro's skill with numbers brought him to the London School of Economics to pursue his master's in statistics. It wasn't until Shapiro arrived at MIT to obtain his PhD in economics, however, that he found connections between that skill and his interests in energy and the environment. At MITEI he interacted with energy-minded academics and professionals. Currently, Shapiro teaches graduate public finance and undergraduate international environmental economics as an assistant professor of economics at Yale University.
How did your time in graduate school further develop your interest in climate?
Time is a great luxury. Having time in graduate school to hit the ground running is invaluable, and MIT gave me time to look into research questions and start writing papers early. I also had support from many people in the economics department, Sloan, MITEI, and the Center for Energy and Environmental Policy Research. I had an office at the National Bureau of Economic Research during graduate school and [was involved in] one of their working groups on energy and the environment, where I interacted with many economists.
What are some of the economic challenges climate policy faces today?
Economists sometimes distinguish the "first best," or optimal policy in the absence of incentive or information constraints. For climate change, the standard policy prescription is when somebody who is generating costs for other people, or "externalities," has to pay those costs. Then there is "second-best" policy, which means that due to various economic constraints, some policy options are not on the table. But sometimes policymakers aren't working on first- or second-best policy; they're working on tenth- or eleventh-best policy. Some economics research is pushing toward more efficient climate policies, but in lots of cases the practical question isn't getting second or first best—it's whether there is any climate policy at all. 
What is the focus of your National Science Foundation–funded research project?
I'm doing the project with Arthur van Benthem from the University of Pennsylvania's Wharton School, and it involves looking at used vehicles. In many states, there's a "smog check" regulation where you have to get your car inspected, and if you drive a really polluting car, you either spend money to clean it or you sell it. Then it can be sold to an outlying area that doesn't have this regulation. If you regulate an environmental problem in one area but not in neighboring areas, people worry that it's like whack-a-mole: it's going to move polluting activity away from the regulation and not decrease the total level of pollution. This is called "leakage." The idea of this project is to understand to what extent the smog-check regulation causes leakage and what its economic implications are.
---
This article appears in the Autumn 2015 issue of Energy Futures.