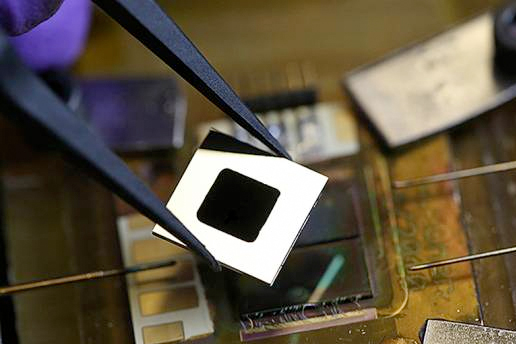 The U.S. Department of Energy (DOE) announced this week that two MIT-led Energy Frontier Research Centers (EFRC) received funding to continue their cutting-edge research. The centers are among 32 projects that were competitively selected from more than 200 proposals as part of a second round of funding for the program.
The EFRC program aims to accelerate transformative energy discoveries by combining the talents and creativity of the nation's top scientists. These integrated, multi-investigator centers conduct fundamental research focused on one or more major energy challenges, such as solar energy, electrical energy storage, carbon capture and sequestration, and extreme environments.
The MIT-led Centers that received renewed funding are:
The Center for Excitonics: Directed by Professor of Electrical Engineering Marc Baldo, the Center is working to create new materials for solar energy and solid-state lighting. Since becoming an EFRC in 2009, the Center has developed transparent solar cells, a new material for flat semiconductors, and a technique that could boost solar-cell efficiency, to name just a few of the advances. MIT partners with the Brookhaven National Lab, as well as Harvard University, for this project.
The Solid-State Solar-Thermal Energy Conversion Center: Directed by Carl Richard Soderberg Professor of Power Engineering Gang Chen, the Center designs materials to efficiently convert heat, either from the sun or a terrestrial heat source such as waste heat from automobiles, into electricity using solid-state devices including thermoelectric, thermo galvanic, and thermophotovoltaic devices. Since becoming an EFRC in 2009, the Center has developed an approach to tap the sun's energy through heat, a method for filtering light waves based on direction, and a new hybrid solar-thermoelectric system, to name just a few of the advances. MIT partners with the Oak Ridge and Brookhaven National Labs for this project, as well as Boston College and the University of Houston.
In addition to the two MIT-led centers, MIT is also a partner on one of the centers led by the National Renewable Energy Lab: The Center for Next Generation Materials. R.P. Simmons Professor of Materials Science and Engineering Gerbrand Ceder will play a leadership role in the center, and Assistant Professor of Mechanical Engineering Alexie Kolpak will lead a section of the research. The center aims to transform the discovery of functional energy materials.
Since their establishment, all of the EFRCs have produced 5,400 peer-reviewed scientific publications and hundreds of inventions at various stages of the patent process. EFRC research has also benefited a number of large and small firms, including start-up companies.
Twenty-three of the projects that received funding are headed by universities, eight are led by the Energy Department's National Laboratories and one project is run by a non-profit organization.
To learn more about the Center for Excitonics, visit: rle.mit.edu/excitonics
To learn more about the Solid-State Solar-Thermal Energy Conversion Center, visit: s3tec.mit.edu
To learn more about DOE's EFRC program, visit: science.energy.gov/bes/efrc
---
This article appears in the Autumn 2014 issue of Energy Futures.