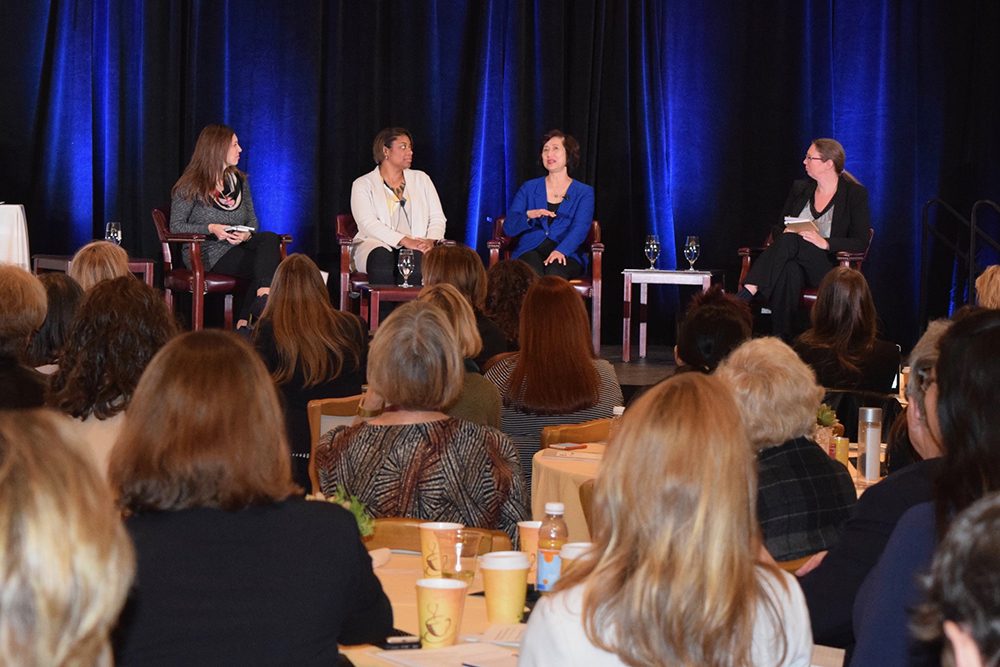 Through the Clean Energy Education and Empowerment (C3E) Program, 52 mid-career women with a range of career backgrounds—from researchers to educators to those in public service—have been recognized for their work advancing and implementing solutions that can transform our global energy system. To celebrate these past and present awardees for the important work they have done in the clean and sustainable energy sector, several hundred energy professionals gathered at Stanford University for the 7th Annual C3E Women in Clean Energy Awards and Symposium held on December 3 and 4.
The symposium explored developing trends and innovations in clean energy, such as scaling energy storage, clean energy finance, and sustainable business operation. However, first and foremost, it emphasized what cohost Dian Grueneich, Precourt Energy Scholar and C3E Ambassador emeritus, referred to as the "hallmark of this whole effort"—recognizing women for their achievements across eight professional categories: advocacy, law and finance, business, research, education, international, entrepreneurship, and government. Past awardees and speakers were invited to share their professional journeys and insights to inspire others who are navigating the various stages of their energy careers and the common goal of building a renewable-based, low-carbon energy future.
This annual symposium, which began in 2012, brings together women at all career levels to discuss solutions to pressing energy issues while building a strong and interconnected network of energy professionals. The goals of the U.S. C3E program, led by the U.S. Department of Energy (DOE) in collaboration with the MIT Energy Initiative (MITEI), the Stanford Precourt Institute for Energy, and the Texas A&M Energy Institute, are to close the gender gap and increase women's participation and leadership in the sustainable energy field—subjects that were addressed throughout this year's symposium.
Building a community
"We have a lot of work to do together," said Jane Woodward, founder and CEO of MAP, a natural gas and renewable energy investment management firm, in her opening keynote. "We know what we need to do; how are we going to do it?" Throughout the symposium, as speakers and panelists addressed this very question, a common thread emerged: the importance of building and engaging the community in order to transition to a global clean energy system.
According to Dan Brouillette, deputy secretary of the DOE, there are unmistakable signs of progress in terms of closing the gender gap and empowering women to take on more leadership roles within the field of energy, as exhibited by the presence of the many attendees at the C3E symposium. But he noted that there are still challenges to progressing further as evidenced by the many not at the conference—those women who were held back due to gender discrimination or because of a challenge he referred to as "a little more subtle": a lack of encouragement from others to pursue STEM (science, technology, engineering, and mathematics) education during formative years. "Across the United States, the need for STEM professionals far outstrips the supply," said Brouillette. "We simply need more STEM professionals, so we need more STEM outreach."
Valerie Montgomery Rice, the president and dean of Morehouse School of Medicine, stressed the importance of diversifying the workforce. Coming from a perspective driven by improving health equity, Rice demonstrated in her keynote address that "who sits around the table really does matter, particularly as we are trying to change the world." At Morehouse, promoting heath equity starts with admitting and creating opportunities for academically diverse students and students from underserved communities; Rice noted that those students are more likely to then practice in underserved communities. "You have to be strategic in your focus if you want to actually change the outcome of the opportunity," she said. "And it has to be a local focus…If kids can't see it, they can't actually believe it. If they can't see what a clean energy geologist looks like, they clearly aren't going to be able to even think about going into that field."
During the "Scaling energy storage" panel, Betar Gallant, Esther and Harold E. Edgerton Career Development Professor and assistant professor of mechanical engineering at MIT, added that for university students, embarking on a clean energy career path may not be so straightforward. "Clean energy, energy storage, these are not the titles of engineering majors. They are not standalone disciplinary subjects where a student can simply declare, 'I want to work on that.' It needs to be more finely honed," Gallant said. "Students really want to engage and it's a matter of, are we really giving them the buffet of options to understand how to do that early on?" For students, receiving guidance on which disciplines they can enter to work on different energy solutions can be valuable, she explained.
Engaging the community
Speakers and panelists throughout the conference discussed the need to engage local communities to promote acceptance of renewable energy initiatives.
"We know that if we want to achieve that more equitable clean energy future, we have to engage with communities on the front lines," said Melanie Santiago-Moser, who won the Advocacy Award for her work with Vote Solar, a group that strives to make solar a mainstream energy resource across the U.S. "Engagement doesn't mean coming to those communities and proclaiming that solar is the solution. It means approaching people on the ground who understand these challenges in ways that we can't fathom with humility and building processes that ensure that our work is truly in partnership with theirs."
During the "Powering up the C3E network" panel, Connie Lau, president and CEO of Hawaiian Electric Industries, Inc. and C3E Ambassador, talked about the importance of stakeholder outreach as her company undergoes Hawaii's largest renewable energy procurement process to date. She cited the necessity of working with developers to ensure that they in turn work in the communities to increase public understanding and acceptance of renewable energy projects.
Carla Peterman, commissioner of the California Public Utilities Commission and 2015 C3E Award Winner, added that her team supports a participatory model of decision-making: "We need to be communicating with customers and we need them to be part of the solutions, because if they are not, they are going to be challenging those solutions and slowing them down."
 "Opportunities are tied to people"
In keeping with the goals of the U.S. C3E Program, the final panel of the day brought together speakers to discuss the idea of "women helping women"—not only utilizing professional networks for personal success but also for supporting the careers of others. "Dare to guide a female [who] doesn't look like you…try to learn from her, because that's the only way we get more diversity," said Lene Hviid, global manager of Shell Research Connect and GameChanger at Shell Global Solutions. "Dare to support somebody who is outside of your comfort zone."
The speakers made a clear distinction between mentorship and sponsorship. "A mentor is somebody you talk to; a sponsor is someone who talks about you," explained Liji Thomas, head of diversity and inclusion at Southern California Edison. "A sponsor is someone that extends their own social capital in an organization because they have gotten to know you, they've seen what you do." Thomas emphasized the importance of your social capital as well, highlighting that "opportunities are tied to people."
Celebrating achievements
"I feel a sense of kinship—or identity—with all of the women in this room," said Elizabeth A. (Betsy) Moler, retired executive vice president of government affairs and policy at Exelon as she accepted the C3E Lifetime Achievement award. Moler, a former deputy secretary of the DOE and former chairman of the Federal Energy Regulatory Commission, was recognized for her long history of clean energy leadership and role as a vocal advocate for encouraging women to take leadership positions in the energy industry.
Moler shared the accomplishment she is most proud of, saying it was her work deregulating wholesale markets—a necessity, in her opinion, when addressing future challenges with respect to climate and the electric sector. "Subsequent commissions have refined our efforts as wholesale markets have matured and mutated, but they are an enduring legacy I am proud to say."
"It is important to recognize the achievements of women in the clean energy sector, especially those who are starting down the leadership path, but also those who have paved the way," reflected Martha Broad, executive director of MITEI and a C3E Ambassador. "We need to encourage and empower each other in our efforts if we are to achieve a diverse workforce—which will bring a variety of ideas to bear on the clean energy transformation challenge."
This year's C3E Symposium also celebrated the achievements and work of Melanie Santiago-Mosier, program director for access and equity for Vote Solar (Advocacy Award); Elizabeth Wayman, an investor at Breakthrough Energy Ventures (Business Award); Lilo Pozzo, Weyerhaeuser Associate Professor of Chemical Engineering at the University of Washington (Education Award); Molly Morse, chief executive officer and co-founder of Mango Materials (Entrepreneurship Award); Aimee Barnes, senior advisor to California Governor Edmund G. Brown, Jr. (Government Award); Tania Laden, executive director and co-founder of Livelyhoods (International Award); Lauren Cochran, managing director of Blue Haven Ventures (Law & Finance Award); and Alissa Park, director of the Lenfest Center for Sustainable Energy at Columbia University (Research Award).
"We have the knowledge, we have the power, the skills, to help the new generations," said Valentini Pappa, academic program coordinator at Texas A&M Energy Institute, as she closed out the symposium. "Education, mentoring, and empowering are the keys for the future."
---
This article appears in the Spring 2019 issue of Energy Futures.