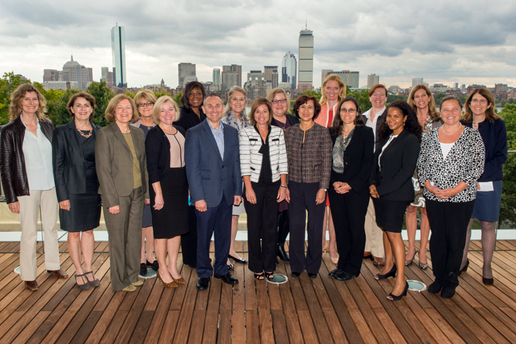 Women are accustomed to being in the minority at clean energy sector conferences — and in most science and engineering careers, for that matter. But for participants at the C3E Women in Clean Energy Symposium, which took place at MIT on September 16 and 17, the tables turned.
"This symposium is about strengthening a network," said Martha Broad, Executive Director of the MIT Energy Initiative, the host of the conference. "We need each other. And we need smart, collaborative leadership to take us into the next century, because we know we're all confronting the same big challenge: the need for sustainable, affordable and plentiful sources of clean energy."
For three years now, the C3E initiative, which stands for Clean Energy Education & Empowerment, has worked to advance women's leadership in clean energy — from education, research and advocacy to business, law and international development. Launched as part of the Clean Energy Ministerial in 2010, the C3E program has been led by the Energy Department in partnership with the MIT Energy Initiative.
"We know that the transition to a clean energy future requires contributions and support from all members of society," said Ahsha Tribble, Senior Advisor to the Secretary at DOE. "Today, we see many women making a positive impact on the clean energy field, but there are still too few, particularly at top leadership levels. Our C3E initiative is an effort to shift the status quo, to build the talent pipeline of women prepared to contribute to and influence the clean energy field."
Designed to help women working in the clean energy sector build the skills and professional networks needed to succeed, this year's symposium focused on clean energy issues at the city level. Throughout the two-day event, women had the opportunity to participate in panel discussions on topics such as making the electric grid smarter and more reliable and transportation issues in urban cities. They also got to hear from leading women in the clean energy sector — including Heather Foust-Cummings of Catalyst, a knowledge leader on gender, leadership and inclusive talent management; and Christine Todd Whitman, the former governor of New Jersey and former administrator of the Environmental Protection Agency.
"Energy hasn't usually been thought of as a woman's field," Todd Whitman said during her speech. "I believe that is something we need to correct because all of us have a responsibility to engage in the debate about our nation's clean energy future."
A centerpiece of the symposium are the C3E Awards, which recognize women for outstanding leadership and accomplishments in clean energy. This year's eight mid-career winners work in a wide range of energy careers and backgrounds — from an advocate working to defend the Kansas Renewable Portfolio Standard to a researcher driving progress on smart-grids to a community college professor working with educators around the country to integrate sustainable energy into their programs. Learn more about all eight recipients of the 2014 C3E Awards.
In addition, each year C3E honors one woman with a Lifetime Achievement award. This year, that honoree is Susan F. Tierney, a former Assistant Secretary at DOE who has been a bipartisan leader in energy, environmental and climate-change issues for decades in academia, government and business.
Weren't able to attend this year's event? Check back here for the video. And, join the online community of women working in clean energy around the world at C3Enet.org.
---
This article appears in the Autumn 2014 issue of Energy Futures.