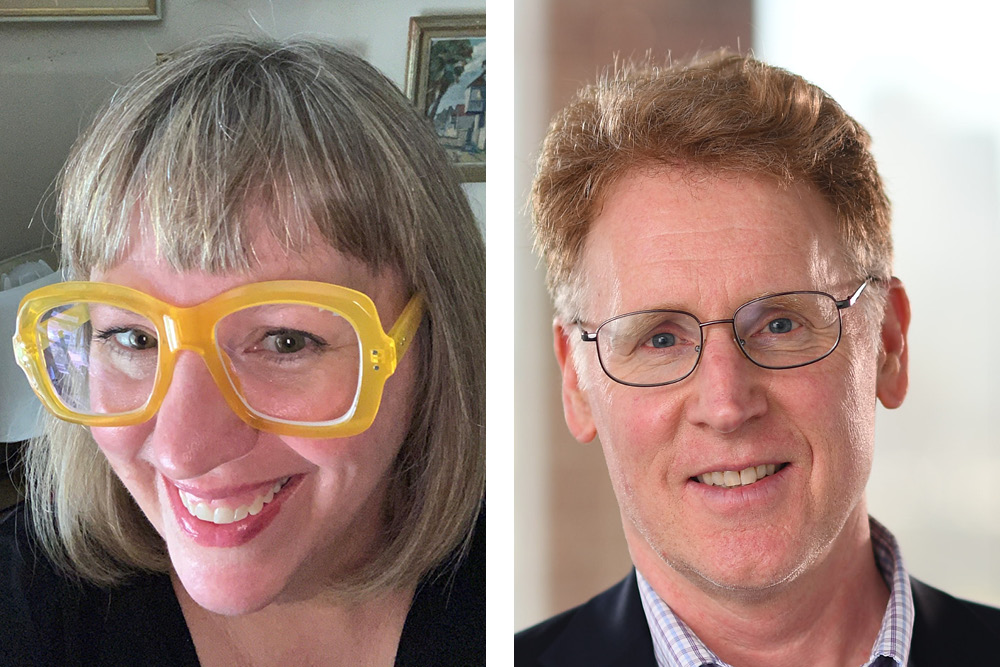 The MIT Energy Initiative announced two key hires to its leadership team this spring: Heather Leet as development officer and J.J. Laukaitis as director of member relations.
Heather Leet joins MITEI from Tufts University, where she was director of development at the Friedman School of Nutrition Science and Policy. She spent the last 20 years in fundraising and leadership roles for educational, service, and humanitarian organizations, including the Bostonian Society and the Old State House in Boston, Rotary International, the United Way of Metro Chicago, and Housing Options for the Mentally Ill.
A native of Indiana and a graduate of Indiana University, Bloomington, she began her career as a high school history teacher. Leet served as a United States Peace Corps Volunteer in Silistra, Bulgaria, where she taught English as a second language and history. The Peace Corps gave her both fundraising and environmental experience: She obtained funding from the United States Agency for International Development (USAID) for a kayaking program with students to test chemical pollution levels in the Danube River.
"I look forward to elevating the work at MITEI by ensuring that faculty and researchers have the philanthropic funds they need for their efforts in transforming our energy systems," said Leet. "I also look forward to providing opportunities for donors to achieve their charitable dreams of a sustainable future."
J.J. Laukaitis joins MITEI from within MIT. He was most recently program director in the MIT Office of Corporate Relations. He joined MIT in 2012 as a senior industrial liaison officer. Throughout his MIT career he has focused on managing the growth of collaborations between Institute faculty, researchers and innovators, and leading corporations in the materials, water, and energy sectors. Laukaitis's MIT experience includes working with MITEI and other dynamic initiatives such as the Abdul Latif Jameel Water and Food Systems Lab and several manufacturing innovation institutes.
Laukaitis has more than 25 years of experience in engineering, product management, and large account sales management. He has worked in such industries as mechanical design, software, electronics, and semiconductor manufacturing. His industry experiences have included working in large, global, hard-tech organizations and a highly successful software startup. A native of Pennsylvania, he earned his bachelor's degree in mechanical engineering from Lehigh University and a master's in science from the MIT Sloan School of Management. He also graduated from MIT's Leader to Leader (L2L), the Institute's leadership development program.
"I am thrilled to be joining MITEI at this important phase of the energy transition," said Laukaitis. "To join this deeply experienced team is a great opportunity. I look forward to being a part of MITEI's efforts to work with industry to help transform the way energy is produced and used, to address the global crisis of climate change."
---
This article appears in the Spring 2023 issue of Energy Futures.