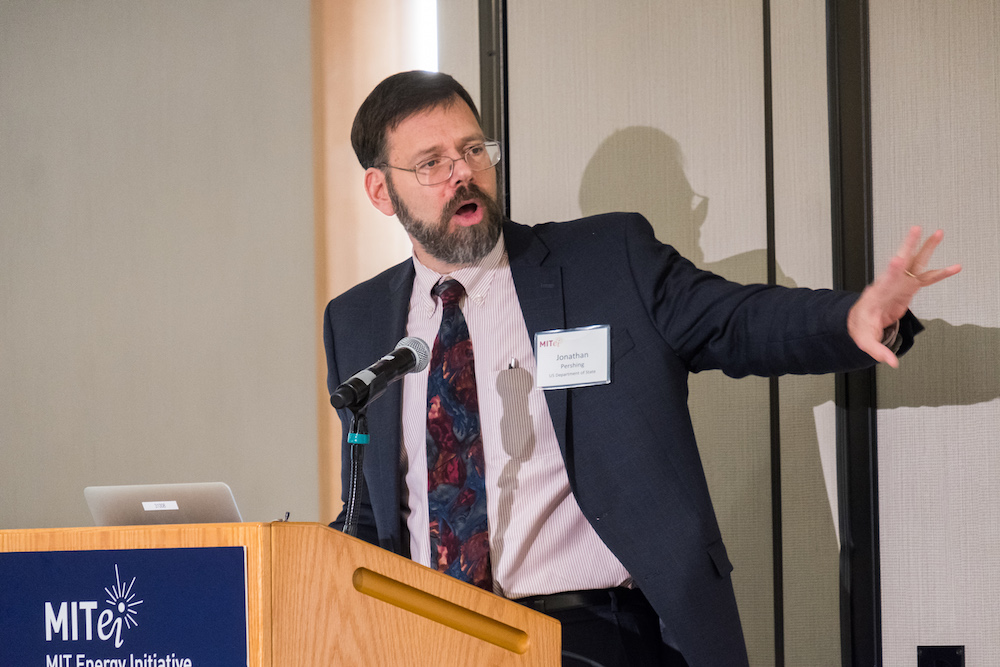 As COP22, the 2016 United Nations Climate Change Conference, is underway in Marrakech, Morocco, the world finds itself at a critical next phase in the fight against climate change. This phase, U.S. Special Envoy for Climate Change, Jonathan Pershing, observed in a talk at the MIT Energy Initiative's Annual Research Conference on October 31, is inherently different than the last. "In Paris, it was either you got the agreement finished or you didn't," said Pershing, who is the principal U.S. government representative for all international climate change issues. "In Marrakech, we've already gotten the agreement. Now, there are a lot of diverse things that need to happen."
Diverse, yes, but also critical if the process started in Paris is to be successful—which itself, could be defined in several different ways. First, the parties gathered in Marrakech will acknowledge and celebrate the tremendous progress that has happened over the past year—all but a handful of the world's countries have signed off on their intent to join the Paris Agreement, with enough countries actually joining to have triggered the agreement's entry into force much more rapidly than expected. In addition, there were major strides forward to address climate change through a phase-down amendment for potent greenhouse gases under the Montreal Protocol, and a new agreement under the International Civil Aviation Organization to ensure carbon neutral growth from commercial airline emissions. Second, nearly 200 countries have announced their respective targets—and are beginning the work on effective tracking and the development of adequate transparency so that the world can monitor and evaluate progress at both a national and global level. Third, these targets now need to be translated into action, and that will be a major focus in Marrakech. A lot of what goes on in Marrakech will involve decisions about how to move forward, and for this, Pershing noted, you need a new group of experts.
He put it this way: "The Paris Agreement required negotiators, lawyers. Now, it's a different cohort. It's a group of people who have expertise in energy policy and energy technology. It's people who understand in depth what it takes to make a transport system. It's people who are explicitly able to understand land tenure rights and the legalities of ownership above and beyond negotiations." In short, Marrakech will be all about putting the Paris Agreement to work.
Pershing was discussing this situation in an appropriate setting: MITEI's research conference was intensely focused on the most efficient ways to turn goals into policies and action and research into reality, with the theme "The Global Energy Challenge: Accelerating the Transition."
One of the central building blocks of the action participants are hoping Marrakech will propel is financing. As of today, developed nations including the U.S. have agreed to mobilize 100 billion dollars per year by 2020 to help developing countries cope with climate change. The enormity of this figure, Pershing said, is indicative of "the commitment and effort that's going into this task." There's a difference, though, between providing 100 billion dollars to countries versus mobilizing funds for maximum impact to catalyze the scale of investment needed to truly make the transition to a low-carbon economy, Pershing was quick to point out. "It doesn't mean grants," he said. "It means: how do you create investment incentives to get capital to move to solve these kind of questions in developing countries?"
Pershing emphasized that the climate mitigation and adaptation agenda will continue to evolve over a period of decades as new technologies enter into and disperse through the economy, and as adaptation solutions are developed and widely adopted.  He also argued that there is a need to create strong institutional arrangements—nationally and globally—to sustain this decades-long effort and succeed in managing the climate change threat.
Financing the transition
In MITEI director Robert Armstrong's welcoming remarks for the annual research conference, he reminded the audience of why former MIT president Susan Hockfield led the creation of the Energy Initiative. "Her vision was that MIT was a special place focused on the world's grand challenges," he said. "She believed we should address this global energy challenge by bringing together talent from both within and outside of MIT." Fittingly, the conference's panels centered around challenges and pathways for this transition, complete with complementary perspectives from leaders in academia, industry, and policy.
Expanding on Pershing's discussion of the finance challenge, one of these panels focused on approaches to delivering the massive necessary investment. "This is where the rubber meets the road," said MITEI director of research Francis O'Sullivan as he introduced the panel. Panelists Neil Brown, director of policy and research at KKR Global Institute; Amy Grace, head of North American research at Bloomberg New Energy Finance; Maria Jelescu, managing director at Goldman Sachs Investment Partners; and Sue Reid, vice president of climate and energy programs at Ceres shared their insights on what they see as the difficulties and opportunities attending the raising of funds for global climate goals.
To a certain extent, market forces are on the side of the clean energy transition. Grace said that she expects "a massive transformation of the energy sector that will more than double the global generating capacity by 2040." Much more than half of this increase in capacity will take place in the developing world. Compound that with the fact that most of the added capacity will be in renewables, and opportunities for investment abound.
Part of this shift could involve a re-shaping of U.S. utilities. Between growing demand and increasing deployment of decentralized power sources such as wind and solar, the traditional utilities model is, as Brown said, "under tremendous stress." He added, "Vertical integration is no longer a strategic benefit if you're in the power sector." Utilities will have to change in order to be more responsive to consumers, and more nimble in the face of shifting energy demands and energy sources. A reimagined system would be more welcoming to investments in new forms of clean energy technologies.
In response to the IEA projections that an additional trillion dollars per year of investment would be required in clean energy globally to meet climate goals, Reid expressed the expectation that private finance will play an increasing role in renewable energy investment, especially in the solar and wind arenas. Even so, private investments alone will not do the job, she said. "The gap between business-as-usual investment and what we need to cap warming at two degrees illuminates a 5.4 trillion dollar gap in the electric sector over the next twenty-five years. There's no question that we need some form of policy intervention."
New York Times energy and environmental policy correspondent Coral Davenport noted that while it is widely accepted by climate policy experts that part of this policy intervention needs to involve a price on carbon, the implementation of such a measure is politically complex. "When it comes to where the money for carbon reduction is going to come from, politicians don't like to talk about that," Davenport said, adding that "there is no way for the next president to meet the pledges made in the Paris Agreement without carbon pricing." The most likely way forward for a carbon price, she said, would be as an addition to a broad tax reform package, as a way to pay for a cut in the corporate tax rate, most likely brought to the table by a fiscal conservative.
The role of industry in accelerating solutions
Henriette Undrum, vice president of technology management of new energy solutions at Statoil, discussed the potential for industry to benefit from becoming more responsive to the connected grid of the future.  She said that her colleagues at Statoil have embraced a willingness to change. "We're trying to be proactive in response to changing market factors and changing customer demand," Undrum said on a panel featuring energy and transportation industry executives discussing how their sectors are responding to these global challenges. "Renewables could be considered a threat to our business, but instead, we're taking this as an opportunity and growing a substantial part of our business in renewables."
All of these panels set the stage for the conference's second day, which focused on MITEI's recently created Low-Carbon Energy Centers—collaborative research endeavors connecting academia with industry and government on key technology areas to address climate change. Day two of the conference also involved discussions of two studies from MITEI, the recently launched Mobility of the Future study, which will focus on the future of transportation, and the Utility of the Future study, which is currently concluding its report on the evolution of electric power systems and markets, to be released in December.
The conference as a whole reflected MIT's role as a convener—fostering an exchange of dialogue among Institute researchers and business, policy, and other leaders with disparate areas of expertise to tackle the most pressing issues of the day.
Note: The MIT Energy Initiative's Annual Research Conference took place prior to the November 8 U.S. election. In the wake of the election, the Pershing and the U.S. delegation to Marrakech have continued to underscore the importance of continued progress in implementing the Paris Agreement. MIT remains deeply committed to supporting the implementation of the agreement by continuing to provide fact-based research and analysis to policymakers and engaging with industry to advance climate and energy solutions.
---