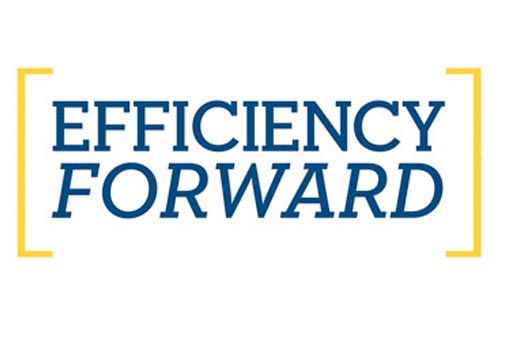 When it came to saving energy, MIT outdid itself in 2010. MIT surpassed by 30% its institutional goal of saving 10 million kilowatt hours as part of a first-of-its-kind collaboration with gas and electric utility NSTAR.
At a daylong forum in January, MIT shared the details of its success with more than 100 administrative, financial, and facilities leaders from local institutional energy customers. MIT faculty and staff led "how-to" workshops for business, community, and university leaders who would like to develop organizational and financial models to build large-scale, innovative energy efficiency programs such as the one created by MIT and NSTAR.
"Efficiency Forward: Partnering for Success" was held, fittingly, in E62, the new MIT Sloan School of Management building, which was designed with the ambitious goal of achieving a high-level LEED® Gold rating by the US Green Building Council. The building is now being reviewed for final LEED certification.
"The forum was designed not only to recognize the first year's success of Efficiency Forward, but also to convene influential organizational decision-makers to facilitate the adoption of similarly focused, large-scale energy efficiency programs at their institutions," said Steven M. Lanou, deputy director for sustainability in the MIT Environment, Health, and Safety Headquarters Office.
Aggressively efficient
In May 2010, MIT and NSTAR established a multimillion-dollar collaboration that, according to MIT President Susan Hockfield, set as its goal saving 34 million kilowatt hours (kWh) over three years through upgrades to heating, ventilation, and air conditioning (HVAC), electrical systems, lighting, and other high energy-use areas, as well as sustainable design and construction.
The lifetime savings of the initiative is estimated at potentially more than $50 million, saving a total of 20,000 metric tons of greenhouse gas emissions annually. MIT's goal over the next three years is to conserve the equivalent electrical use of 4,500 Massachusetts homes in a year.
With average electricity consumption around 18 million kWh per month, MIT aimed to save 10 million kWh in year one and 12 million kWh in each of years two and three. In 2010, MIT surpassed its first benchmark by saving a total of 13 million kWh, thanks to lighting retrofits, a chiller plant expansion, and savings accrued from the two newest, most energy-efficient buildings on campus — the MIT Sloan School of Management and the Koch Institute for Integrative Cancer Research.
NSTAR has dubbed the venture with MIT as its largest and most aggressive efficiency project to date. In part, it involves:
A long-term commitment from MIT to save energy matched with enhanced financial incentives from NSTAR.
Implementing innovative combinations of technologies and approaches.
Access to NSTAR's preferred procurement rates for equipment and service.
Reinvesting money saved in additional energy projects.
Engaging students through a student advisory group and study projects.
Hockfield credited NSTAR CEO Tom May with leadership and farsighted efforts on clean energy. "I believe regional partnerships are key to our successes, and I hope this summit will trigger a continuing dialogue," she said.
"This is a prototype for the future," May said of Efficiency Forward. "This partnership is unique. It's the first time a large institution actually signed a memorandum of understanding for a three-year commitment with specific plans, goals, and budgets. It makes tremendous business sense."
Also presenting opening remarks were Cambridge Mayor David Maher and Philip Giudice, undersecretary for energy in the Executive Office of Energy and Environmental Affairs. Energy efficiency programs "aren't all sexy and aren't all exciting, but they all make a difference," Giudice said.
Maher cited potential energy-saving ventures in Cambridge such as installing solar panels on the water treatment center, LED streetlights, retrofitted lighting in official buildings, and wind turbines on buildings. "What the universities are doing has helped us set the bar with private developers in this city, and that's a good thing," he said. "It's helped citizens and politicians come together around this issue." Giudice noted that by "simply focusing on ways to stop wasting energy, we will live more comfortable lives; we will save ourselves money and have a better future for us all."
Low risk, big payback
Afternoon sessions at the one-day forum included an overview of how Efficiency Forward led to a success story for MIT as well as sessions on financial, organizational, and motivational strategies for developing energy efficiency programs.
The conventional wisdom is that efficiency is expensive; that green buildings are good for the environment but bad for your budget, said John Sterman, MIT professor of management. "In fact, energy efficiency is just about the best investment around."
"The workshops at the Efficiency Forward event showed that investments in energy efficiency often yield returns on investment of 30% a year or more, with very low risk," said Sterman, who moderated a workshop on organizational and mobilization strategies.
Green buildings aren't much more costly to build than conventional buildings, he pointed out. Money spent on high-quality energy-efficient windows and creating a tight building envelope, for instance, can be offset by savings achieved through a smaller HVAC system.
The workshops showcased a number of energy-saving examples at MIT, including the new home of the MIT Sloan School of Management, now the greenest building on the campus, and retrofits to many other MIT buildings. Participants toured the new MIT Sloan building, which is over 40% more energy efficient than typical buildings of its size and function, noted MIT Sloan Dean David Schmittlein in his opening remarks. It has high-efficiency windows, a reflective white roof, demand-sensitive heating and cooling systems, and other innovations. "This is a technology-enabled green building that allows us to showcase what is possible in these structures," Schmittlein said.
The participants shared their own experiences, highlighting successes in a wide range of organizations, public and private, and discussed the challenges they faced and the opportunities for further progress.
"In addition to our green building design efforts, we look to reduce energy use in existing buildings," said panelist Rick Mattila, environmental affairs director at Genzyme Corporation. "Events such as Efficiency Forward that increase awareness of potential customer-utility partnerships are valuable to us and in educating all utility customers about the opportunities available through the energy conservation programs." Mattila is a voting councilor on the Massachusetts Energy Efficiency Advisory Council.
The event helped celebrate and illuminate the opportunities of partnership-based, large-scale energy conservation and efficiency programs, Lanou said. "These types of programs are exactly what's needed to achieve aggressive local and regional energy efficiency goals."
---
This article appears in the Spring 2011 issue of Energy Futures.