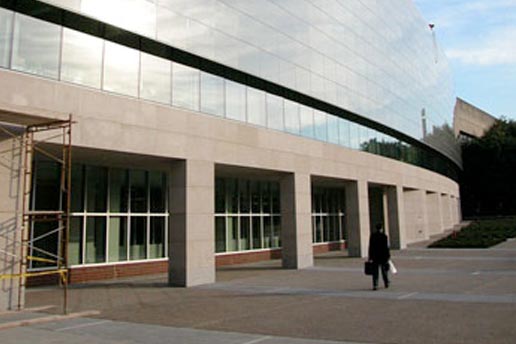 Lights that turn themselves off when no one is around and lab bench fans that shut down when you walk away are two of a series of new campus energy conservation projects that will help MIT reduce its carbon footprint.
With the help of $500,000 in seed funding from the Executive Vice President, the Department of Finance, and the Department of Facilities, select MIT buildings will undergo a variety of basic improvements in the next few months. The funding is a modest but significant step in initiating energy conservation measures Institute-wide on a grand scale, said Theresa M. Stone, MIT Executive Vice President and co-chair of the MIT Energy Initiative (MITEI) Campus Energy Task Force.
Pilot projects include retrofitting light bulbs and fixtures, adding and adjusting motion sensors, monitoring buildings to gauge energy use, and automating fume hood controls.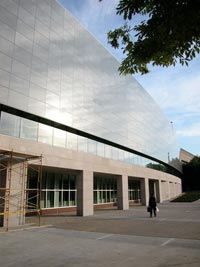 Students in a recent Sloan School of Management course partnered with the Department of Facilities to identify an additional $14 million of potential investments with a three-year return. These include a major revamping of the heating system in Building 13 to include heat recovery; continuous building commissioning that assesses and optimizes building energy systems in real time; and strategic maintenance to improve energy efficiency in existing ventilation systems, among others.
"Identifying these strategic investments in energy conservation and the cost-benefit analysis was a year-long collaborative effort among the Department of Facilities, faculty, students, and the administration," Stone said. "This is tangible evidence of MIT walking the talk on a huge campus issue that everyone feels passionately about."
While MITEI has helped focus attention on energy issues, "MIT has over the years had a high sensitivity to energy efficiency—the cogeneration plant (a 10-year, $40 million project in which MIT generates its own electrical and thermal power) is an example of that," Stone said. "This program identified a portfolio of very basic improvements that would result in substantial energy cost paybacks. If we execute everything outlined in the portfolio, the savings would equal 9 percent of the energy commodities budget here," she said.
The analysis came out of Sloan's innovative new Laboratory for Sustainable Business (S-Lab), taught most recently in spring 2007. Students from Sloan and other MIT departments explored real-world sustainability challenges with clients such as Nike, Disney, the World Bank, start-ups, and nonprofits, said S-Lab co-creator John Sterman, the Jay W. Forrester Professor of Management and director of the MIT System Dynamics Group.
One of the S-Lab "clients" was MIT. With the help of MIT Facilities, students conducted an in-depth analysis of campus energy conservation opportunities and "identified $14 million in investments that MIT could make today that would not only significantly reduce energy use but also have a positive economic return," Sterman said.
The $500,000 funding is "the first tranche of a new portfolio approach to energy conservation investments based on long-term financial cost-benefit analysis, greenhouse gas emission impact, and scaleable pilot projects," said Steven M. Lanou, deputy director of environmental sustainability at MIT.
According to Walter E. Henry, director of the Department of Facilities' Systems Engineering Group, "Rather than funding individual projects here or there or waiting for problems to pop up, this is a more comprehensive approach. With a campus-wide program, we know what we expect things to cost and what we can expect to save."
Included in the first round of investments are:
Retrofitting outdated, inefficient fluorescent light fixtures with new ballasts; replacing bulbs with energy-efficient models; implementing lighting systems designed by students during an Independent Activities Period class; installing and adjusting occupancy sensors that shut off lights in a room where there is no activity for 20 minutes.
Using remote monitoring systems developed by a Boston company to analyze the function of automatic temperature control systems. Such systems installed in Building E25, Building 18 (the chemistry building), and the Zesiger Center uncovered incorrectly set controls and a hidden collapsed bulkhead, which, when fixed, saved hundreds of thousands of dollars in energy costs.
Automated fume hood sash controls that sense the presence or absence of a person in front of a laboratory bench air-circulating hood and open or close its sashes accordingly. Monitoring and reporting fume hood energy use to researchers have prompted them to close hoods more consistently when not in use, and retrofitting hoods to operate at lower, yet safe, fan speeds has resulted in savings. This follows a study by mechanical engineering undergraduate Steve Amanti, working with Leon Glicksman, professor of building technology and mechanical engineering, who found many hoods that were left open at night. They estimated the heat lost from one hood was equal to the heat required by a single-family home in Boston.
Changing to a new type of central heating and cooling filter and cleaning dust-laden fan coils resulted in significant improvements in a campus-wide pilot program
A previous campus-wide effort to upgrade steam traps—devices that regulate gas discharge in steam heating systems—cost $1.1 million and resulted in more than $3 million in savings. "The highest payoffs come from things as basic as replacing broken steam traps, cleaning heat exchanger coils, and caulking windows," Sterman said.
"This is just a start," Stone said. "We're currently identifying related steps that will keep chipping away to reduce our carbon footprint and energy expenditures on campus."
Glicksman, co-chair of the MITEI Campus Energy Task Force, said, "We want to make MIT an example for other large organizations. The energy fund program builds on an assessment that identifies the most cost-effective measures to reduce CO2 and then monitors and documents real energy savings and the cost benefits of the investment. Such a course of action represents a prototype of effective real-world programs others can emulate."
The S-Lab class was the subject of an article in the Winter 2008 issue of Energy Futures, the newsletter of the MIT Energy Initiative.
---