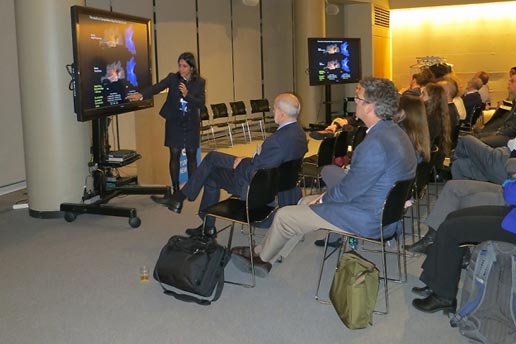 On May 6, MIT Department of Civil and Environmental (CEE) head Markus Buehler and five members of the CEE faculty traveled to Manhattan to host an alumni event titled "Building a More Resilient NYC Through Big Engineering." More than 60 alumni gathered to hear ways Course 1 research and educational programs transform urban lives through innovations in transportation, energy resource management, air quality, and public health.
Daniel Zarrilli SM '99, director of the New York City Office of Recovery and Resiliency, opened the evening with stimulating remarks that reminded the audience of the real challenges our world is facing today, and which must be addressed. He noted Mayor Bill de Blasio's announcement just last month of "One New York: The Plan for a Strong and Just City," a comprehensive plan for a sustainable and resilient city that addresses the profound social, economic, and environmental challenges ahead.
"OneNYC is ambitious and sets clear and aggressive goals," Zarrilli said, citing the announcement. "Its initiatives will prepare New York City for the future — how we live, work, learn, and play, raise our children, and enjoy all our city has to offer. Achieving these goals requires nothing less than bold, innovative solutions."
Zarrilli and Buehler met earlier this spring to discuss ways faculty and student research might play a part to deliver these bold, innovative solutions. One example is CLAIRITY, the noteworthy work of CEE's Class of 2014 capstone project that measures air quality using low-cost sensor networks at a fraction of the cost of typical air quality systems.
Associate Professor Jesse Kroll, who leads atmospheric chemistry studies, described CLAIRITY at the alumni event in greater detail. He explained that it's ideal for densely-packed urban neighborhoods because measurements are much more spatially-resolved and can be acquired more cost-effectively in multiple, small-scale environments. Further, it empowers residents to gather and read air quality measurements for their locale and then tie the results back into community education, outreach, and action. CLAIRITY was implemented at MIT last year and gave measurements that generally agreed with those taken by more expensive monitors located in Boston.
CLAIRITY measures nitric oxide, nitrogen dioxide, carbon monoxide, ozone, and particulate matter using 20 small, inexpensive sensors networked via wireless technology. Kroll stressed the importance of knowing the source and fate of key air pollutants, because even so-called "clean" air can still have high enough pollutant levels to pose major risks to public health.
"MIT's civil and environmental program is unique because we seek large-scale impacts on people and sustainability to improve lives," Buehler said in his event remarks. "We call this approach 'big engineering.' We envision what an ideal city should be, then imagine the possible solutions by inventing and building the desired products, tools, and systems to make it reality."
Buehler explained how finding solutions requires people to work beyond traditional professional boundaries. Whether working to preserve the environment, lower energy costs, facilitate urban movement, or construct structures that work better and last longer, engineers need to build bridges across disciplines — not just build bridges.
For example, Assistant Professor Saurabh Amin's presentation focused on building more resilient electricity-distribution systems. He talked about ways in which 'smart' networked infrastructures can help increase situation awareness and control, plus respond faster if threatened or hacked. Two specific examples covered by Amin were the use of smart meter data for detection of energy diversion by fraudulent customers, and automated control of distributed energy resources in response to contingencies, such as a sudden supply-demand mismatch or a malicious disruption of network components.
"I was staggered by the breadth of work being done in the civil and environmental engineering department," said Seth Hulkower SM '86, president of Strategic Energy Advisory Services. "As a New York City resident and longtime electric utility professional, I spend a lot of time thinking about resilient infrastructure. Regulatory models are changing and the industry is scrambling to adapt. The only way we'll be able to do this cost-effectively is with new technology and analytical techniques. I saw implications for operation of electric grids in every presentation."
Transforming research into action
Malinda Foy '87, director of planning and analysis for Metropolitan Transportation Authority Bridges and Tunnels, said she came to hear more about CEE's innovations in urban transportation research and implementation.
"In my job, I need to know not only what's happening today in transportation, but also what's at the frontier of new initiatives," Foy said. "I'm interested in continuing discussions with MIT CEE, so I can proactively bring the best solutions to New York City."
Assistant Professor Carolina Osorio and Associate Professor Marta González presented examples of their work in this burgeoning transportation study area. Osorio's presentation showed results from her work in a Manhattan road network containing the Queensborough Bridge area. She emphasized the importance of managing areterials as part of larger-scale networks, regardless of geographic governance. It doesn't make sense to manage traffic inputs on one side of a tunnel, she said, if the resulting improvements exacerbate traffic on the other end in a different borough.
González, a self-professed big data geek, conducts research at the intersection of human dynamics, urban mobility, and transportation design. She built a computational model and algorithm to learn about peoples' travel activity patterns to better help cities anticipate and remediate congestion. Her work analyze traces from communication data to infer where people usually begin and end their daily routines. She creates models informed by this anonymized data and evaluates the benefits of traffic management solutions via smart routing applications.
Lydia Bourouiba, the Esther and Harold E. Edgerton Career Development Assistant Professor in CEE, took the audience on a different path describing her work in disease transmission. Her work is especially important to dense urban environments such as New York City, which boasts the greatest use of public transportation in the nation. Defying a traditional view that a sneeze can lead to greatest virus transmission through its large droplets, she champions new research that shows that the effect of the sneeze cloud can carry the small droplets much further away than what was initially thought. The smaller the droplet, she says, the easier and further it's transmitted and the longer it stays in the air. Last month, Bourouiba received an Alumni Class Funds grant in support of a curriculum development project that allows undergrads to gather their own dataset to enhance understanding of fluid dynamics and its role in various mixing and droplet formation phenomena.
Timing is everything
The evening event preceded by just a few hours Mayor de Blasio's announcement of his new fiscal budget and 10-year capital plan for the city.
"By funding an agenda to make the city stronger, safer, and more competitive, … the budget provides a strategic vision to guide New York City through uncertain times and prepare for the future," said a statement from the mayor's office.
The 2015 / 2016 budget outlines increased government support for the mayor's green buildings plan, allowing the city to retrofit all public buildings with any significant energy use by 2025. The new budget also increases funding to improve transportation infrastructure, including roads, tunnels, and bridges. This investment is part of the mayor's broader plan to achieve an 80 percent reduction in emissions by 2050, making it the largest city in the world to make that commitment.
MIT faculty and students want to help cities like New York meet its aggressive goals to improve lives through the innovative use of the type of work conducted in MIT CEE. They accomplish this by working together, and reaching out to others with complementary skills and talents, to succeed.
---